Jess Chonowitsch: At The Heart Of Functionalism
Mies van der Rohe, the famous modernist German-American architect and designer, coined the aphorisms "God is in the details" and "less is more." He was referring primarily to architecture, specifically his famous "skin and bones" approach to building design, but there's no question that he was also referring to a broader intellectual approach to modern design. What has this to do with Jess Chonowitsch? Van der Rohe was articulating a kind of aesthetic Platonic essentialism: the chasing of a fundamental aesthetic identity that dwells within a more elaborate composition. By stripping away the superfluous, one is left only with that which is necessary and, within this aesthetic conception, that which is necessarily left is inherently beautiful. Of the world's great pipe makers, Jess' aesthetic most closely expresses those ideals.
In the 1950s, in Denmark, Sixten Ivarsson started thinking about pipes in revolutionary ways and developing the combination of processes and approach to aesthetics that have dominated high-grade, handmade pipemaking during the past sixty years. His aesthetic and methodological reimagining of pipes coincided with the peak of Danish Modernism, a movement most clearly articulated by Functionalism, which is a utilitarian approach to design emphasizing that form should follow function. Most of Sixten's work—simple, carefully considered aesthetics within a utilitarian framework—is inherently functionalist. His shaping was disciplined, constrained by the nature of the craft and underlying aesthetic principles. Of Sixten's most significant students, Jess Chonowitsch emerged in the ensuing decades as the strongest proponent of the Functionalist approach to pipe making.
Jess has argued that, at their core, pipes are utilitarian objects and that he is more craftsman than artist. Further, he is a clear believer in the idea that there is something fundamental that underlies pipe shapes, as defined by utilitarian necessity and requirements imposed by the briar itself. Though Jess' work has been exhibited as art in museums as illustrious as MOMA in New York, he tends to eschew a conception of pipes as visual art.
Jess is a perfectionist. Though that could describe most of the world's best pipe makers, for Jess this is a deeper aesthetic concern. His style is underpinned by a belief that there is an objective aesthetic standard to shaping. His current style is a reflection of forty years of subtle refinements pursued to create perfect pipes that are beautiful and that embody the minimalist aesthetic ideal so well-articulated by van der Rohe. Jess' pipe making career is defined by thousands of tiny improvements rather than a series of large aesthetic shifts. His evolutionary approach to pipe design means that he is incrementally approaching his theoretically unreachable concept of the perfect pipe. There is nothing radical or postmodern about Jess' pipes or his conception of pipe design, but there is a relentless pursuit of an objective, definable perfection.
This approach is more closely associated with that of the disciplined master craftsman than the bohemian artist, so it is unsurprising that Jess identifies more closely to the former. To Jess, the discipline necessary to make truly great pipes is all too often lost in chasing the avant-garde.
Jess Chonowitsch is the grandson of a Russian concert violinist and a Danish concert pianist (hence his not particularly Danish last name). His father was a tobacconist and a pipe maker in his own right and, when he was young, Jess had a career as a drummer. Clearly, artistic, imaginative ancestry nourishes his creativity. Jess and Emil, his father, both started working with Poul Rasmussen in 1966. Sadly, eighteen months later Poul Rasmussen died. Anne Julie, Poul's wife, ran the workshop after his death and Jess stayed on for a few months, in large part to help her with the business in the wake of Poul's passing. Thereafter, Jess moved on to the famous Larsen workshop in Copenhagen, where he continued to refine his skills.
By this time, Jess already had a reputation for machine-like precision and prodigious efficiency: Jess was making good, high quality pipes extremely quickly. However, it was his relationship with Sixten Ivarsson, from 1968 to 1970, that refined his style. According to Jess, working for Larsen paid the bills, but working with Sixten paid him with a much deeper understanding of pipe making. Jess tributes both of his teachers though, saying that Rasmussen taught him classic shapes and Sixten taught him Freehands. To this day, he draws creatively from both sources.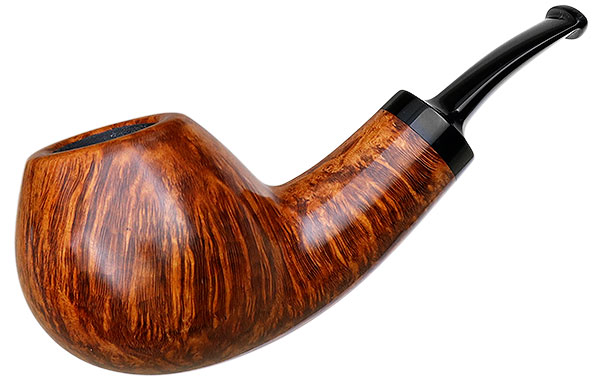 In 1970, Jess and Emil started their own small workshop. A few years later, Jess and his wife, Bonnie, moved into an old, fairy-tale-like, thatch-roofed farmhouse in the country about sixty kilometers southwest of Copenhagen. Jess' workshop is in the flower-filled garden adjacent to the house. It is in these delightful, creativity-inspiring surroundings that Jess has made pipes for almost three decades. Historically he's made roughly 160-200 pipes each year, though today his output is much lower.
In conformance with his perfectionism, Jess uses only the finest materials he can source, and his long experience and world-wide contacts have provided excellent sources. Historically, he has used only very high-quality Corsican briar, but his search for the very finest has led him to some briar in northern Italy as well. His approach to vulcanite, bamboo, bone, and other adornments exhibits the same fanatical attention to quality as his approach to briar. Jess purchases the best when available, rather than purchasing as needs dictate, ensuring that his stock of materials is first rate. Indeed, Jess' high quality Japanese bamboo is a remarkable experience in itself!
Jess has dedicated his life to two things: his pipes and his family. His extraordinary dedication to making the best pipes possible has made them among the most respected and sought after in the world. The name Chonowitsch has been a token of quality and innovation among pipe collectors for decades. And rightfully so. In his quest for perfection, Jess Chonowitsch has made some of the finest pipes the world has ever seen.