Jody Davis' contrast sandblast
Except for the beginning of pipe sandblasting more than 100 years ago, when curing techniques, softer Algerian briar (if that story is not a fable) and early, unsophisticated procedures launched deeply craggy sandblasts, sandblasted pipes have been mainly low profile in texture. Even today, in Denmark, the heart of artisan pipemaking, shallow, low profile blasts continue to dominate because heavy blasting can alter the shape, and the integrity of the shape is of superior importance to those carvers, as it is to many.
In the early 2000s, when the waiting list for J.T. Cooke's remarkably deep sandblasted pipes reached three years, others were noticing the popularity of the aggressive finishing technique. Early, craggy Dunhills had always been popular, but now there was a modern blasting texture that accentuated the natural, 3-dimensional beauty of the grain structure unlike anything seen before. Many discriminating collectors were entranced by the deeper blasts, and other pipemakers were inspired.
Lee Von Erck was an early experimenter with deep sandblasts, and his work is prized for its unique aesthetic and individual style. Michael Parks does outstanding blasting, as do Bruce Weaver, Jody Davis, Brad Pohlmann, Jeff Gracik, Roman Kovalev, David Huber, and many, many others (I apologize to those I've left out), all influenced, in one way or another, by J.T. Cooke's groundbreaking work.
"Cooke and Lee Von Erck were the frontrunners," says Bruce Weaver. "I learned from Lee, but then went in my own direction." Bruce says that his blasts depend on the softness of the wood and on the grain structure. "I start with 360 grit glass beads to develop the rings and see the topography of the briar." He then uses other grit mediums to do finer work.
Bruce Weaver's cascading sandblast
"The nozzle is so small." says Bruce. "We're talking thousandths of an inch. That way you can remove the soft wood and not even touch the rings. And blasting at an angle creates a cascading effect." By blasting upward or downward, the briar is left with a visual resemblance to cascading, falling water. "Removing just the soft wood maintains the shape throughout. A lot of people like that heavy sandblast, but it's hard to replicate the early stuff Dunhill did."
Bruce's personal tastes gravitate toward shallower blasts, typically. "Ring grains are fun, but I like crosscuts better. A combination of rings and birdseye is unbeatable. But I've never been a fan of the really heavy blasts. I want to maintain the structure of the briar, and that's a tedious process under a magnifying glass. But I was lucky and found my way."
Rock star Jody Davis, of the popular band Newsboys, is additionally one of the finest pipemakers in the world (some people have too much talent), and he too forged new methods in the pipe sandblasting world, developing his own blasting style in what is being called the contrast blast.
Close-up shot of Jody Davis' sandblast
Picture a ring grain pipe, with the growth rings stacked uniformly up the bowl. In most blasting treatments, it would be a beautiful ring grain with the growth rings blasted out all around the circumference. With a contrast blast, however, a two-part stain is applied. One stain dries, then is lightly sandblasted, and another color applied so that the vertical grain contrasts with parallel grain. Some pipemakers, perhaps most obvious in J. Davis pipes, take care when blasting to maintain that vertical grain as much as possible, with hard streaks of grain running perpendicular to the growth rings. This method provides a spiderweb effect that is endlessly mesmerizing and reveals remarkable, often breathtaking complexity in the briar.
Another luminary of the pipemaking world is Jeff Gracik of J. Alan Pipes, whose reputation is world-wide. Most often described as a Danish-influenced North American carver, Jeff makes pipes at the highest tier of finish, smokability and sheer attractiveness, and his sandblasts are excellent. However, his blasts are not typically as deep as some contemporaries because he takes a business attitude toward the subject.
"It isn't easy," says Jeff, "to find a happy medium between the Cooke sandblast that takes anywhere from 24 hours to a week to complete, and the light, shape-maintaining sandblast of the Danes. I learned sandblasting from Jody Davis, who learned from Cooke. But I don't want to spend 24 hours sandblasting a pipe. Cooke's premier product is a sandblast, but for every other carver it's a smooth. It has to be cost effective to sandblast or it makes no business sense."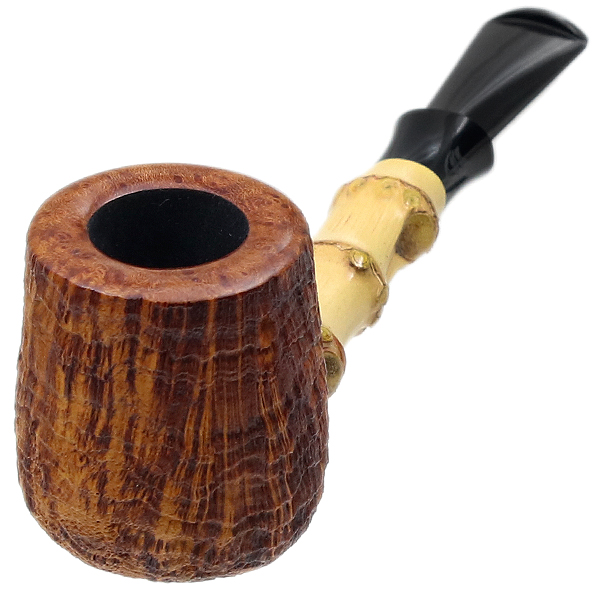 Jeff Gracik's contrast sandblast
Jeff says that Jody taught him to blast using varying pressures, nozzle sizes, and mediums, giving him a great working repertoire for most designs. "The American school of pipemaking is where the deep sandblasts came from, and Cooke influenced and inspired younger pipemakers. When I started carving, he was incredibly well respected and his pipes were always in demand, and that certainly hasn't changed."
Early Dunhills were always popular because their blasts were craggier than more modern pieces. They were rarities. But for those who seek deep blasts, modern sandblasts are competing now with those wizened pieces.
"I've experimented with different machinery and I know what to do to make deeper blasts," says Jeff, "but I have limited space and can't accommodate the correct equipment. Plus, I like the blasts I'm doing now and don't want them deeper. It's a slow and arduous process, and pipemaking is already too full of those."
Few would argue about Jeff Gracik's Danish influence; his pipes are perhaps the most "Danish" of the North American artisan carvers. "Light, even sandblasts," says Jeff, "are common for the Danish high grades. The Danes are precision shape oriented; Cooke is finish oriented."Jeff says that deep sandblasts are here to stay. "They're like ornate sculptural pipes that push the limits, and their popularity shows no sign of weakening."
The sandblasting landscape is looking rich indeed these days. Low profile blasts, deeply craggy blasts, contrast blasts, cascading blasts and various combinations have all expanded our opportunities to enjoy new textures for our pipes. How invigorating it is to find ourselves in the best of times for pipe sandblasting.
You may also enjoy: