Popular Stem Materials in Early French Pipe Making
Long before the advent and popularity of acrylic and vulcanite, many alternative materials were utilized in the creation of pipe stems. Amber, horn, and briar were common, especially French pipe making, prior to the introduction of acrylic and vulcanite, and have a unique history and aesthetic appeal.
Saint-Claude
Situated in the Bourgogne-Franche-Comté region of eastern France, Saint-Claude is the birthplace of the briar pipe, and from the mid-19th century to the mid-20th century, it was the world capital of handmade wooden smoking pipes.
The town of Saint-Claude grew around the Saint-Claude Cathedral, a Roman Catholic church named after Saint Claudius of Besançon, the church's twelfth abbot. After Saint Claudius died in 696, his grave became a popular pilgrimage site, and the town developed an industry to accommodate the needs of the pilgrims. Wooden souvenirs, gem-setting, pipes, and pipe stems became an integral part of the town's economy, and over time, Saint-Claude became an epicenter for pipe making in general. Records indicate that by 1841 Saint-Claude was home to at least three pipe manufacturers, each of which employed around 20 workers.
In addition to pipes, Saint-Claude also produced a wide variety of stems, many of which were fashioned from amber, horn, and briar and sold internationally to countries like Switzerland, Germany, and Austria. Ropp, Genod, Chacom, and Butz-Choquin all began in Saint-Claude, and several of those marques still produce pipes with old-school stems. While not necessarily the originator or first to use certain stem materials, Saint-Claude's pipe-making industry led to the rise, popularity, and proliferation of the stem materials discussed below.
Horn
Horn was one of the most popular stem materials in the early days of pipe making, and while less common now, the medium is still utilized by various manufactures and artisans. Like vulcanite, horn is soft on the teeth and durable, and it requires less maintenance as the material doesn't oxidize. Unlike acrylic and vulcanite, however, horn can be quite difficult to bend, requiring both intense heat and prolonged pressure to ensure that it retains its shape. In fact, to bend the horn stems for their Ruby series, Ropp utilized a vintage stem-bending machine from the Chapuis-Comoy pipe museum, reflecting the methods and tools used by old pipe manufacturers.
Horn is typically jet-black, creamy white, or some mixture of the two. It is prized for its vivid patterning and unique hues, adding a lush vibrancy to any shape it adorns and fostering an old-school French aesthetic that's simply eye-catching. As vulcanite and acrylic came to prominence, horn fell to the wayside, mostly due to cost and the mass manufacturing newer materials afforded, but the natural stem type is still favored by many pipe smokers with a love for the vintage.
Ropp: Ruby Sandblasted Apple
Amber
Dating to antiquity, amber has been prized for its fiery color and natural beauty. The Turkish are often credited as first utilizing amber as a stem material, but many cultures, including the French, subsequently adopted the medium for their own pipes. Though they have since fallen out of fashion, in the early days of pipe making, amber stems were immensely popular and associated with decadence and quality. Amber stems were hand carved from fossilized tree resin and could only be bent after being properly heated. While an aesthetically rich material, amber is normally quite hard on the teeth and exceptionally brittle. Amber stems have to be handled with exceeding care to prevent damage. They should never be left in direct sunlight, and they should be cleaned using only a small amount of alcohol, and never buffed, soaked, or wiped down with anything abrasive.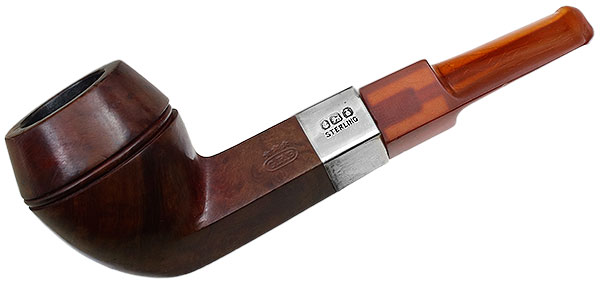 G.F.B. Smooth Bulldog with Silver and Amber Stem
Briar
Though we tend to think of briar as the medium from which most pipes are made, it was at one point utilized for stems as well. It makes sense that, as the demand for briar grew and the pipe-making industry, especially in Saint-Claude, moved to briar pipes, pipe makers would utilize the hardwood for stems, as it was widely available and on hand. Most manufactures no longer produce briar stems, but artisans occasionally pay homage to the Anglo-French pipes of old by incorporating briar stems into their work. Greek carver Michail Kyriazanos, for instance, as a admirer of Anglo-French archetypes, has crafted several pipes with briar stems, but unlike the early French pipe makers, Kyriazanos carves the stem as part of the stummel, forgoing the traditional mortise-tenon arrangement.
Michail Kyriazanos: Sandblasted One-Piece Bulldog
What are some of your favorite alternative stem materials? Are there any you would like to see write-ups about? Let us know!
You may also enjoy: