In Praise of Traditional Pipe Shapes
There's a lot to be said for innovation in pipe making. One need only glance at the work of today's artisans to appreciate how carvers have elevated the craft to new heights of artistic interpretation and excellence. But there's just as much to be said about the foundations on which contemporary pipe design rests and the thousands of often-overlooked workers who laid them on the factory floors and in the workshops of the briar pipe's heyday. So today, I'd like to lend a word, or a thousand, in praise of the traditional shape chart and also to highlight those marques and craftspeople ensuring the continuation and refinement of the old school.
The most obvious place to start is what drew me to such pipes to begin with. After all, you might ask yourself, "what's so great about a Billiard anyway?" I've always been a history buff, and the historicity of pipes and the tobaccos smoked from them fascinated me when I was new to the hobby — and still does.
I decided to start at the beginning. My first pipe was a long clay Cutty that I love to this day, broken stem and all. Soon I was looking at meerschaum and briar pipes but didn't see the attraction. I thought to myself, "Why spend more on fancy wood when my clay pipes smoke just fine?" My question was answered when I walked into my nearest tobacconist's shop (Allegheny Smokeworks, for inquiring minds) and saw a wall of briar pipes in all their sandblasted glory. There were dozens of pipes in any color one could want, as long it was black. There were Billiards and bent Billiards — that was it, all lined up and uniform.
I took one from the rack and immediately understood: these pipes were the natural evolution of the clays I had been smoking so fondly, combining the function and durability of both, no frills necessary. The Billiard I chose fit comfortably in my hand, with an easy-to-clench saddle stem. It was a pipe that would have been just as at home in 1922 as 2022 and it smoked perfectly. Since that great conversion experience, I've spent many hours smoking and admiring pipes from the old shape charts. Of course, I also adore my fancy freehands, but classic briars now make up the bulk of my collection.
Old wall board of pipe stummels representing White Spot shapes from previous generations
At this point it might be prudent to explain what "traditional-style" pipes are. The standards can vary for each smoker, but the most conservative line is that pipes that hold to English and French styling are what constitute the true classic style. The biggest hallmark of that tradition is balance. Typically, with shapes like the Stack and those derived from the Canadian being notable exceptions, the height of the bowl is equal to the length of the shank, and the thickness of the shank is roughly proportional to the bowl as well. The heels on traditional shapes are most often understated, sloping gently backward toward the shank, rather than surging forward. The shaping itself is generally softer, no wild angles or fluted curves. Think Dunhill and Comoy's, both of London and Saint-Claude. These are the archetypal pipes many of us picture when we imagine what our grandfathers smoked: Billiards and Apples, Dublins and Bulldogs.
With these traditional shapes, part of the appeal for me, and I assume for others, is the purity of form so often on display. The Anglo-French style is a great example of this. When looking through the shape charts or display racks from the major workshops of those countries, it's difficult not to know just what one is getting. After determining what makes a Liverpool different from a Lovat (hint: it's the stem), it becomes possible to read shape charts like style guides for the different marques, each with its own flavor and variations on the same handful of basic forms.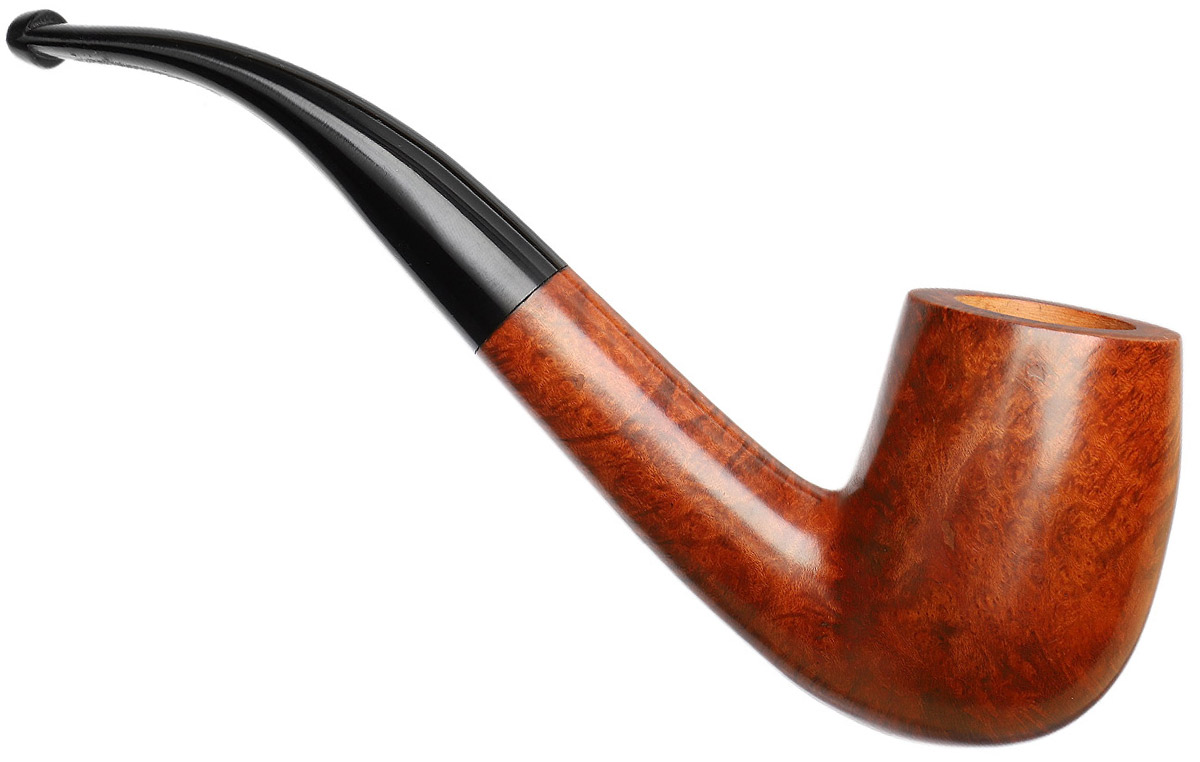 Genod: Smooth Bright Bent Billiard
There's an accessible regularity to the offerings of, say Dunhill or Genod, that gives the smoker plenty of options to suit their taste and preferences for size or finish. And, while I often prefer humbler pipes, each of these shapes can be elevated with higher-grade briar, silver bands, or premium finishes, making them adaptable enough to suit any preference or occasion. Best of all, however they're dressed up, each pipe from the classic marques offers the same smoking qualities that have made sure these shapes and mechanics stand the test of time.
And what a long time it's been. Looking at the history of pipe design, one can see the predecessors to many common shapes in pipes that pre-date the widespread adoption of standardized shape charts. The Cutty and Belge, for example, are directly borrowed from designs popular when clay and meerschaum were the most common materials for pipes. One can see how the now ubiquitous Billiard shape evolved from the clay pipes of yore as the shape was tweaked and perfected to perform best in briar form. These shapes are mainstays of the craft because they've proven their efficiency to generations of pipe smokers. After all, with the aesthetic movements that have sprung up in pipe carving over the last hundred years, classic design and proportions would have been left behind if they didn't have compelling qualities.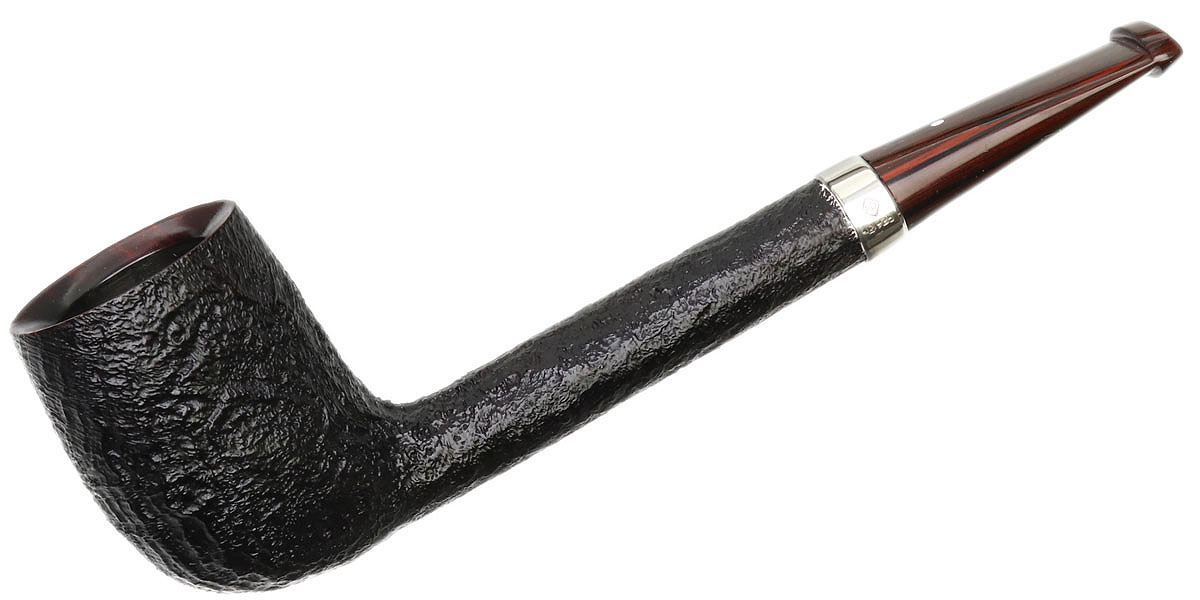 Dunhill: Shell Briar with Silver (4109) (2021)
Manufacturing is just as important as aesthetics when discussing traditional pipe shapes. While aesthetic and function were primary factors in the development of Anglo-French shape charts, they were also designed with mass production in mind. Features of standard shapes like the slight forward cant of the Billiard were originally devised to make them easier to fashion quickly on a lathe without cutting into the shank. That practical choice became part of the aesthetic DNA of traditional Billiards, among other concerns.
Another example includes the spigot mount, which was invented as a way to easily replace the often broken amber stems of pipes made at the turn of 20th century, now employed for more aesthetic purposes with the added benefit of making it safe to break down the pipe during a smoke. Horn was used as a more budget-friendly option for stem materials in those days, quickly being replaced by the more stable vulcanite and acrylic. Both horn and amber have been used in more recent pipes, especially horn, as an aesthetic embellishment and tribute to historical methods, to an enthusiastic reception by fans of vintage pipes. Materials and production methods are fundamental to traditional pipes, inseparable from their aesthetic qualities and enduring legacy.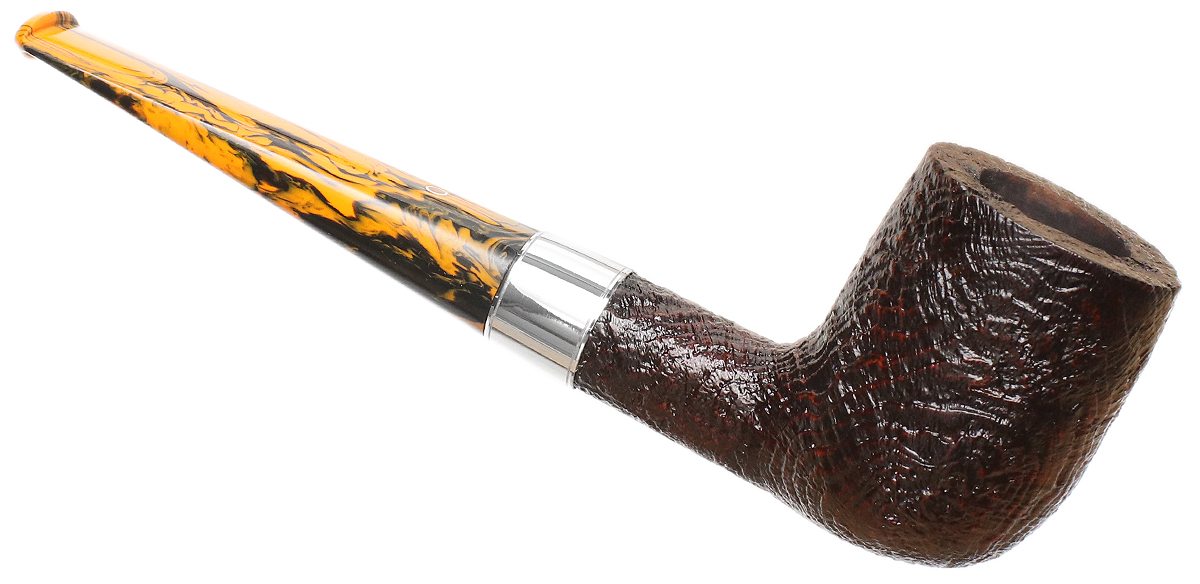 Ashton: Brindle Billiard with Silver (LX)
Of course, it isn't difficult to engineer a pipe that smokes well in the form of a Freehand or Pesaro-style piece. One of the virtues of these old designs, beyond their pure functionality, is their timeless appeal. The old-timers simply got it right. There's something about the forms present in shapes like the Billiard and Apple, as well as others, that never goes out of style. It's difficult to determine what exactly that is; maybe it's the simplicity, or the understated dignity that these pipes embody, which has kept artisans and smokers coming back to the old shapes for so long. For many carvers of today, traditional shapes serve as a starting point for creative exploration, something to build from, to complicate or simplify as they see fit, which is another legacy of Anglo-French pipe craft.
Just as these received forms of pipe making are adjustable within their categorical limitations, they can, and have been, altered and reimagined in infinite varieties. Sixten Ivarsson didn't merely invent his iconic designs from creativity alone, he developed his craft through the study and mastery of traditional pipe shapes and their adapted forms by Danish workshops. For every dazzling artisan pipe that stretches the imagination, there's a bent Egg or a Dublin that inspired it. Particularly in the Italian and Danish tradition, traditional shape names are often preserved as the design is interpreted into a pipe that keeps one or two features of the traditional form and exaggerates or forgoes others entirely. Erik Nording's work is a fine example. A carver best known for his imaginative Freehands, Nording also crafts plenty of traditional shapes, some of which, like a good number of his bent Dublins, straddle the line between the classic Dublin and Freehand; I'd wager that his Freehand style is at least partially an organic interpretation of a Dublin that has taken a new form of its own.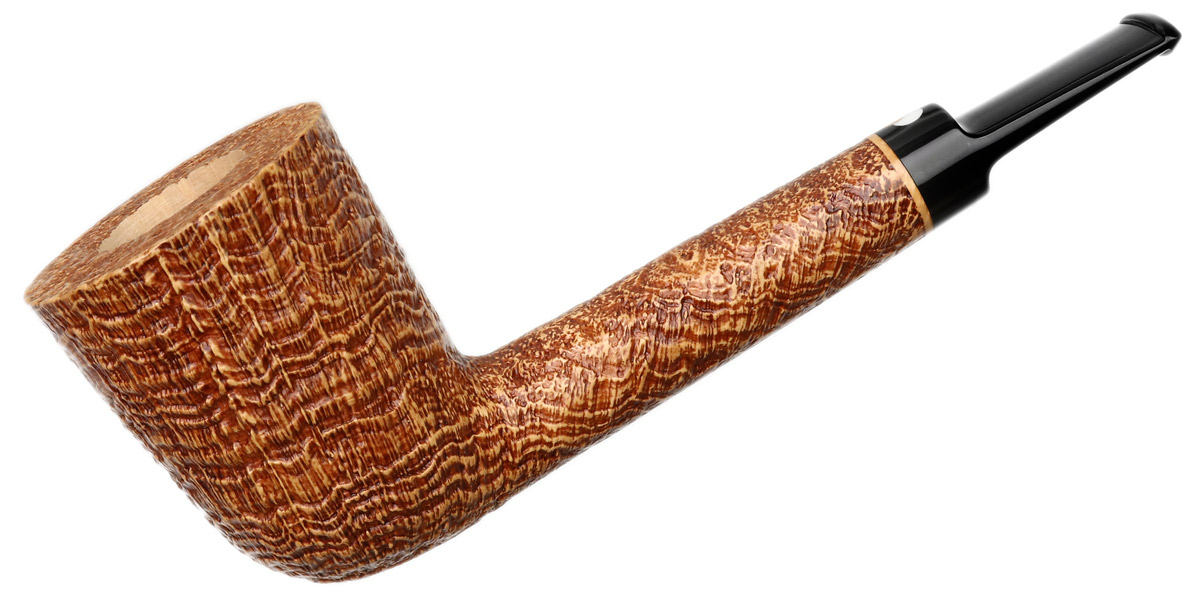 Claudio Cavicchi: Brown Sandblasted Dublin
Many other artisans known for their highly ornate styles will often make traditional shapes, such as Bill Shalosky and Claudio Cavicchi. This continued attention from workshops and individual artisans alike is what keeps traditional pipe craft a living tradition, always inspiring new derivations and returns from all corners of pipe production.
Even as the legacy marques and individual artisans continue to work with and from the traditional shape chart, there are new hands taking to the work. Among the best practitioners making traditional shapes their focus, in my opinion, are marques like Ashton, Genod, and Ropp. Jimmy Craig of Ashton studied under the late Bill Taylor, who founded the brand after leaving Dunhill's workshop. Ashton made a name for itself by developing its own method of oil-curing stummels, first practiced by Dunhill. Craig took over the workshop and has continued to preserve and develop the traditional shaping and techniques of English pipe making, elevating classic shapes with crisp finishes, silverwork, and accenting stems.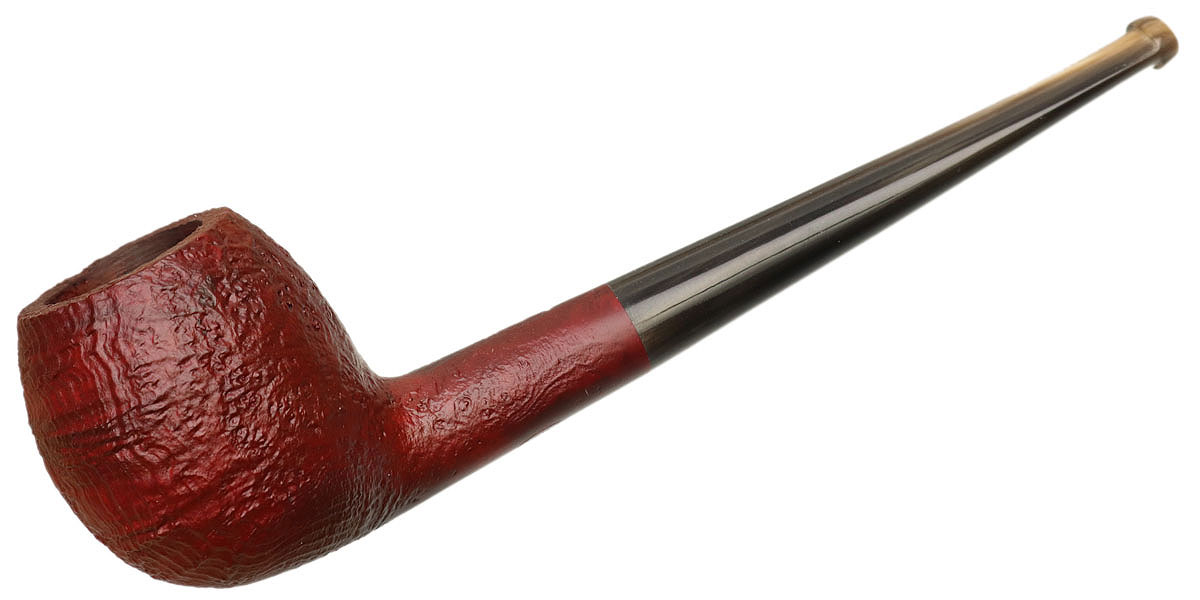 Ropp: Ruby Sandblasted Apple
Other marques in recent years, especially in France, have revived old brands and methods, keeping Saint-Claude a center of pipe craft for generations to come. Ropp, in particular, has brought back the name of a classic French marque under the banner of Chapuis-Comoy and has pioneered a return to the use of natural horn stems, seldom seen since the turn of the last century. Even more impressive, the workshop has repaired century-old equipment to steam-treat and bend natural horn using the original method. The reborn French workshop makes use of stummels from the Chapuis-Comoy factory, presenting pipes made from materials and techniques pulled directly from the pages of pipe history. And what's more, they smoke beautifully.
As the hobby of pipe smoking continues to grow, the art of carving pipes grows with it. With that growth will come new innovations in shaping and materials certain to please every kind of smoker. I, for one, am heartened by how traditional pipe craft has seen this sort of renaissance in the 21st century and look forward to what the craftspeople of today will continue to do with the shapes and styles of yesteryear. Whether retro pipes serve as an entry point to the wider, wilder world of contemporary briar carving or function as the gold standard of taste to the individual smoker, the shape-chart standards will always be there to come back to or depart from, faithful as ever.
You may also enjoy: