Shane's Top Five Pipe Cleaners
Pipe cleaners. We all use them and nobody talks about them, but they are the unsung heroes of the pipe world. We could not smoke so freely without them; when you find a dependable pipe cleaner, it's a consequential event, if you're a pipesmoker. Before I became one, like many other people I thought they were mere craft supplies, never making the connection between their name and function. Now, of course, they're critically necessary pipe accessories. Something so important should not receive so little credit. I decided to do the research, examine the products, and find out exactly which of these important items would work best for me.
5) BJ Long 9 inch Pipe Cleaners (32 pack)

$1.69
Are you a fan of the Canadian shape? Do you have any extra-long bamboo extensions in your collection? Are churchwarden-size cleaners just too excessive? BJ Long 9-inch pipe cleaners are the cleaners for you. The 9-inch length is custom cut for our Smokingpipes customers. The moderately stiff core wire and extra absorbent cotton is ideal for use during your smoke, especially if you tend to smoke on the wet side. While these cleaners are long, they are thin in diameter to ensure flexibility and a multitude of applications. The length allows you to use both ends of the cleaner without getting foul-smelling tobacco juice on your fingers. BJ Long 9-inch pipe cleaners are my go-to cleaners for longer pipes.
4) BJ Long Regular Pipe Cleaners (100 pack)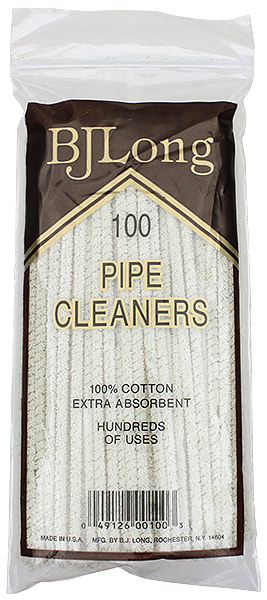 $2.10
BJ Long's Regular pipe cleaners are the best value all around. Since they are not tapered, they fit even the more narrow airways on your treasured antique briars. BJ Long's signature extra-absorbent cotton is great for wicking moisture mid-smoke, and the threadlike core wire is pliable enough to pass through the most deeply bent pipes. If you find yourself with a larger draft hole, they can be doubled over to provide full contact inside your pipe. A time-tested brand, BJ Long has been making quality cleaners for over 80 years and they remain a long-time favorite among pipesmokers.
3) Brigham Bristle Pipe Cleaners (75 pack)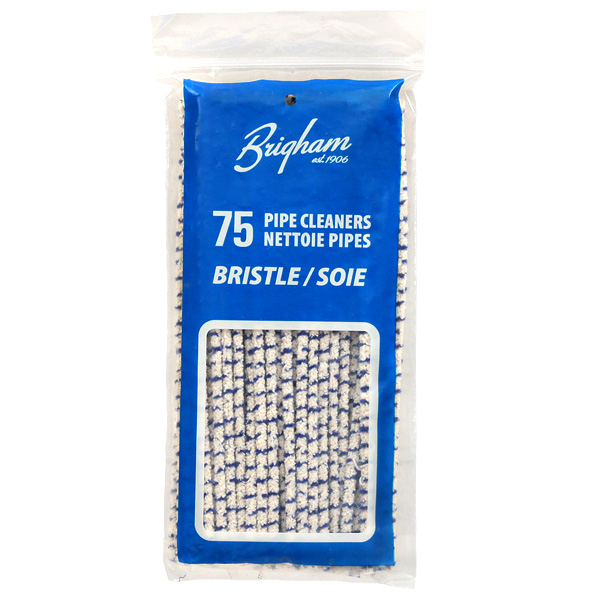 $1.99
We've all had a pipe or two that we've smoked a few too many times before we've realized it was overdue for a good cleaning. That's when we need some industrial strength cleaning power, and these Brigham bristle pipe cleaners should be in your arsenal. They have strong, abrasive bristles and a stiff wire core. When coupled with a high proof alcohol, these are great for heavy duty jobs. You can fold one of these bad boys and make a tough little scrubber for your mucky mortise, or bend it into a U-shape and have a pretty sturdy, makeshift reamer for superficial outcroppings in that cakey chamber. My recommendation is to save these for deep cleanings only and to use something less abrasive to deal with moisture during the smoke. I travel a lot and I don't like to lug around a bunch of tools, but I always have a couple of these guys with me...you never know when you're going to need some back up.
2) Peterson Tapered Pipe Cleaners (50 pack)
$1.76
We all remember Senior Standouts from our high school yearbook. Peterson Tapered Pipe Cleaners would've been voted "Best All Around." These are an excellent solution for your everyday maintenance needs, and particularly efficient for use in the Peterson System's graduated mouthpiece smoke channel. The conical shape enables these cleaners to be used for a range of draft hole sizes without sacrificing efficiency. The wire is stiff enough to maintain its shape but flexible enough to pass through your pipe from mouthpiece to chamber. The high absorbency of its soft fibers allows you to easily wick away moisture during your smoke. These cleaners are so soft you can even use them with some obsidian oil to polish your vulcanite or cumberland stems. A superior product at a great price point ($1.76), these Petersons always get my vote.
1) Blitz Pipe Cleaners (80 pack)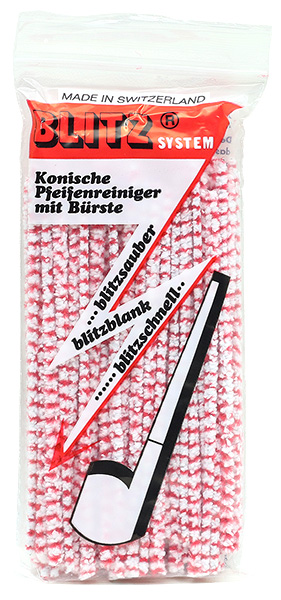 $2.80
My personal favorite. Slightly more expensive, at $2.80 a pack, they are worth the extra scratch. While all the cleaners in my list are pretty versatile, these are the most versatile. Again, I travel a lot, and I need the most bang for my buck when it comes to necessities. While they are cotton cleaners, they are lightly bristled for scrub power, but are so gentle they can be used everyday and durable enough for a deeper clean. They delicately taper to accommodate both modern and vintage pipes. Blitz is also my top pick for use during a smoke. These winners never have any issue with shedding lint or poor performance. I love these pipe cleaners and I literally buy them by the case. There, I've admitted it; it was time for the world to know.
This is my list of the best pipe cleaners available, but I don't know everything. The list of things I don't know is long, and you can add to it by telling me, in the comments below, what I've missed. Give me some recommendations. I would love to know what makes your own list!
You may also enjoy: