Smoke Rings: Interview with Robert Holt of Southern Draw Cigars
Partnering with the prestigious Tabacalera AJ Fernandez Cigars de Nicaragua, Robert Holt and his wife, Sharon, started Southern Draw Cigars, fusing his Southern roots with Nicaragua's rich tradition of cigar production. Holt chose the name specifically to illustrate the company's ideals: Southern culture combined with an effortless "draw" to represent well-crafted sticks. Through a foundation of family, faith, and fellowship, they promote a "culture of honor," one conversation and one cigar at a time.
Dedicated to integrity, consistency, and sustainability, each Southern Draw cigar is blended and handcrafted from Cuban-seed tobaccos in small, limited production batches by AJ Fernandez's talented team of torcedores and buncheros. This approach affords the brand superlative control over the entire production process, resulting in a diverse portfolio of cigars with excellent smoking qualities and a wide range of intriguing flavor profiles.
On this episode of Smoke Rings, I'm joined by Southern Draw's founder Robert Holt to discuss the brand's background, mission, and lineup. Tune in to learn more about Southern Draw's "culture of honor" in this exclusive interview.
Note: The following transcription has been edited for clarity and brevity.
[Tim Vanderpool]: Let us know what we're smoking today. I've got a 300 hands right here in front of me, and I know you're smoking a Cedrus Belicoso Fino. So tell everyone about this cigar, please.
[Robert Holt]: Well, that's the third edition of the 300 Hands line. The 300 Hands line, again, is a value priced line. We try to keep that in the $6.00 to $6.50 range. Classic blends, classic Cuban sizes. But most important, is the mission. The mission behind 300 Hands, again, is a reference to the fact that, from seed to the ash that we drop in this ashtray, it takes about 300 hands in this process; we've heard that term used over and over. But this project, for us, is really about helping the people of Nicaragua help themselves — telling their story, talking about their challenges, and finding a way to provide good quality premium, long fill cigars in classic sizes and in a little rustic format. And between ourselves, the retailers and the media members, and the consumers, it allows all of us to put a little a few coins in the kitty, every time we sell a cigar, to really make a difference down to those humble, hard working people.
[TV]: And this gives back to the community. But it's not necessarily restricted to those people that work for you, or for Southern Draw. It's the entire community, correct?
[RH]: That's a great point. We don't define it by people who work within the tobacco or cigar industry. Although, a lot of them do. But it's the observations they've made in and around Esteli, Nicaragua. There are people in the community who have been injured, or can no longer work in the industry. Or have not been, I say, lucky enough to even be part of the industry yet. But there are needs in the community, and we want them to be able to identify those needs, and not require them to be in the cigar industry to receive help. It's a community, right?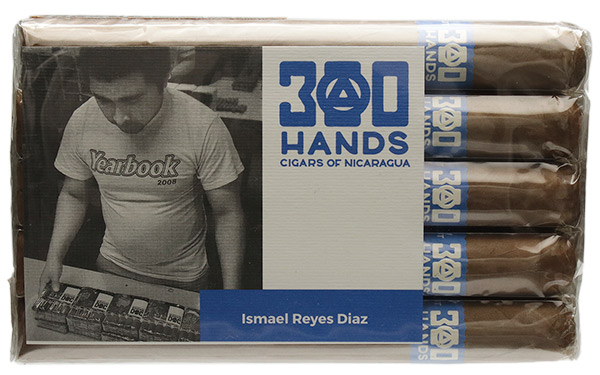 Southern Draw: 300 Hands Connecticut Corona Gorda
[TV]: And then that kind of goes into all your lines. I know this gives back to the people in the community. You're smoking the Belicoso Fino from Cedrus. Personally, this is one of my favorite blends from you. The Indonesian Sumatran on there is phenomenal! We were just commenting on the oiliness of this, but this gives back to the community. And you also give back portions of everything to the military correct? Or a lot of cigars, back to the military?
[RH]: That's correct
[TV]: And so this cigar (the Cedrus), it originally came out in the 10 count, ammo style, military container. And you had Hogan on there. Explain who Hogan is to everyone.
[RH]: So Phil and Shelly Hogan are part of the Southern Draw Cigars family. They have made incredible investments and contributions to the brand. But Phil, retired 20 years Navy, they're in San Diego. But part of the story, part of the message we wanted to share with the Cedrus offering last year, is to remind everyone to not forget that the families serve as well. Let's not forget that spouses, and parents, and friends and family, and children of our military service men and women are really contributing as well. They're responsible for the community the home life, keeping things moving forward. We've seen a lot of deployments in the last 20 or 30 years in our military. But Phil and Shelly Hogan, we wanted to honor them. The best way for us to do that, with our limited resources, is to share their story via cigar.
And you're absolutely right, we released this in the Belicoso last year as the first format. And it is Pizookie Sumatra. It is Habana 2000, it's an absolutely unique blend for me, and for the company. It's savory, it's floral, it's herbal. Just a rich medium plus, medium to full bodied smoke, and the good news is, because of the success of this, and the warm reception from our consumers and our retailers, we've now added the Robusto and Toro to this line.
[TV]: Being in this industry for 20 years, the packaging on that initial box was probably some of the coolest packaging I've ever seen. Wasn't the most shelf friendly thing from a retail standpoint, but it was phenomenal.
[RH]: I think, to have a unique design to honor people of influence in your lives — it was our goal. And I know it wasn't shelf friendly. But the beauty of it is, in that box, it was meant to be a limited run. Just in that one size. The beauty of it is, most consumers bought the box, for the box. We didn't find them on a lot of retail shelves. Most of those were at events. Hand selling those, and everybody wants them signed. And there all numbered boxes.
But, to share with your consumers a little bit. That box design will be continued to be used in a celebratory manner in limited production. So we'll be able to share some new stories, and some new art using that design. But it was, in fact, that really ammo can military. If you go back to the old 556762, NATO rounds, they came in a little cardboard boxes. And they sat in vertically, and you were able to pull those rounds out. But that was really the concept behind what we did.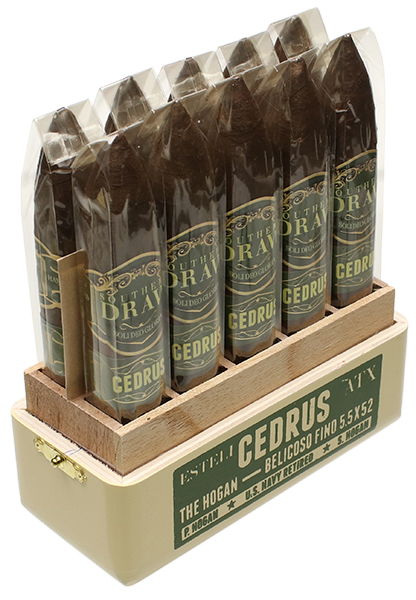 Southern Draw: Cedrus Belicoso Fino
[TV]: And I like it, it was phenomenal. So, we've covered the 300 Hands and the Cedrus. We'll get a quick overview of some of your cigars, and we'll get into some questions. So the Rose of Sharon — who, obviously, Sharon, who is your wife. That's a homage to her among other things, which we'll get into in a second. That has the Ecuadorian Connecticut wrapper on it. And then we've got the Jacob's Ladder, which is Pennsylvania broadleaf. We've got the Firethorn, which is Habano Rosado. We've got the Quickdraw, which comes in the broadleaf, the Habano and the Connecticut. And then we've got the Cedrus, which we touched on, in Indonesian Sumatra.
[RH]: That's correct, and, last but not least, which was really the first: the Kudzu. The Habano Oscuro was the first blend we ever released, and it's as Southern as any cigar will ever be, because its roots come from the South.
[TV]: We don't mention Kudzu, because kudzu, the plant, is some nasty stuff. But the cigars are amazing.
[RH]: Think about it from my perspective coming out of the military. Kudzu is invasive, it's been here since the late 1800s, really started in Florida, Georgia, Tennessee, the Carolina's. It's now found its way into every state. It's invasive, but it's determined. So when you start a brand like Southern Draw, and you start in the South, in your home territory — and the next thing you know, you see your cigars in all 50 states — what is more applicable than the name kudzu? This invasive new brand. We joined the godfather's, kings and queens of this industry; we've been welcomed with open arms, and that invasive, little brand called Southern Draw has now grown. So it really is fitting, if you think about the history.
[TV]: That works. That's a good way to describe that. All right, so, a little bit of background on you and Southern Draw. Tell us a little more about where you were born? Where you were bred? Where you were raised? A little bit about your life before cigars.
[RH]: I'm actually originally from Los Angeles. We found our way to East Texas after that. And a lot of our faith, family and hospitality comes from, I think, that transition, being in the smaller farming communities if you will. Learning how to grow for the necessity of eating. I think we do a lot of that right here in your backyard. I'd say, back in those days, if you didn't catch it, kill it, or grow it, your probably didn't get to eat it. So we really like to pay respect and homage to the humble, hard working people, once again. But it really comes from the simplicity of what the South really is to us.
Southern Draw: Kudzu Lustrum Belicoso
But, obviously, I've been honored to serve in the Army. Discharged honorably, that's always good, right. But we have a long history, in our family, of military service, and our extended family obviously on the Navy side. Not to discount, my two little nephews, who are now Marines, They're the first ones who have embarked upon that service choice. But military service, for us, in the community, in our family, has been important historically. We felt committed, we felt honored to serve. And then I spent about 15 years as a Wireless RF Engineer, designing RF and data networks around the world. For companies that are Verizon, Sprint, Qualcomm. What that afforded me to do, Tim, it afforded me to smoke cigars.
It afforded me, back in those days, of course, to drink nice Scotches and nice craft beers, but as we've selected this industry, we've gotta get back down to the Bourbons and cigars. But how it relates to the cigar industry, and Southern Draw, is that it took me into 66 different countries. But where I felt at home, where I felt at peace, was in central South America, the Caribbean. For the most part, I love developing third world countries, because life is still simple by design. And, not just the passion, but really understanding:
If we go back to Cuban roots, you have sugar cane, which produces nice, light rums. You have tobacco, which produces those Cuban-esque style cigars, that we all started with. And then of course, it's hot, it's humid, it's close to the equator, and we drink lighter, lager style beers, we get to do that. But as we grow this industry, and Southern Draw became a reality — and other brands have done this as well. As we moved beyond the Caribbean and Latin America, Central America, where the tobacco growing regions are, we get into elevation, and we start learning that, from a palate standpoint, we want more complexity. We want more flavor, we want to play with the science. So I guess, having exposure to people in the brewery, distillery, wine making business, and in the cigar business of course, what we wanted to do is apply science to create new complexities, new flavors, new experiences.
We don't want to do what everybody else has already done. So this evolution of my life, really comes to where I've been, and what I've seen, and who I've met. It's all about the relationships. I tell people all the time, if you walk into a humidor in a cigar shop, there's probably not a brand in there that didn't directly or indirectly help us. Help create us, give us the foundation. Teach us lessons, help us avoid pitfalls. So, you find us smoking a lot of other people's cigars; people ask me about it all the time. Our brand is a mission oriented brand. We do want to focus on very specific, quantifiable donations, whether it's Nicaraguan, or domestic, or military charities. But that's not to say that other brands don't do the same thing, because they do. That's just what defines us. It's the people that are most important, the causes that are most important. We want our family, and our customers, and our retailers to join us on that mission.
You may also enjoy: