Smoke Rings University: Humidor Humidity
Welcome back to another episode of Smoke Rings University. In previous installments, we've covered how to light and cut cigars, but today I wanted to discuss proper humidity levels for storing your favorite cigars and how to maintain those levels in your own humidors.
The two most common humidification products are Boveda and Humi-Smart. These two-way humidification packs are among the quickest and easiest ways of maintaining proper relative humidity levels with the least amount of maintenance involved. Both brands of humidification packs serve the same purpose, to either release or absorb moisture and maintain a static relative humidity within small, controlled spaces like humidors.
The only real difference in these two products is that the Humi-Smart packets feature a small indicator dot that notifies you when the packet needs to be replaced. The Boveda systems, however, do not feature an indicator dot, but they're still quite easy to maintain; once they get rock hard, simply throw them away and replace the dried packets with new ones. Both brands make a variety of packets designed for a range of relative humidity levels. The question is: which relative humidity level is right for you?
Optimal Relative Humidity for Cigars
If you've smoked cigars for any length of time, you've likely heard that the magic number is 70% humidity. 70% is a great ballpark relative humidity to shoot for, but it's important to understand the optimal levels for your unique humidor. Not all humidors are the same, and your humidification techniques should reflect those differences. An airtight humidor may need slightly less than 70%, while a glass-top or travel humidor may need slightly more. This variation is why both Boveda and Humi-Smart offer a number of levels that cater to specific humidification needs.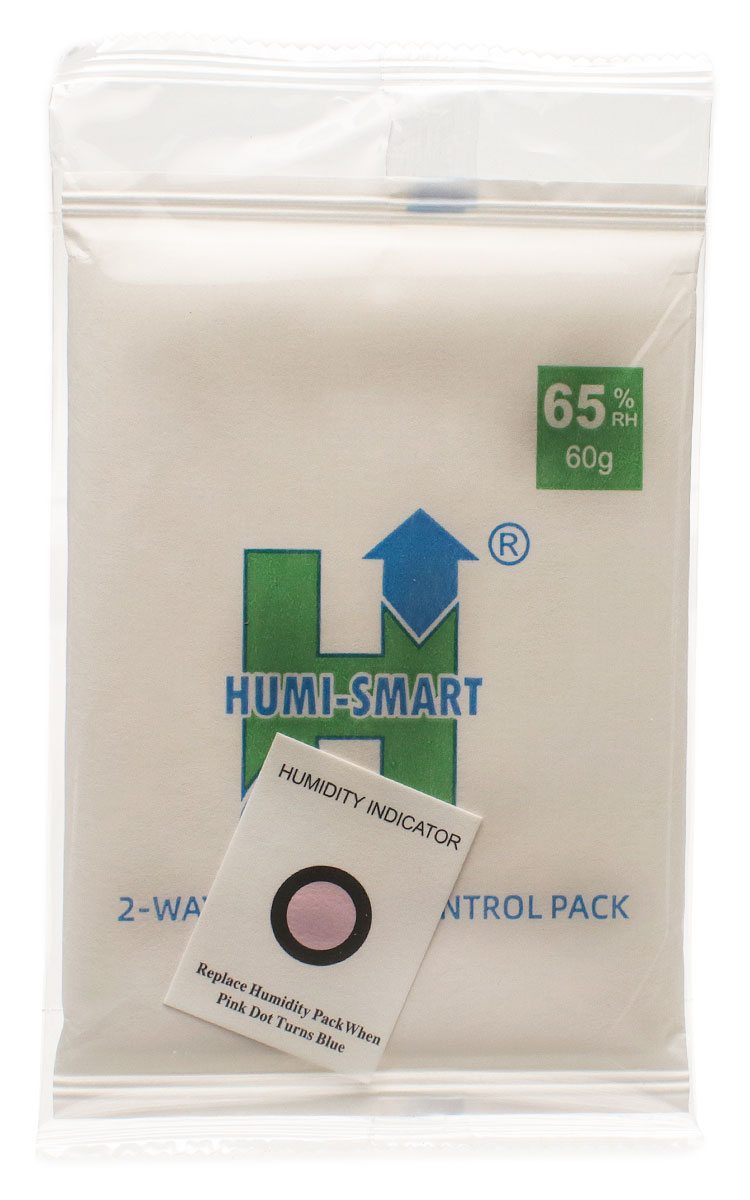 Humi-Smart Humidity Pack
65% Relative Humidity
Though not the most common, 65% is the optimal relative humidity for preserving Cuban cigars and for long-term storage and aging of your favorite smokes. The lower relative humidity levels increase the longevity of the cigars without allowing them to dry out. This range is also great for those who live in extremely humid climates.
69% Relative Humidity
Relative Humidity Packets around 69% are recommended for cigar smokers who have an airtight humidor, which covers most well-known desktop humidors; however, they are not recommended for glass-top or travel humidors.
72% Relative Humidity
For those who do have a glass-top or travel humidor, 72% is the recommended relative humidity. This level is perfect for humidors that are prone to drafts or for tackle-box-style travel cases. In many ways, 72% relative humidity is perhaps the most versatile. Packs at this level can be taken out of your glass-top desktop humidor and put into your travel humidor, or vice-versa — meaning you needn't have several different varieties on hand.
75% Relative Humidity
If you live in an area with extremely low humidity levels, you might consider using a 75% relative humidity packet in your humidors. The extra 5% helps maintain that optimal relative humidity against super arid climates, but it's also great for anyone who may be unsure of their humidor's seal or for those who are storing significantly fewer cigars in a large humidor.
While 70% is the optimal relative humidity for most cigars, it all depends on how you're storing your cigars and the area in which you live. Take a close look at your humidor or cigar storage and see which relative humidity best applies to your situation.
You can pick up all of these humidification packs, from both Boveda and Humi-Smart, in the Cigar Accessories section of our site. Compared to other humidity control techniques, these packets are extremely easy to use and accessible. For just $4 per 60g packet, you can optimize the relative humidity for your specific needs, which will help maintain your cigars over time and ensure consistent smokes for years to come.
Boveda Humidity Pack
You may also enjoy: