Tasting Notes: Low Country Waccamaw
Welcome back to another Tasting Notes review. Over the last couple of months, I've been slowly working my way back through the entire Low Country tinned tobacco portfolio. All of these blends are manufactured by Cornell & Diehl exclusively for our brick and mortar store, Low Country Pipe & Cigar, and Smokingpipes.com. So far we've covered Edisto, Guendelose, Cooper, and Black, and today I'll be reviewing another cult classic in the line: Waccamaw.
Out of all the Low Country blends, Waccamaw is probably the mixture that I have the most personal experience with. It's technically been the most popular or best-selling blend since the creation of the line, and on paper, it has pretty much all the things that I love about tobacco: It's a flake, it's Virginia-based — with fairly equal proportions of Bright and Red leaf — with a good chunk of Perique, and a little bit of Turkish. Just an outstanding blend, really. While it has been among the most popular and probably best selling blends in the line, I would say that, broadly speaking, it's still a really underrated Virginia/Perique for those of us out there who gravitate towards that category.
A Bready, Tangy Tin Note
In the tin, almost all of those components are immediately evident. The Turkish is perhaps the only element here that doesn't really stand out in the tin note itself. You do get a little bit of that earthiness, but mostly there's this sort of tangy, sweet aroma with a little bit of grassiness and hay-like flavors, as well as bolder notes of stewed fruits. This one in particular has like that typical figgy sort of note, but there's also that little bit of sweet cookie or sweet bread character. I also get some citrusy notes. It's not really on the lemon side, but a little more like orange zest. Overall, because of the sweetness, what I get in the tin is actually more of like an orange marmalade and tea biscuits kind of thing — these lightly sweet and malty tea biscuits with maybe an orange jam or marmalade. It's a really nice tin note, and a pretty good indication of what the smoke has in store for you.
Presentation wise, Waccamaw is packaged in these really nice broken flakes. There are a lot of different hues and shades in the leaf itself, ranging from a really bright lemon to sort of a darker chestnut. There is some darker leaf in here, too, which is presumably the Perique. It crumbles and packs really well. I would recommend smoking this in a larger bowl. When I smoked this in my smaller pipes, I did get a little bit more spice, but I lost some of the complexity and some of the sweetness. In a slightly larger bowl, something like a Group 3 or 4, I really get the full spectrum of flavors here. It's got a lot of body, produces a ton of smoke, and burns with a lot of spontaneity.
Bright, Zesty Citrus and Deep Spice
On the charring light, there are these big malty and bready notes right off the bat. There's a delicate sweetness that is sort of present throughout the smoke, but it never becomes cloying. It's also zesty, both immediately and throughout the whole smoke, particularly through the retrohale. You get a little bit of those citrus notes and some of those brighter Virginia notes — the grassiness, the hay-like character, etc. — as well as a distinctive citrusy tang and spice from the Perique. There are some dark fruit notes present, and again, I would say they're more on the figgier side here. Think figs, plums, even raisins — stuff like that. Raisin bread might be a pretty good way to describe this, too, actually; it's sort of reminiscent of cinnamon raisin bread.
As the bowl progresses, I do get a little more hints of warming spices, which is probably what reminds me of cinnamon. It's really inviting. There's a comforting maltiness that plays well with the brighter VA notes. There's a little bit of tanginess, a little bit of sourness, but mostly I pick up the citrusy and the hay-like bright Virginias as the foundational notes. And that's really interesting, because I would say that, for the most part, this blend is sort of in the mid-range. There are a lot of middle notes. There are some bright notes or high notes, as well as a little bit of depth from the earthy Turkish and dark fruit notes from the Perique, but overall, this is highly balanced and highly mid-range.
An All-Day Smoke for Virginia Lovers
For me, this is an all-day smoke, and I think it would be an all-day smoke for most Virginia lovers out there. The healthy dose of Perique does give this blend a little bit of oomph — particularly near the halfway point and towards the bottom of the bowl — but overall, I would say it's firmly a medium-strength, medium-bodied, medium-flavored Virginia/Perique. It's bready and hardy, but the brighter notes balance things out really well. And the depth, earthiness, and spice from the Perique and the Turkish add a lot of complexity and intrigue.
Overall, it's a super comforting smoke. It reminds me a little bit of Greg Pease's Embarcadero in the sense that, though it can be complex, it can just as easily fade into the background if you need it to. There's plenty to sink your teeth into, but mostly it's just an excellent, straightforward Virginia experience with a little bit of something extra.
When I opened this tin, it was actually the first time that I'd revisited Waccamaw fresh in many years. Most of the tins that I've smoked in the last six to seven years have been aged, so I can say from personal experience that this one does age extremely well. I haven't found any sort of limit in terms of how much better it gets with age, but it definitely has long legs and will be fantastic up into the multiple-decades range. That said, it also smokes great right out of the tin.
In summary, Waccamaw is an easy-to-enjoy, jack-of-all-trades Virginia. It has a little bit of everything and can satisfy a number of different tastes. Comparing it to other favorite blends of mine, I would say that if you are a fan of Cornell and Diehl's Sunday Picnic or Speakeasy, G.L. Pease's Union Square or Regent's Flake, Sillem's Councilor 1695, and even Solani's 633 Virginia Perique flake, Waccamaw deserves a try. I think even for somebody who's just getting into Virginia/Periques for the first time, this is going to be a really approachable mixture. It has enough Perique influence to really give you an idea of what the component does in a blend without being overpowering.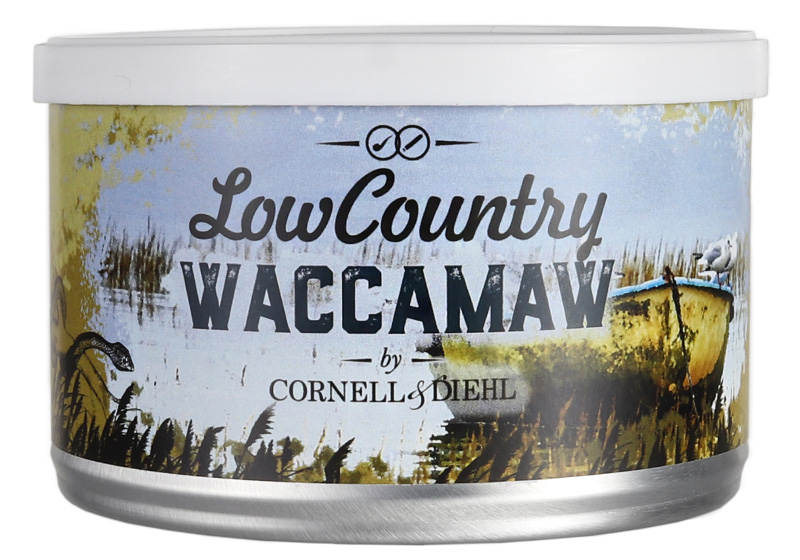 Low Country Waccamaw
You may also enjoy: