Wolfgang Becker's 8-Pipe Wasp Set
There are a number of milestones within a pipemaker's career. Selling one's first pipe elevates a carver from being only a hobbyist; the first time a maker showcases their work at a pipe show thrusts them into the public eye, gaining recognition and involvement in the community. For many, attaining their own sandblasting equipment is an important marker — it being one of the more expensive pieces within a workshop — and since traditional shapes are something of a rudiment within pipemaking (though they're far from easy to fashion), the first time a carver executes a classic shape with proper proportions and lines is often a meaningful moment, one of "having arrived" in some respects, proving their craftsman's eye and skill.
More technical accomplishments come next for many: hand-cutting a stem from start to finish completely out of rod and honing their handling of accent work and alternative materials, from bamboo and boxwood, to horn and silver. These latter skills in particular cement an artisan's engineering chops after having proven their ability to shape and finish. All of these rites of passage are achievable by most pipemakers, and many have and will.
There is another milestone, though, a more creative, artistic one, that many artisan carvers will never reach: developing a signature shape. Every pipemaker has a unique, distinctive shaping style, but to have a signature shape is something different. While the design might riff off of other standard shapes, a carver's signature must be its own distinct form, specific and nuanced enough to be remembered and repeated yet broad enough stylistically to allow for creative diversity across renditions. Along with that, a signature shape will, by nature, be recognized by the pipe community at large, with the carver's name immediately associated, and, in many cases, encouraging others to imitate the design, yet always calling to mind the original creator's name when seen.
You're probably already familiar with many carvers' signature shapes. Sixten Ivarsson has his Peewit, Lars his Fish. The Knife Pipe and Heart Pipe are both products of Tom Eltang, and Bo Nordh perhaps boasts the most well-known signatures, including the Elephant's Foot, Nautilus, Ballerina, and Sphinx designs. Modern carvers have followed suit too, with Adam Davidson's Fig and the Játoba from Gustavo Cunha of Martelo, to name two.
He found that pipe in the Wasp, characterized by a rotund, often asymmetrical, bowl, raised transition, and a shank that flares outward, likening the profile to that of its namesake insect — the waistline pinched between abdomen and thorax.
German carver Wolfgang Becker also enjoys a spot on this list with his Wasp shape.
"I carved my first Wasp in either 1988 or 1989; I can't quite remember." Becker laughs, realizing it's been three decades since then. "In searching for my own design, I wanted to make a pipe that both saved briar as well as offered a thrilling design." He found that pipe in the Wasp, characterized by a rotund, often asymmetrical, bowl, raised transition, and a shank that flares outward, likening the profile to that of its namesake insect — the waistline pinched between abdomen and thorax. "That's why I named it the Wasp," Wolfgang says. "The waist of the pipe reminded me of the wasp insect, so it was pretty obvious. A natural, fitting name."
Becker considered more than just shape and line, though, when he first designed the Wasp; he wanted a pipe that smoked well and would be comfortable for pipesmokers, saying, "It was important to me that the pipe's center of gravity be close to the mouth for optimal smoking comfort and balance." Wolfgang accomplished that with the dramatic flare of the shank, adding weight closer to stem, and the form's slight S-curve.
One of the most intriguing aspects of Wolfgang's Wasp, however, is how the German artisan is able to fashion so many different iterations. He's found a design that perfectly treads the line between shaping elements that are specific enough to define the design yet broad and general enough to give Becker a wide degree of creative license when he approaches each new piece. "I could make 50 variations of the shape, and they would all be different," he says. And he no doubt has. Over the course of the shape's 30-year history, Wolfgang's made countless Wasps, much more than 50, and you'd be hard-pressed to find an identical pair.
Such diversity across Wolfgang's Wasp designs not only allows him more freedom in the workshop, but it also makes each shape completely individual and unique for the collector.
Earlier this year, Becker put the Wasp and its shaping versatility on full display in the form of an eight-pipe set, comprised entirely of eight Wasp renditions stamped #1 through #8. While the German carver has made two- and three-day, "weekend" sets before, this was the first time he'd attempted anything of this magnitude. Considering Wolfgang's limited production rate, this set alone represents roughly one third of his usual yearly output, making it all the more significant and special within the artisan's portfolio.
From the first pipe to the eighth, it took Wolfgang about a year to complete the set, and he made other pieces in between. "Every time I finished a Wasp, I would have to decide if it fit into the set," he says. "None of the specific Wasp renditions or finishes were planned beforehand, so each pipe was considered as it was made. Eventually I had the eight pieces I wanted, and a year or so had passed since picking the first one. There was no special planning or time frame though."
Such diversity across Wolfgang's Wasp designs not only allows him more freedom in the workshop, but it also makes each shape completely individual and unique for the collector.
We're used to seeing seven-pipe sets from marques and makers, so this eight-pipe collection is a special rarity by comparison. Becker's reasoning was rather simple however: "There are a lot of seven-day sets out there, so I decided to do something a little different. Plus, I wanted the set to fit into one of Neil Flancbaum's leather bags, and they have eight pockets. It was just more practical to do eight Wasps."
Neil Flancbaum of Smokin' Holsters fashioned the set's bag from buffalo leather, deer skin, and kangaroo leather, and it features eight pockets for the pipes, as well as compartments for tobacco and necessary accessories. "It was no question as to what I wanted to put this Wasp set in," says Becker. "I use Neil's bags for my own personal pipes that I smoke, and I think they're an example of excellent craftsmanship."
The choice of pairing this collection with a bag is also something of a departure from other sets we've seen of this size. Often times, a larger pipe set will come presented in a display box or some other more decorative arrangement. Wolfgang, however, like with all of his pipes, wanted these eight pieces to be smoked and fully enjoyed as they were meant to be. "My intention was always that this set be for smoking and practical, pipesmoking use, not only as an exhibit," says Becker. Fitting them with their own travel bag encourages this and caters to the needs of pipesmokers.
Most striking and significant about this Wasp set is how it showcases the diversity of Wolfgang's signature shape. It's a microcosm of the shape's 30-year history and a representation of all that's possible within the same design, and Becker has varied each piece not only in form but in finish and materials used as well — displaying everything from smooth and sandblasted textures, to partials blasts, contrast stains, and a jet-black finish. One piece is even made from Boxwood, with the shank lined with briar to ensure a consistent and sturdy tenon/mortise fit.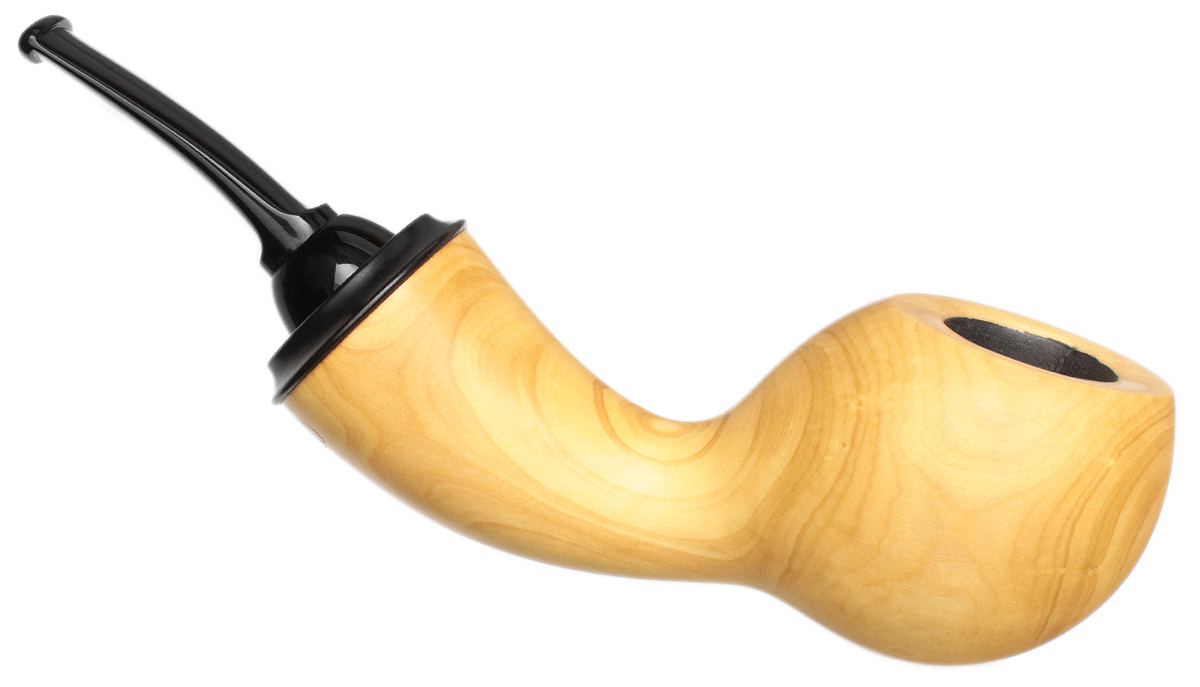 "I wanted to show the diversity of the shape and offer as many details as possible without overloading the set with too much intricacy and minutiae," Becker says. He struck that balance well with these eight pipes. Most show some degree of asymmetry, yet some follow the grain while others ignore it, and the accents adorning the shank ends differ from piece to piece, varying between boxwood, mammoth ivory, and ebony wood. The only unifying aspect between the eight pipes are them all being Wasps, and the jet-black vulcanite stems remain consistent in their palette and the domed shaping of the base, though each one is bent and sized specifically for its individual pipe.
Within the set, Wasps #2 through #7 bear Wolfgang's Double Wolf Paw grade (his second highest), while #1 and #8 have received his most prestigious honor: Becker's Signature.
Wasp #1 is perhaps the most striking variation within the set, notably because of its finish. The form, though elongated of shank, remains rather reserved and standard for a Wasp, but the finish is something Wolfgang has never done before. "It's the first completely black pipe I've ever made," he says. "The glossy, ebony stain keeps the long shape elegant and doesn't distract from the pipe's lines. It's minimalism at its best."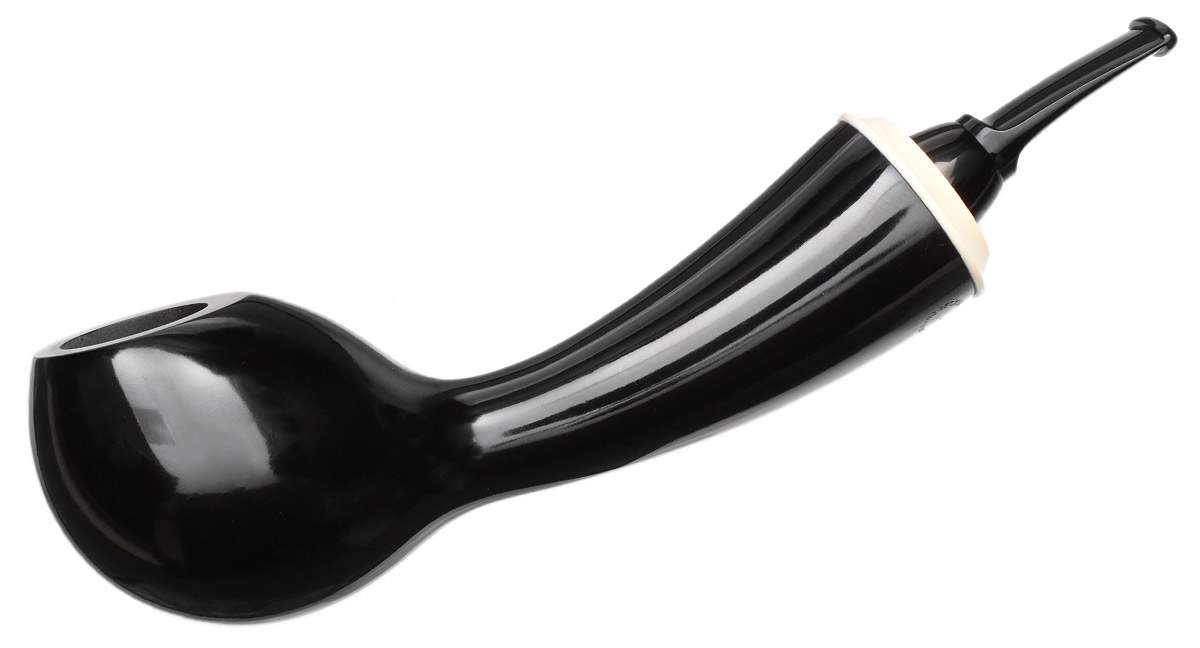 Such an aesthetic, here accented with mammoth ivory, calls to mind Lars Ivarsson's Black Pearl finish, and the motif focuses entirely on the pipe's shape. None of the briar's natural grain pattern can be seen underneath, meaning all the attention is placed on the form's lines and curves. There's no stunning grain to overshadow and distract from sloppy shaping, and Becker executed it immaculately here, the extra-dark palette absorbing the light and making the piece seem like a silhouetted shadow of itself.
While Wasp #1 is likely the most impressive and individual, Wolfgang's personal favorite is #8, also a Signature grade. It's an excellent example of how asymmetry affects the shape: In direct profile, the form looks standard and familiar, an archetypal Wasp, if you will, but when viewed from any other angle, the piece features asymmetry along every aspect. The bowl's waistline is tilted and the chamber offset within the rim; the pinched shank is oriented at an angle, matching that of the bowl; and the stem is slightly bent to the side, coinciding with the piece's sinuous flow through the horizontal axis.

To ensure the asymmetry is well-placed and integrated on his pieces, Becker takes extra time and care when shaping. "In the evening, Gitta [Wolfgang's wife] and I will maybe be watching television in the living room," he says. "I'll sit there with an unfinished pipe in my hands, slowly analyzing it with my fingers and discovering what I want to change. I'll make pencil marks and then return to the workshop the next day." It's a methodical, unrushed process, and Wasp #8 is simultaneously a simple yet complex design, perfectly encapsulating the essence of the Wasp as a shape.
Wolfgang is an artisan, saying, "I love to visually realize my creativity in the form of pipes, and every piece of briar contains unlimited possibilities." He's certainly tapped into those unlimited possibilities with the creation of the Wasp shape and this eight-piece set. The set represents the German carver's seminal work as an artisan pipemaker. It's his magnum opus, and arguably the best pipe set ever made. To showcase such diversity across the same shape bespeaks Becker's skill as both a craftsman and artist, and a set such as this is likely never to be seen again.
And yet, this collection isn't meant for a museum, hidden behind sterile glass; all of these pipes were made to be smoked, and Wolfgang, as a pipesmoker himself, prioritizes smoking qualities within his work, focusing on exceptional engineering and comfortable stem work. "A finished pipe satisfies all our senses — from visual and tactile appeal to taste and smell when it's smoked," says Becker. While this set is visually stunning and aesthetically breathtaking, it's also meant to be practically used. These Wasps were made for pipesmokers, and they perfectly represent the craft of pipemaking as one that produces practical art.
You may also enjoy: