Cornell & Diehl: The Beast 2oz Pipe Tobacco
Product Number: 003-016-0223
One of the few pipe tobaccos on the market to focus on Perique as a primary blending component, Cornell & Diehl's Small Batch: The Beast is a powerhouse blend of over 50% Perique, soaked in dark, spiced rum for seven days. Supported by C&D's proprietary Red Virginia Cavendish, unsweetened Black Cavendish, and a whisper of Dark-Fired Kentucky, The Beast offers a robust flavor with notes of mesquite smoke, ripe stone fruits, and boozy spice, as well as a full body and a rich finish.
From Tin Description:
Legend has it that Aleister Crowley, famed adept of the Order of the Golden Dawn and founder of the Ordo Templi Orientis, is purported to have made a habit of smoking rum-soaked Perique as a meditative aid.

To date, many a dabbler has pursued his own manifestation of this concoction out of sheer curiosity. We have too. And so, in the spirit of the nefarious occultist himself, we sought to tame the Beast with our own rendering of the recipe, soaked for seven days in spiced rum, so we might share our vision of it with the most inquisitive and brave of pipe smokers.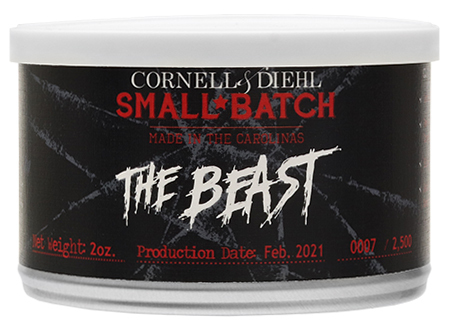 Components:

Virginia, Perique, Dark Fired Kentucky, Black Cavendish

Family:

Burley

Cut:

Ribbon