Andrey Grigoriev Pipes
2 Total

A former engineer by trade, Andrey Grigoriev began smoking a pipe in the early 2000s and was immediately drawn to the inherent balance of function and art in pipe making, carving his first pipe soon after. Andrey continued his pipe-making education through online forums, specifically Alex Florov's tutorials in Russian, but his skill and expertise increased exponentially upon meeting fellow Russian carver Viktor Yashtylov. Over the course of five years, Grigoriev was a frequent guest in Yashtylov's workshop, and in 2010, Yashtylov offered Andrey an apprenticeship, during which Andrey perfected his acumen as both a craftsman and an artist, prioritizing the engineering aspects of a pipe — from drilling and button work to finishing techniques and hand making stems — as well as creative and evocative aesthetics.

Inspired by Yashtylov's inventive approach to the craft (e.g. his iconic magnetic stems), Andrey has developed his own signature techniques and styles. He's developed a distinct technique for creating unique, non-standard tenon shapes — ovals, triangles, etc. — that still fit perfectly, and he's developed a number of signature finishing styles, including his "wrinkled" aesthetic: an intricate carving technique that imbues the briar with the look of being wrinkled, as if fashioned from cloth. Andrey enjoys the challenge of realizing what once may have been considered impossible: "Pipes are not only smoking devices," he says. "They're modern art."

When making a pipe, Andrey usually begins with sketching the design, and he utilizes high-quality briar from Algeria and traditional, black vulcanite for his hand-cut stems. If accenting a pipe, Andrey typically opts for exotic hardwoods, such as boxwood, and other organic elements, like horn or bamboo, but sometimes adorns pipes with titanium. Carving roughly 50 pipes a year, Andrey maintains a low production rate to ensure the utmost quality of design and engineering, spending around a week on each pipe he produces, and those that he deems particularly exemplary regarding shape and grain orientation, he stamps "Extra."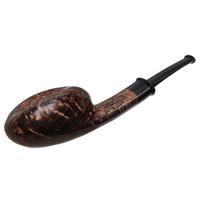 Portfolio for Andrey Grigoriev