Best Humidors for at Home and On the Go
For enthusiasts of cigars, the humidor is an accessory which is utterly essential, serving as the cornerstone of cigar storage by ensuring that they stay fresh until smoked. This "freshness" is more a measure of appropriately maintained humidity rather than the cigar's newness from the factory, and humidity maintenance is a key function of the humidor. The tobacco leaves which comprise a cigar's blend are most often aged for months or years within curing barns, and the finalized cigars themselves are also set to age once they've been rolled, the rolling process necessitating pliable leaves which are still rather moist. The curing barns where the rolled cigars are aged within generally boast high humidities and temperatures, though kept within a particular range to guarantee that the flavors of a cigar are enhanced to their fullest potential as they are aged. It's the conditions of these barns in which humidors replicate, creating and sustaining an environment conducive to further aging and stable stashing.
What is a Humidor?
Humidors come in a variety of shapes and sizes, from room-sized walk-in oases of cigars numbering in the thousands, to small, hard plastic cases that can accommodate only a handful of one's favorite smokes. Likewise, humidors can be made from myriad materials, though are most commonly constructed of Spanish cedar, or at least lined with it, thanks to Spanish cedar's ability to lock-in moisture. What unifies almost all humidors, however, is their purpose and abstract shape, being some variety of box whose duty is to store cigars at optimal levels of temperature and relative humidity (RH) for as long as they are kept up with. It's not enough for the inside of a humidor to be conducive to retaining humidity, they must also be outfitted with a humidifying device to make up for any moisture lost during opening or absorbed by cigars naturally. For this reason, humidors are at their best when they are airtight, or at least sealed well, keeping as much humidity contained as possible and reducing the regularity of humidification device replacement or recharging.
Why Keep a Cigar Humidified?
Cigars which aren't kept at the proper levels of temperature and RH will invariably dry out, unless the natural environment of one's house can replicate the conditions of a humidor: the generally accepted standard of both temperature and humidity being 70°F and 70% RH with a margin of two in either direction. Dry cigars lose a good deal of their natural oils, and a cigar's oils are the major factor in its flavor, the process of aging in a factory setting serving to refine and enhance the presence of these oils. Once the oils evaporate or are spread out more thinly as the moisture in the cigar is leached out, they never return, at least not in the state that they were in before, making for a cigar that's, at best, less flavorful, and, at worst, unsmokeably bad. Not to mention the terrible quality of burn that dry cigars offer, or the brittleness which characterizes the tobacco itself once it reaches that point. Suffice it to say that a dry cigar is a bad cigar, and that the best way to ensure your cigars never reach that point is to keep them in a well-maintained and close-to-airtight humidor.
How to Pick a Humidor
Picking a humidor is a multifaceted process which most prominently involves considering aesthetics, storage capacity, price, and specific needs. Much of this process is unique for the individual and boils down to a matter of personal preference and accessibility, though price and use-case are arguably the most vital considerations to make: A full-sized desktop humidor might not make the best designated travel companion, and you still have to be able to buy cigars to fill your humidor after you purchase it. Aesthetics are almost a wholly personal decision, though are still governed by pricing, with rare and beautiful woods and patterns demanding a higher cost than less exotic options. However, beautiful humidors can be found at nearly any price. Higher capacity humidors are best for people who smoke often and maintain larger collections, as more cigars that are more saturated with the right amount of humidity can maintain the environment of the humidor longer.
Best Humidors for at Home
On-site, we maintain a handsome collection of hinge-top humidors that are perfect for keeping at home, either as a centerpiece for an end table, an accent on a desk, or a companion for a smoker-friendly room. Each of these humidors feature either Spanish cedar lining or full Spanish cedar construction, making them worthy receptacles of your valuable smokes that are sure to retain their moisture well.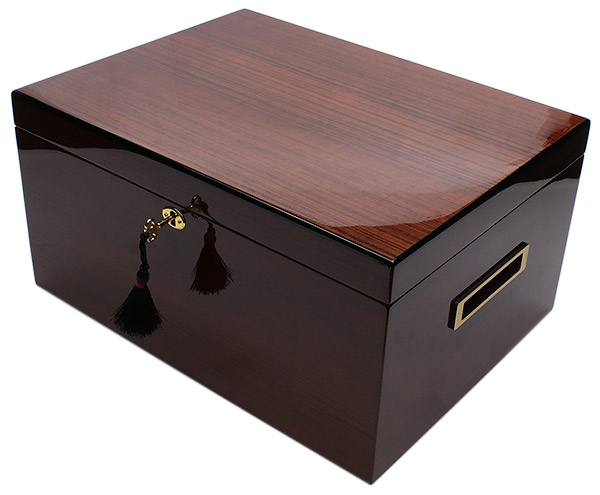 Savoy humidors are distributed by Ashton, a renowned cigar brand in its own right, and they provide a lovely combination of affordability and quality which makes them a compelling choice for both beginners and experienced smokers alike. Savoy humidors come in a variety of wood finishes and sizes, with capacities ranging from 25 to 150 cigars for their small and extra-large varieties, respectively. This African Teak edition of their extra-large humidor can fit a small stockpile of cigars and does so with an elegant, stylish flair, its glossy surfaces showcasing a handsome display of grain, all without breaking the bank. Handles on the sides of the humidor make carrying easy, and a lock and key ensure that your cigars are kept safe and secure. Complete with an analog hygrometer and proprietary humidification system, this humidor has almost everything you need to store your cigars right.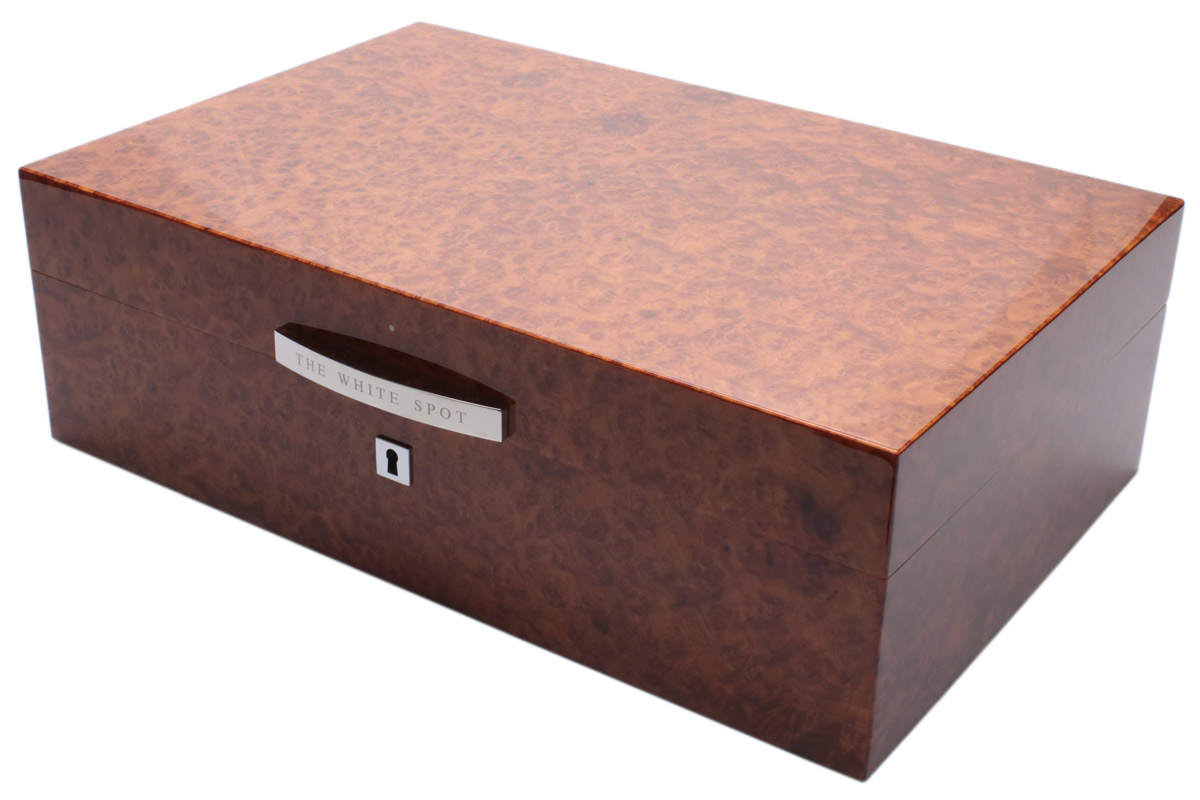 English marque Dunhill has been a staple in the pipe world for more than a century, consistently offering high-quality pipes and accessories for the discerning smoker, holding themselves and their products to the highest standards. Dunhill's repertoire isn't limited to pipes, however, as the brand has an impressive array of cigar-focused accoutrements which run the gamut from cutters and lighters to humidors, such as this large, 100 cigar capacity example finished in Amboyna burl. Also available in smaller sizes and a variety of handsome dressings, this humidor features a vast pattern of swirling grain and a timeless design sure to elevate its surroundings wherever it's placed. The sleek look of this humidor is complemented by its understated, silvery handle, adding function while keeping the lines elegant and almost uninterrupted, and the function of its form is enhanced via its lock and key arrangement.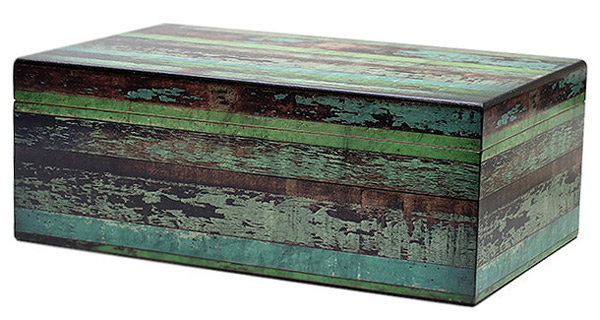 Craftsman's Bench is a brand of cigar accessories produced by the J.C. Newman company, well-known for their lines of reputed, high-quality smokes, including the Diamond Crown, Brick House, and Perla Del Mar sub-brands. Craftsman's Bench accessories pose an incredible value for the money, combining solid builds with unique and striking aesthetics, something which is represented well by this Key West Humidor. Accommodating up to 90 cigars, there's certainly ample storage capacity here, complete with a distressed wood look across the surface which holds one's attention thanks to its vibrant palette. Craftsman's Bench humidors are also available in other sizes and finishes, such as the 65-count Andean and 50-count Laredo, and include an analog hygrometer and humidifier, letting you get a head start on building your collection as soon as possible.
Best Humidors for On the Go
As their name suggests, travel humidors are the perfect solution for bringing your treasured smokes along for read trips, air travel, or even short jaunts to a local cigar lounge. A good travel humidor should not only keep cigars humidified, but should be able to withstand the rigors of travel, should be small enough to be carried easily, and should keep cigars safe and secure. Like their larger counterparts, travel humidors can take many forms and be made from a variety of materials, with looks that can range from ruggedly functional, to sleekly stylish.
A traditionally-inclined travel humidor with a 10-cigar capacity, this offering from Dunhill is yet another example of the White Spot's dedication to quality and refined aesthetic language, complete with an Anglo-French sense of elegance that would be at home in any formal setting. Slim and sleek, this humidor features cedar lining encased within supple calfskin leather stained an inky black, offering surfaces soft to the touch and lent some striking contrast by way of the silver Dunhill plaque accenting the top. The top itself opens book-style, allowing easy, immediate access to smokes, and the hinged lid is secured to the main body through a powerful magnet, keeping the lines of the humidor smooth and nigh uninterrupted. Also available in Terracotta, this humidor comes with its own humidifier and is perfectly suited to being slipped inside a briefcase, overnight bag, or suitcase.
For enthusiasts of more classically-styled humidors, Savinelli's Travel Cigar Box poses an excellent value while staying true to an understated style of design that can complement almost any occasion. A book-style humidor that features a hinge-top lid, the construction here is primarily Spanish cedar, with leather lining the entire exterior and making for an attractive case which is still robust and distinguished. The top is embossed with the Savinelli logo and secures to the body of the humidor via a pair of magnetic clasps for a strong fit, maintaining the seal well and keeping your cigars safely inside. With capacity for 10 cigars, this compact humidor would be at home in a satchel, messenger bag, backpack, or suitcase, and its charming looks complement a keen functionality sure to make it a favored companion.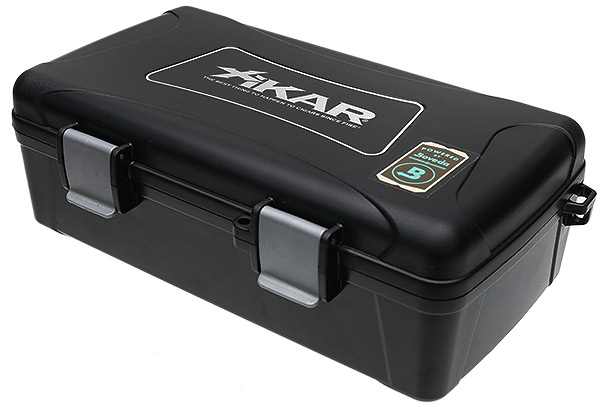 Xikar is a smoking accessory brand renowned not only for the refined aesthetics of their products, but for the high quality of these products' builds and the legendary warranty with which they insure them. From lighters and cutters to ashtrays and butane, Xikar additionally makes rugged, utilitarian travel humidors out of molded ABS plastic which, when closed, are air tight and water tight. Not only this, but the strength of the design lends itself to a remarkable crush resistance, affording your cigars a safe home even in extreme conditions. High-density urethane foam lines the interior of the humidor in layered "trays" which can easily compress as the top is closed, though leaves plenty of room to accommodate a humidity pack and 10 cigars. Stainless steel latches and hinges further fortify this humidor, truly solidifying it as a potent option for travel carry, something furthered by its availability in multiple sizes. A low price point and excellent humidity retention make this humidor a great way to start a collection, capable of holding a solid selection of cigars for a very long time without a great deal of maintenance.
A good humidor is a true necessity for any cigar smoker at any level of experience, though selecting one can be a daunting task given the breadth and depth of choice, even for experienced smokers. However, this wealth of prospective picks makes for compelling options at many price points and configurations, capable of holding as many cigars as needed for a variety of situations. This list is by no means an exhaustive one, though hopefully it's offered at least a few appealing options for those still in need of a good humidor. For more information about humidors, their history, function, purpose, and maintenance, make sure to read this more comprehensive article on the subject, and leave us a comment to tell us what we missed!
You may also enjoy: