Briar to Binder: Dunbarton Tobacco and Trust StillWell Star Aromatic No.1
Welcome back to another episode of Briar to Binder, a crossover video series where we take a closer look at cigars through the lens of a pipe smoker. On this episode, we have not one but two special guests. Founder and Master Ligador of Dunbarton Tobacco & Trust, Steve Saka sits down with Cornell & Diehl's head blender Jeremy Reeves to discuss Steve's new cigar brand StillWell Star. Crafted using Cornell & Diehl pipe tobaccos and Saka's finest cigar leaf, these four expressions represent the world's first luxury pipe tobacco cigars.
In addition to discussing the brand, Steve and Jeremy take a closer look at the StillWell Star Aromatic No.1 — handblended to capture the essence and experience of classic Aromatic pipe tobaccos. Cornell & Diehl's proprietary Cavendish, golden Virginias, and Burley pipe tobaccos are added to Nicaraguan cigar leaf to make for a delightfully smooth smoking experience with an incredibly pleasant room note. Each Aromatic No. 1 cigar is delicately finished with a sweetened cap to further complement the flavor profile. Watch the full video to learn more about the blend and the StillWell Star project in general — the luxury crossover cigars that pipe smokers have been waiting for.
Note: The following transcription has been edited for clarity and brevity.
[Jeremy Reeves]: Hi everyone. I'm Jeremy Reeves, Head Blender of Cornell and Diehl Pipe Tobacco Company. And today I'm joined by a very special guest, Mr. Steve Saka the founder and Master Ligador of Dunbarton Tobacco and Trust. Steve, welcome.
[Steve Saka]: Thank you. I'm not so sure how special, but I appreciate the compliment.
[J.R.]: Well it is special to have you here, but what we're here to talk about is also really special. It's kind of a cool collaboration project, actually, between Cornell and Diehl and Dunbarton to a degree.
[S.S.]: Oh, absolutely. So we're here to basically introduce StillWell Star. StillWell Star, in its most basic description, is the first luxury pipe tobacco cigar on the market. It's something that stemmed from a practice that I've been doing for over a couple of decades. I've been a lifelong pipe smoker. I'm better known as a cigar smoker, obviously, but for many years I have taken some of my favorite pipe blends and added them to some cigars, because sometimes smoking a pipe isn't convenient: It requires a lot of parts and pieces, and you have take a lot along with you while with a cigar, you just light it, smoke it and sit back. There's also a lot of interesting flavors and nuances that you can experience from pipe tobaccos that are dramatically different from what you experience in cigars. So in a way, StillWell Star was me combining my two loves.
When we met a couple of years back, Jeremy, I had mentioned this practice to you and you, Shane, and other people here at Cornell and Diehl were really enthused by the idea.

[J.R.]: Yeah, I thought it was so cool that you had been doing this for so long and that basically nobody knew. I thought it was fascinating that there was this interest from someone like yourself who was super into tobacco to combine these things, and it just seemed to me that would be something that would appeal to a lot of people, too.
[S.S.]: And it worked both ways because I happen to be a big fan of the tobaccos that Cornell and Diehl makes today, as well as a fan of Jeremy. So we set up the beginning of this relationship to try to see if we could bring this concept of making custom pipe blends that we could then turn into custom cigars and kind of marry these two concepts together, and it allowed us to share that experience with a wider audience than what I had been doing casually for years.
So we ultimately decided to focus on some basic cornerstones of pipe tobacco. We started with an Aromatic, an English-style blend, a Virginia/Perique, and then a classic navy blend. So there are four unique individual blends, and not only are the pipe tobaccos unique in each one obviously, but also the blends in each of the four cigars were slightly modified to enhance the individual pipe tobaccos. For today, though, we're going to focus on the Aromatic No.1.
The Aromatic No.1 is interesting. Shane said this before, but it's sort of represents the archetype of Aromatic tobaccos. It's a classic representation — a bit more subtle than some of the Aromatics out there, but it's distinct enough that when you smoke it, you definitely get a sense of it being Aromatic.
[J.R.]: Sure, it is. There are classic notes of things like chocolate and vanilla, but it's kind of a melange. It's just a nice mixture of sweet flavors and classic tobacco flavors that I think work really beautifully in this cigar.
[S.S.]: I heard one person describe it as reminiscent of a red velvet cupcake with vanilla cream frosting, particularly in the kind of the aroma that they were getting from the cigar. Of the four debuting blends in the StillWell Star brand, Aromatic #1 is the only one that's been enhanced with a touch of sweetness to the head of the cigar. It's what I would call a cabeza dulce, which is just Spanish for "sweetened head." But I think it's a soft expression of an Aromatic tobacco, and the blend of the cigar itself was meant to complement that. So even though it still has a dark Ecuadorian Habano wrapper on it, the blend itself in the tripas is a much lighter style of blend. It has some lower primings of some Nicaraguan leaf with a slight bit of Dominican tobacco, but there's really not any ligero in the blend at all for this particular one. And that's because I didn't want the cigar portion of it to overtake the sweetness and the delicacy of its Aromatic notes.
[J.R.]: Sure. It smokes so nice and mellow, and is very approachable. I think the blend of fillers that you put together works really nicely with the pipe tobacco that is included in this, which is Red and Bright Virginia, Burley, and Black Cavendish with this proprietary topping that kind of brings out the natural chocolatey notes and things that are already present in these cigar tobaccos, as well as in the Burley.
[S.S.]: And that's what's interesting: It's kind of this lightly aromatic cigar, you know what I mean? It isn't gonna knock you over with sweetness or a sickening level of flavoring. It's much more subtle and takes a much more nuanced approach. I think one of the most appealing things about this particular cigar is the room note. The aroma in the air is really quite amazing. When you're smoking a cigar, your experience of the aroma is different from what other people around you are experiencing, because you're also getting the taste component of it. I think you're gonna be surprised by how many compliments you get from other people when you smoke the Aromatic #1.
[J.R.]: So that's a quick look at the StillWell Star Aromatic No.1. It's a really nice, mellow, approachable, and naturally sweet cigar with a wonderful room note and great flavors across your palate. I hope you guys enjoy it. Thanks so much.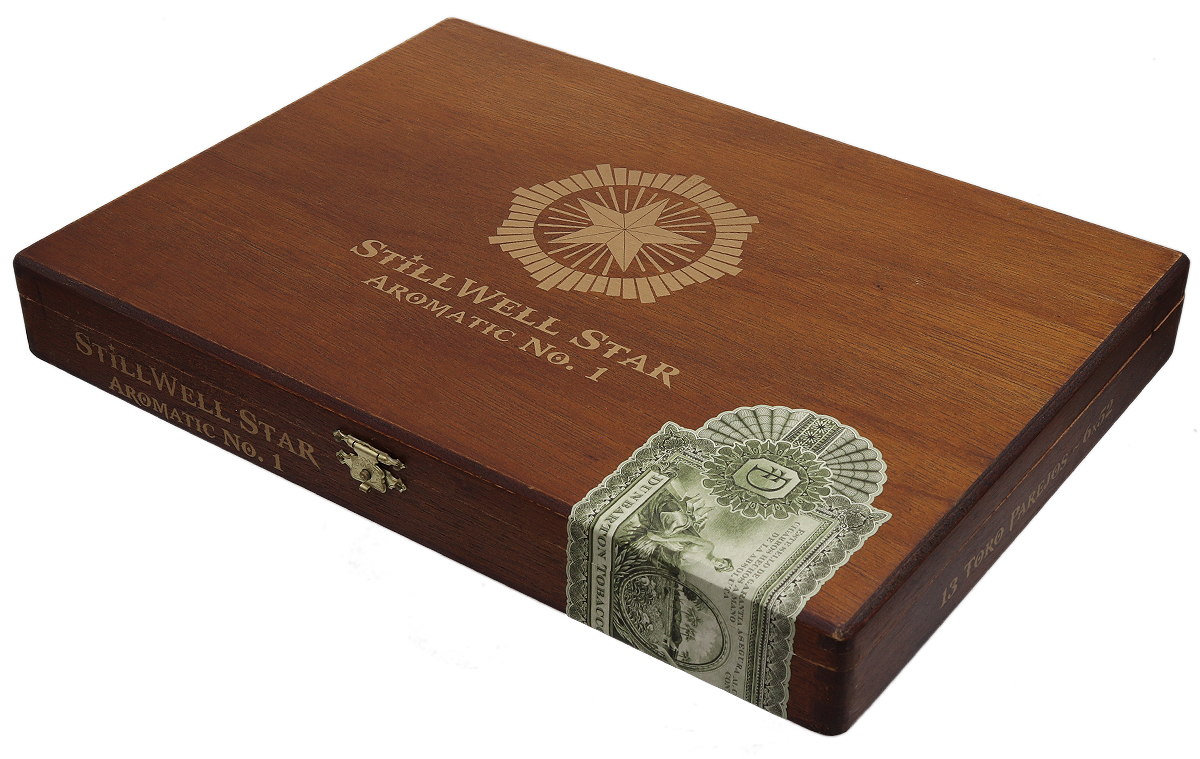 You may also enjoy: