Classic OTC Blends: Sutliff's Mixture No. 79 First Impressions
Sutliff pipe tobacco has become a staple across the pipe smoking world, filling personal cellars as well as tobacco shops since 1849 when H.W. Sutliff founded the Sutliff Tobacco Company in San Francisco, California. From the mid-19th century until the early 1900's the company primarily operated as a retail establishment, selling cigars, pipe tobacco, and providing other retailers with high-quality blending components and premixed pipe tobaccos. In 1933, Sutliff experienced major growth when it began producing its flagship pipe tobacco: Mixture No. 79.
History of Mixture No. 79
The blend was a massive success and demand for Mixture No.79 grew throughout the '30s and '40s. Needing a larger manufacturing facility and wanting to further expand its presence in the American pipe tobacco market, the company searched for a new home. Sutliff's location on the West Coast was far away from the tobacco fields and warehouses in the southern United States where the company purchased most of its tobacco. Shipping tobacco over such a large distance was expensive and there was always the possibility that product could be damaged or ruined depending on the surrounding environment or how the tobacco was stored.
In 1953 Sutliff moved to Richmond, Virginia, where it has remained ever since, and Mixture No. 79 was such a popular tobacco that the factory was originally designed and constructed for the dedicated purpose of manufacturing the singular blend. Mixture No. 79 has been a predominant tobacco landmark for so long that many pipe smokers, myself included, have overlooked it. I decided to try this classic, historic blend to see for myself why Mixture No. 79 has endured for so long and share my own experience with it.
Components & Cut
Mixture No. 79 is an old-school Aromatic that consists of toasted Burley cased with hints of anise, whisky, and natural vanilla. Unlike other Aromatics, the Burley for this blend isn't dipped or sprayed with casing; it's actually conveyed through a bath of casing and dried over an extended period on a 60' bed dryer — caramelizing the leaf without diminishing its top notes. It's a unique process as the tobacco is fully saturated in the casing and given ample time to dry, allowing the flavors to further marry and integrate in a richer, deeper way. The leaf is never shocked by being exposed to high temperatures or flash dried, providing a flavor profile where both the natural leaf and the added flavorings can shine through.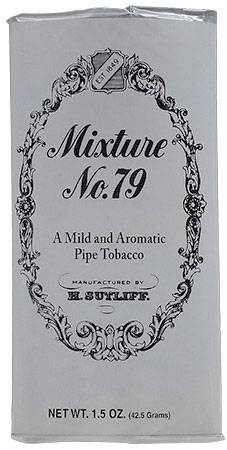 The blend is presented in rough-cut form with most of the Burley cut into thick chunks while some smaller ribbon pieces of Virginia tobaccos are also present. For me, the initial moisture content from the pouch is somewhat high, though it smoked just fine when I packed it into my Missouri Meerschaum Country Gentleman, but I found that it smoked best after some drying time, requiring significantly fewer relights. Typically, I'll put any new tobacco I open in a mason jar out of habit and fear of the blend drying out, but I found that Mixture No. 79 retained its moisture exceptionally well as I smoked my way through the pouch over the course of several weeks.
Tin Note
Upon opening the pouch, I picked up a strong, yet pleasant licorice note from the anise casing that also reminded me of root beer, closer to sarsaparilla thanks to the vanilla flavoring. It's distinctive and unlike any other Aromatic tobacco I've ever experienced, as the flavors are more natural and inviting than in some that can reveal an artificial character. You'll enjoy this tobacco immensely if you already like those types of flavors and I feel the main reason the reviews for Mixture No. 79 can be so polarizing is that some pipe smokers either didn't know what to expect when they tried this blend for the first time or weren't fans of the flavors used in the casing.
Flavor Profile
After the initial lighting, I detected some of the familiar cocoa/nutty notes from the Burley but with a stronger, chocolaty undertone that offers a lot of creaminess that departed from the licorice smell I detected from the pouch note. The licorice flavor still comes through, but it's more subdued compared to the notes of chocolate and root beer I was picking up. Along with the nutty notes, I sensed some underlying floral-like flavors that reminded me of the Lakeland tobaccos produced by Gawith Hoggarth and Co., but in a much more subtle manner. Mixture No. 79 has a distinctive flavor and aroma, so it may be a good idea to smoke it in a pipe that you have dedicated to Aromatic blends. Many reviews online indicate that Mixture No. 79 has the potential to "ghost" a pipe, meaning the flavor can remain in the bowl and impact other blends that are smoked in the same pipe.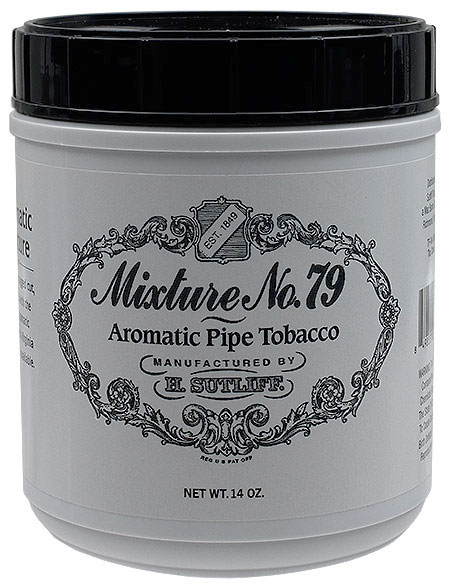 Concluding Thoughts
For me, Mixture No. 79 provided a fairly traditional Burley smoking experience, though the casing makes things even more intriguing and it would be interesting to see how the flavors can change or evolve with some age. It burns quite nicely and fairly slowly, which helped with detecting some of the blend's underlying complexities and allowed for further enjoyment of the flavorings used. I feel it helped that the tobacco was a chunkier rough cut and didn't burn too hot and was never harsh, though it certainly can be if pushed too hard.
Like many classic, over-the-counter blends, Mixture No. 79 comes packaged in two forms: A 1.5-ounce pouch and a A 14-ounce tub. If you primarily smoke Aromatic blends but have never tried Mixture No. 79, I strongly encourage you to try it, especially if you're looking to smoke an Aromatic that comes across as more natural, as the casing complements the blend without overpowering the base tobaccos. If you love strong, natural Burley blends and want to try something a bit different that has the potential to be pleasant around non-pipe smokers and can be enjoyed any time of day, Mixture No. 79 is certainly worth checking out. It's also a classic, historic blend that helped make Sutliff a major name in the industry and was the best-selling tobacco in the United States for decades.
Have you ever tried Sutliff's Mixture No. 79? If so, what are your thoughts on it? I would love to hear your opinion!
You may also enjoy: