Sixty Second Cigar Review: Crowned Heads' Las Calaveras
Hello, everyone, and welcome to the very first episode of 60 Second Cigar Review! In this series, Truett and I will be challenging ourselves by reviewing a new cigar each episode in under 60 seconds. For this first video, we've taken on the 2022 edition of Crowned Heads' annual, limited-edition Las Calaveras cigar. Now in its ninth iteration since debuting in 2014, Las Calaveras — Spanish for "the skulls" — is inspired by Mexico's Day of the Dead festival, and is among the most anticipated cigar releases every year.
This year's release is quite special in that it's the first Nicaraguan Puro in the Las Calaveras line, and also the first one to feature a Corojo 99 wrapper. What did we think about this year's version of Las Calaveras? Watch the full video to find out, and be sure to check out our Crowned Heads selection on-site now.
Note: The following transcription has been edited for clarity and brevity.
3... 2... 1... Go!
[Shane Ireland]: So for me, the wrapper is really silky. There's a little bit of oil around the foot and burn line, and there's a little bit of tooth — just a really nice structure. The construction of the cigar is fantastic. It has a beautiful cap, and it cut perfectly, with an excellent draw right off the bat.

[Truett Smith]: Tons of smoke, yeah. As we were talking, I'm sure you saw just smoke billowing out of this. This really has that signature My Father's profile — kind of smooth and creamy, with a good body, but not harsh in any sort of way. And I think that comes through even more since it's an all-Nicaraguan blend as opposed to some other country with the wrapper.
[SI]: There's a little bit of white pepper on the retrohale, but like a lot of my favorite My Father's cigars, this one has huge cedar notes. There's an earthy foundation, with a creaminess and nuttiness that remind me of marzipan or Turkish Delights.
[TS]: Yeah, it's more on the nuts and the cream side rather than the leather spice bombs that you can get with some other Nicaraguan stuff. Also think this has some pretty good aging potential. It's great fresh right now, but I think in the future, if you want to tuck some boxes away, the sweetness will ramp up a lot.
[SI]: Yeah. You could probably even expect some more prominent dark fruit notes after it's been aging a little bit.
Time's Up!
[TS]: Alright. So that was the sixty-second review. Shane, what's your rating of this cigar?
[SI]: I'm gonna give this 9 out of 12 parsecs. Totally deserves it. And I will say, this is something that is definitely box-worthy. I tend to buy a box of these every year in either the 48 or the 46 size. I might have to double that for this 2022 edition, because this is gonna age super well.
[TS]: Yeah, for me, I'm gonna give it 11 carpet rolls — which is a little less than three tablecloths. I'm honestly loving this. I think the 2019 cigar was my favorite out of all the recent editions, but this one is hitting it for me. I don't know, we'll see if it becomes my new favorite. It's kind of a toss up right now.
[SI]: So available in which vitolas?
[TS]: Yeah, so the Las Calaveras 2022 is available in three main vitolas: the LC46 (46 x 5.75"), the LC52 (52 x 5"), and the LC54 (54 x 6.5") sizes. But there's also a special Lancero version that's available only in the four-cigar Las Calaveras 2022 sampler pack. You can see all those sizes on-site now, so go check it out and smoke this year's excellent edition of the Las Calaveras 2022 cigar.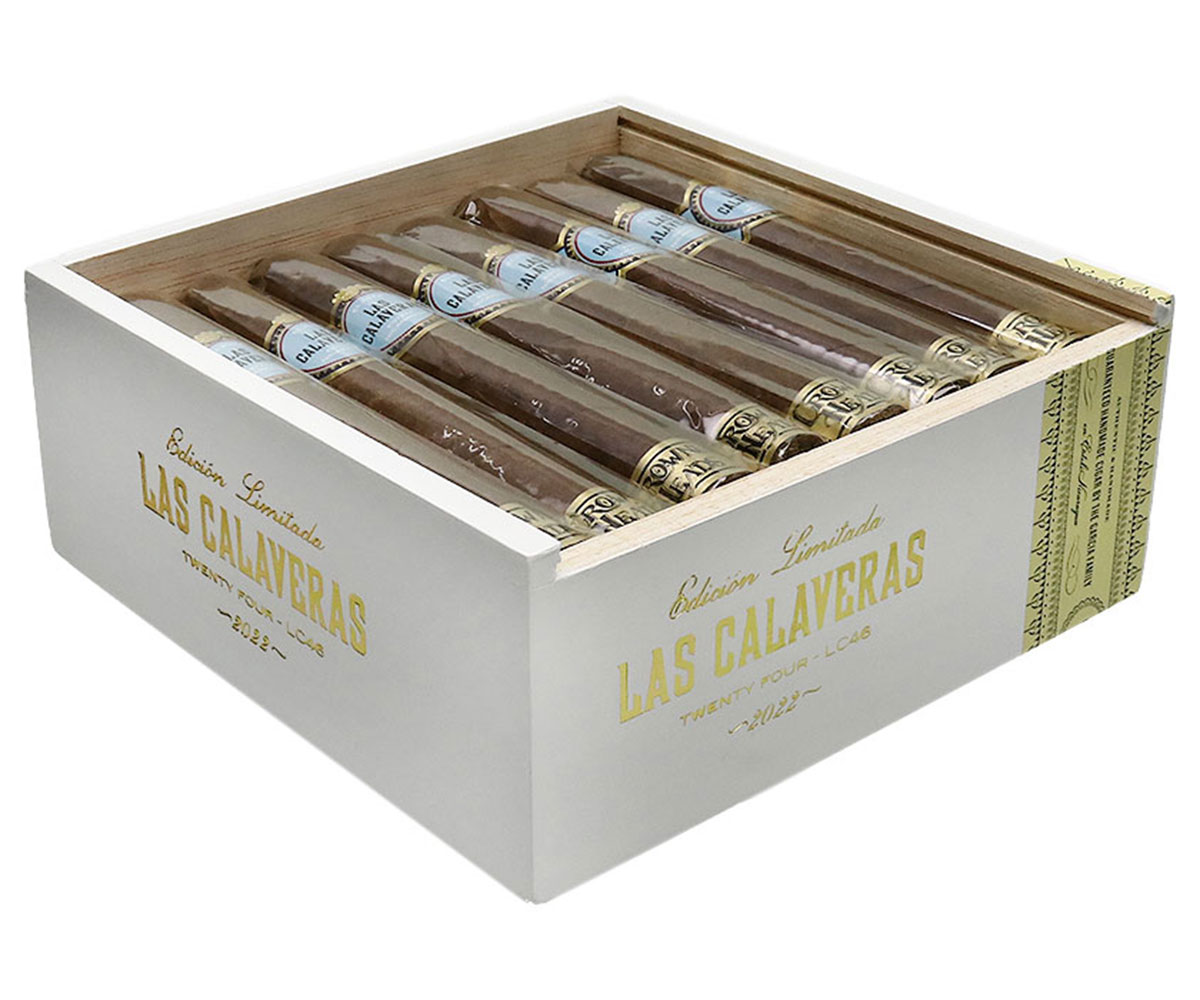 Crowned Heads: Las Calaveras EL 2022 LC46 Cigars
You may also enjoy: