Tasting Notes: C&D Small Batch - The Beast
The Beast, the second installment of the Small Batch line, is Cornell & Diehl's tribute to the infamous Aleister Crowley, who was known for smoking his own version of a strong, rum-soaked Perique mixture as a meditative aid. In our latest Tasting Notes video, I face this Beast of a blend and give an idea of what to expect.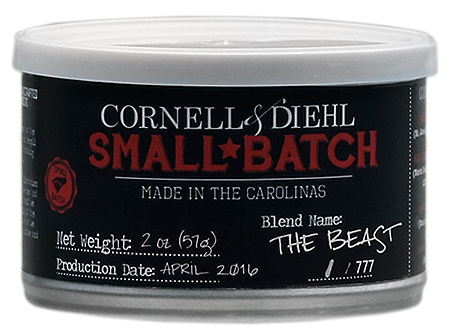 C&D's take, though mostly Perique, is much more complex than you'd might expect. The Perique is soaked in rum for 7 days, then combined with red Virginia Cavendish from single origin 2003 crop from North Carolina, as well as a touch of black Cavendish and little dark-fired Kentucky. Flavor wise, it's packed with spice, and lots of dark fruit and boozy notes, but still manages to deliver a nice, earthy tobacco flavor as well.
This blend hits the site on Friday. It's definitely a strong one, so try it if you dare. Better yet, sign up for our one-time in-stock notification for The Beast below. Just be sure to have a tall glass of water ready. You'll need it.
You may also enjoy: