Tasting Notes: Gold Block
Welcome back to another episode of Tasting Notes. In this installment, I continue my journey down Memory Lane, exploring Aromatic mixtures that I haven't smoked in ages. You see, for the past several years, the main focus of my rotation has been Virginias and Virginia/Periques, and before that, I was obsessed with English and Balkan mixtures. After being surprised by a handful of blends, however, I decided to go back and try some Aromatic mixtures I'd either missed out on or forgotten about. Here's what I've learned: While Aromatics are often recommended to new pipe smokers, blends in this family actually require an impressive amount of skill and experience to fully appreciate their complexity and nuance. But once you've got it, Aromatics can be some of the most complex and enjoyable pipe tobaccos out there. Which brings me to today's blend: Gold Block, the Aristocrat of Pipe Tobaccos.
Components & Tin Note
Gold Block was originally made by Ogden's of Liverpool in England many years ago, but Mac Baren in Denmark has taken over production for the last several years. It's a mixture that's remained popular for decades, and while labeled as an Aromatic, it is really more of a crossover style blend. It has a base of Bright Virginia and White Burley with a light, subtly sweet topping. Before we get into its crossover nature and its topping, I have to point out that all the tins we currently have in stock are actually from January of 2016. So this review also afforded me a chance to see how well an Aromatic mixture, even if it's only lightly Aromatic or a crossover style, ages.
When I popped open the tin, the tissue paper inside had a little bit of staining to it — all of the characteristic signs of a well-aged tobacco. The aroma when I opened the tin, too, was just intoxicating. With close to five years of age on this particular tin, the aroma is less overtly Aromatic with more of your typical, matured or aged pipe tobacco notes. So it's really deep. It's got some tanginess to it, along with a little bit of sweetness. It has that signature mature Virginia aroma, which is vaguely fruity. It's not as reminiscent of dark fruits like a darker Virginia or Virginia/Perique mixture would be; instead, it's a tangy, sweet, deep and vaguely fruity sort of an aroma.
I have no idea what the topping on this blend is, or what it's like when it's fresh. I smoked Gold Block many years ago, but I can't recall the specifics. Based on this tin, however, which is aged, I may not have even guessed this was an Aromatic tobacco. I would've thought it was a lighter Virginia mixture with a little Burley component too. There are definitely some citrusy notes coming through, and I'm assuming that when this was fresh it was highly citrus forward. The cut is lovely as well.
Flavor & Strength
Let's get into what it actually tastes like. So right off the bat, those sorts of citrus flavors are present — maybe fermented hay, not too bright, and not too grassy of a flavor. There's a little bit of citrus, a little bit of honey, but mostly it's just a really pleasant Virginia, especially with the aged leaf. When I say especially, I mean because whatever Aromatic quality or topping was on the tobacco is so well integrated at this point that I'm really only tasting the character of the leaf. And it is obvious that the leaf used is very high quality. I would say at this point, even though there's already a significant amount of age to this tin, it's still on the brighter side of the spectrum. So again, maybe some orange zest, lemon zest, lightly grassy but in a mature, you know, fermented kind of a sense.
There's a little bit of a tingle, a little bit of an earthy spice on the retrohale, which I'm assuming is coming from the White Burley. It burns really well and throws off a lot of smoke. There is an interesting spice there, perhaps from the Burley component or whatever the original topping was. I cannot tell what it was, but there is a little bit of citrus and honey sweetness leftover, for sure. Overall, concerning flavor, it's an enjoyably mild experience. In the strength, I would say maybe a touch over mild — definitely still an all day smoke. It would be an excellent crossover for Virginia smokers looking for something that's a little more Aromatic or vice versa; regardless, it is definitely an easily enjoyable tobacco.
Now that I'm a little further into the bowl, the toasted and nutty flavors of the Burleys are coming forward a little bit. It's surprisingly deep considering it doesn't have Perique or Latakia. There's no super overt boozy quality to it, either. So there is an impressive depth of flavor given its straightforward components. It reminds me of a classic American Burley blend with a light topping in terms of how it's smoking. There's a little bit of spice, definitely plenty of sweetness, and more complexity than I would have expected, but it's not so much that it distracts. The smoke is definitely on the elegant side, easy to enjoy all day.
Similar Blends
If you're a smoker who already enjoys blends like Amphora: Virginia, HH Pure Virginia, Orlik Golden Sliced, and Stokkebye Luxury Twist, this is gonna be something that you'll definitely enjoy. It's also great if you're looking for a change of pace or something that's easier to carry around in a tobacco pouch and smoke in a variety of chamber sizes, simply because of how universal the cut is. But similarly if you're into other blends like Mac Baren Scottish Mixture or even something like a W.Ø. Larsen Old Fashioned, this is another excellent crossover mixture that you should try, too.
Aging Potential
What's most interesting to me, however, is just how well it's aged. Stumbling across this tin from 2016 has me sort of re-thinking what is possible in terms of what you can expect from aging Aromatic tobaccos. I've had a couple of conversations with folks in the past about the qualities of an aged Aromatic. While a blend's aging potential greatly depends on what the mixture is like before you start aging it, typically I have discouraged people from setting aside Aromatic tobaccos with the purpose of changing the blend or maturing the blend. But stumbling across this little gem here has changed my mind and has me thinking about all the Aromatic holes in my cellar currently.
Overall, I would definitely recommend Gold Block to fans of Aromatics, but also to Virginia or Virginia/Burley purists looking for a change of pace. And again, you might wanna start thinking about putting away some of your lightly Aromatic blends to see how they age. The results just might surprise you.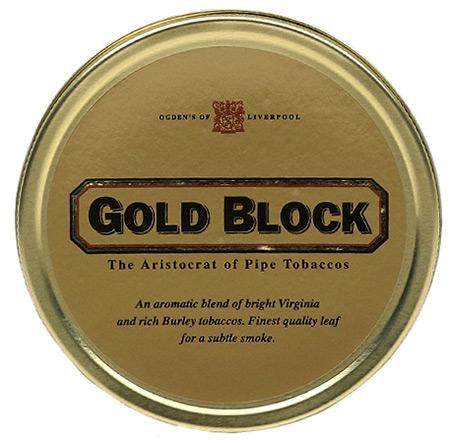 You may also enjoy: