Tasting Notes: Low Country Black
Welcome back to Tasting Notes, everyone. On today's episode, I'll be reviewing Low Country's Black, a unique English pipe tobacco crafted by Cornell & Diehl. For those of you who've missed my reviews over the past couple months, I've been slowly revisiting the Low Country line, and it's been such an interesting experience. After the release of Edisto earlier this year, I had to ask myself why it had been so long since I'd smoked these fantastic mixtures. I thought they were good back in the day, but I've been blown away by how amazing some of these blends are. I don't know if my tastes have changed, but many of these blends have just made a huge impact on me upon revisiting them.
Black is another blend in the Low Country line that is sort of an enigma: It is very unique, both within the line and in the larger market, and features Bright Virginias, Stoved Red Virginias, and Latakia. Given that breakdown, it's not what I would classify as a typical English mixture, but it does showcase enough Latakia that I'd place it in that category. I really enjoyed Cooper, another Latakia blend in the Low Country line, but it was quite different from this. They share some similar components, obviously, but while Cooper is a flake, Black is more of a rough-cut ribbon mixture. Black also contains a few surprises I just didn't expect.
A Tangy, Virginia-Forward Tin Note
Given the mix of components, the tin note is really interesting and not what I would typically expect from an English mixture. It's got a real tangy character, which I'm guessing comes from the Stoved Red Virginias, and that's what it reminds me of: Red Virginia. There are moments when I can really detect Latakia, and moments when it feels extremely soft to me. There's a little bit of an earthy quality, and it definitely has some of that barbecue smokiness — maybe a little bit of brown sugar, a little spice, and a big woody character. But there's also a sort of indefinable sweetness that's present in the tin note, and that sweetness definitely shows up in the smoke itself.
The moisture content is pretty much perfect right out of a tin, which has been the case for all of the Low Country mixtures so far. I didn't give this any drying time; I just packed it right away fresh from the tin. Overall, it performs really well, and packs nicely in a variety of chamber sizes. I do find that something in the Group 4 or Group 5 range worked best for me, as bowls of that size tended to give the blend enough room for the complexity and sweetness to intensify.
Naturally Sweet, Creamy, and Woody Flavor
On the charring light, the flavor is super woody. A lot of Cyprian Latakia blends give me that sort of pronounced woodsy character, and this one is maybe a little closer to something like a charred oak whiskey barrel — like a vanilla and charred oak combination, with a good bit of sweetness behind it. It's also really full-bodied. There's a lot of smoke, and it's quite dense and creamy on the palate. Flavor wise, what's front and center for me are the Virginias. I do get a little bit of a zesty or tangy quality, which I believe is the Brights and Stoved Reds playing off of each other. It's a little hay-like, maybe a little grassy, but mostly I'm getting deeper and mid-range notes more on the tangy and bready side. There's a little bit of an earthy quality as well, but it's sort of just below the surface. Overall, though, this tangy, bready and slightly zesty Virginia base really props up the Latakia here. I'm not sure if it's simply the lack of Orientals here, or perhaps the proportions, but the smoke itself is far creamier and sweeter than I would expect. It's far woodier than it is smoky, if that makes sense.
I don't get a ton of campfire-like notes from this one, but instead there's that sort of charred oak and vanilla note. About a third of the way down the bowl, the sweetness really ramps up and I begin to notice something that tastes a lot like vanilla. To be clear, I don't think there's an actual topping on this blend, but maybe one of the components has been processed in such a way that adds a bit more sweetness than one might expect. It certainly doesn't taste artificial, but these cream and vanilla notes are a really nice juxtaposition to the woodier overall profile.
The gentle, incense-like spice of the Latakia becomes more pronounced around the halfway point of the bow — think warming spices like cinnamon, maybe even like a ginger snap cookie. There's certainly a lot going on here, but what I really like is the fuller body mixed with these more delicate flavors. It's not overly smoky or barbecue-like, but it has those signature notes sort of dancing around and adding a bit of intrigue to a foundation of what is really just a great Virginia blend.
I would probably classify Black as sort of a crossover mixture: It's not quite a traditional English, and it's not quite a true Virginia blend. I think that if you're a Virginia smoker, or a Latakia smoker, and you're looking for a change of pace, Black is a really good candidate. In fact, if you're a Virginia smoker who's just getting into Latakia, or if your Latakia smoking is seasonal, this could easily be an all day smoke for you. Likewise, if you're a die-hard Latakia smoker, Black would be a great first smoke of the day. It's also surprisingly suited to mixed company: It definitely has that signature Latakia room note, but I've confirmed with a couple of people it's not as strong or as rustic as many other English blends.
Can Black Replace McClelland's Frog Morton?
And that brings me to a somewhat controversial opinion. For several years now, folks have asked me for recommendations to match McClelland's iconic Frog Morton blends. There is no exact match, sure, but Low Country Black is my new recommendation. Again, it's not an exact match, and it wasn't designed to be an exact match, but Black does closely remind me of those old mixtures, particularly in its body, mouthfeel, creaminess, underlying sweetness, and woody character.
I think one of the reasons that the Frog Morton series — specifically Frog Morton Original, Frog Morton Cellar, and Frog Morton On the Town — was so popular and beloved by so many of us was its sheer approachability. They were incredibly easy to smoke and catered to a wide variety of preferences. And from its ease of packing and even burn, to its naturally sweet, creamy, and woodsy flavor profile, Black, too, is incredibly approachable. Like I said, they're cousins, not siblings. But I think they scratch a similar itch, and I think because of the quality of the Bright and Stoved Virginias here, this also has a lot of aging potential. And the more that this ages, the more it will be reminiscent of some of the long-lost Frog Morton blends. I know it's likely controversial, but I think if you're looking for a replacement for Frog Morton of any kind, but specifically Original, On the Town, or Cellar, you need to give Low Country Black a try.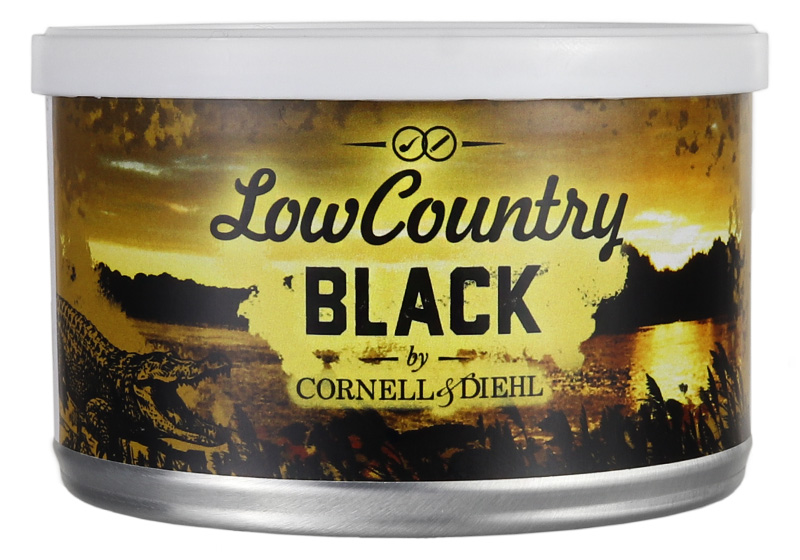 Low Country's Black
You may also enjoy: