Tasting Notes: Warped Scarecrow
Welcome back to another episode of Tasting Notes. Today, I'll be reviewing a very special mixture, just in time for Spooky Season: Warped's 2021 Halloween blend, Scarecrow — available at 12:00am ET Friday, October 1st, 2021, only at Smokingpipes. The diabolical minds of Kyle Gellis of Warped Cigars and Jeremy Reeves of Cornell and Diehl have come together again to release a limited-edition blend for the Halloween season. Their collaboration began in 2019 with The Haunting, which has since attained a cult following and is an excellent crossover between cigar and pipe tobacco blends.
For 2021, they wanted to come back with something a bit different for Spooky Season, and Scarecrow is definitely that. It's also the first Aromatic in the Warped line, but like all collaborations between Jeremy and Kyle, this one is more than the sum of its parts. It really embodies Warped's "Be exclusively different" mantra. It's not your typical Aromatic tobacco, though. While I do think that hardcore Aromatic fans will love this, Scarecrow will appeal to everybody. Frankly, I was blown away by the experience in my first couple of smokes.
The Perfect Blend for Fall
So let's get into what it smells, tastes, and looks like. Scarecrow is a C&D style crumble cake, and as you would expect, it's really beautiful. There are lots of light flecks, mostly medium, and chestnut, mahogany hues, and the cake itself is really spongy and beautifully pressed. It breaks up beautifully into a nice ribbon. The moisture content out of the tin is perfect, and if you really want the full spectrum of flavor that this blend has to offer, I don't recommend more than two or three minutes of drying time. Smoke it fresh right out of the tin and see what you think about it. Then you can stash some in a jar or keep a couple tins sealed for the cellar.
The tin note is amazing. This tobacco smells so good. It's comforting, and it has all of the qualities of a benchmark Aromatic pipe tobacco. I think this is going to be very nostalgic for a lot of people — not just those of us who grew up with pipe smokers in the house, but it really evokes the fall season well. We'll come back to this, but I do believe that this is an Aromatic that will be perfect all the way through Thanksgiving and up to Christmas.
The aroma reminds me of a really rich butterscotch along with candied, Granny Smith apples. There are caramel and milk chocolate notes there, as well as an earthy base. There is a very pronounced, natural tobacco aroma — think Burleys and air-cured cigar leaf. I'm also picking up a bit of toffee, and even a kettle corn kind of character, which is really interesting. It's like a rich, buttery, creamy, sweet corn, with a little bit of a boozy quality as well — something similar to spiced rum or a well-aged bourbon from a heavily charred oak cask. There's those signature notes of spice and vanilla, and it's super rich and super inviting. Honestly, it smells better than most autumn-scented candles I've experienced. It's full of those benchmark Aromatic pipe tobacco qualities, but the entire blend is elevated to a level that is sophisticated, complex, and super dynamic — and all of that foreshadows the incredible flavor as well.
Red Virginia Cavendish and Aged Burley
So let me get into that. During all of my smokes with Scarecrow so far, I've noticed that as inviting and strong as the aromatic quality is in the tin, it really settles into the background rather quickly when smoked. On the first light, right away you're going to get big butterscotch, caramel, toffee, and creamy chocolatey notes. The chocolate isn't terribly sweet, but more like cocoa. A little of that earthy note shines through and there's a boozy character that reminds me of something between a bourbon and a spiced rum. About a third of the way into the bowl, the aromatic quality sort of settles into a foundational role, where it's propping up the natural tobacco flavors, adding a little bit of sweetness and a little bit of complexity, while letting the leaf shine.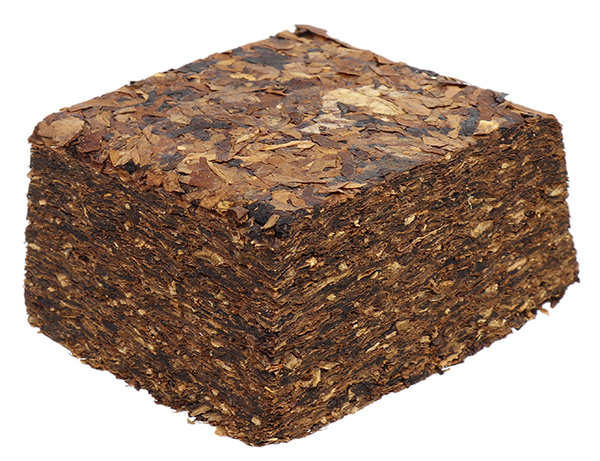 Warped Scarecrow will be available at 12:00am ET on Friday, October 1st – Only at Smokingpipes
Speaking of the leaf, a high percentage of this blend is Cornell & Diehl's proprietary Red Virginia Cavendish, made using two different crops of Red Virginia: a deep Red grade from 2017, and a Orange-Red grade that's a little bit lighter, from 2019. It's really well balanced between those two flue-cured gradees. The Cavendish process definitely adds a little bit of a chewy texture and a creaminess, but it maintains the sort of tangy and sweet quality of the Red Virginia leaf. In addition to the Red Virginia Cavendish, Scarecrow also features a naturally malty and chocolatey, 2015 grade of White Burley that's rested for six summer sweats, before making it into this blend. That chocolatey maltiness almost reminds me of Whoppers or malt balls. It's not overly sweet, but there's just enough there to give you that impression.
2014 Dark Burley has also been added, and the darker air-cured grade really gives the blend a lot more oomph, more spice, and an enhanced earthiness. The 2014 Dark Burley has actually undergone a secondary fermentation process as well, so you may also get some wine-like fermented notes and some warming spices — a little bit of clove, maybe a little bit of nutmeg. The interplay between the Red Virginia Cavendish and these two crops of Burley provides an impressive degree of intrigue, with tons of complexity in the body of this blend. That's why I think it will also satisfy the tastes of non-Aromatic smokers who may consider themselves purists.
My Recommended Aromatic To Well... Everyone
If you love Edgeworth, Wessex Burley Sliced, Solani Aged Burley Flake, or things like Cornell & Diehl's Opening Night or Pease's Union Square, I think you'll enjoy this one. Even if you're a Rattray's smoker, someone who likes Brown Clunee or Old Gowrie, there's something here for you. Just imagine what those blends would be like with a little bit of added sweetness upfront, then you're kind of in the ballpark of what Scarecrow actually offers — tons of body, tons of volume, richness, and balanced sweetness.
What's most remarkable about the blend, for me, is that the aroma's incredible. It's highly evocative and really nostalgic, and though definitely autumnal it never becomes cloying. I was shocked at how much of the natural tobacco flavor comes through in this blend. It's bready like a good Virginia is, but more like toast, with butter and jam. I get some earthy, almost espresso like notes, a little bit of bitterness that complements the sweeter flavors. I think this would be an excellent accompaniment to a coffee in the morning — even a pumpkin spice latte, if that's your thing. But it also maintains that sort of tangy, earthy, and fruity character of a really well-aged Red Virginia blend.
So being primarily a Virginia/Perique smoker, Scarecrow could slip right into my normal rotation in the fall. Honestly, I'm not even sure that I would dedicate specific pipes to it. It's so forward with the natural tobacco flavor, that I'm not worried about overly ghosting or anything like that. Especially when you get past the halfway point in the bowl, I've found that I forget what this smelled like in the tin, and I can pick up the nuance of that caramel and chocolate in the tobacco itself. Super dynamic and super complex for an Aromatic mixture, which no doubt has a lot to do with the components chosen for the blend and the pressing. During the last third of the bowl, the natural tobacco flavors really take center stage, and the aromatic qualities form a comfortable and rich foundation, adding a little bit of a dynamic, complex quality to the smoke.
Again, I would recommend Scarecrow to everybody. I really think that it's the perfect fall mixture. I have no reservations about smoking Scarecrow all the way through Thanksgiving and up until Christmas, and I think that it'll do really well in mixed company. Unlike many aromatic mixtures out there, the nature of this blend, the components themselves, the process, and the crumble cake cut will make Scarecrow age incredibly well. Do yourself a favor, grab a couple to smoke this season, then grab a couple more to put down for next year. I'm confident that this one's going to be a hit. Thanks again to Jeremy and Kyle for dazzling us pipe smokers yet again with their blending prowess.
Warped Scarecrow
You may also enjoy: