The Renaissance of Caminetto Pipes
Caminetto is a one-man pipe company run by Tommi Ascorti, whose grandfather, Peppino, launched the brand in 1968. Tommi now designs and makes all of the pipes, and when he can find the time, he travels the world promoting them. He's tireless, working 12-16 hours a day, often seven days a week, and he loves what he does.
Tommi restarted Caminetto in 2013. "What was exciting," says Tommi, "was to advance the brand that my grandfather started and to continue his legacy."
The Origins of Caminetto
Tommi never met his grandfather, who passed away before he was born. Guiseppe Ascorti was known to his friends and family as Peppino, and the enthusiasts who grew to love his work became extended family, knowing him as Peppino as well. He began working for Castello in 1959, and in 1968 he decided to move on and start his own pipe brand: Caminetto, a derivative of "fireplace" in Italian.
It's the perfect name for a pipe brand. Until the recent innovation of central heating, the fireplace was an essential feature in homes and the social center of family life, where meals were sometimes cooked and evenings were spent in front of the fire, where its light and heat transformed houses into homes. Chinese culture has considered the fireplace an integral aspect of a home's feng shui, which is a practice of arranging household items to harmonize with nature.
The Symbolism of Caminetto
An element of feng shui is the tending of the fireplace, keeping it burning at the appropriate level, and cleaning the hearth between fires. The parallels with pipe smoking are profound. We commune with nature when we smoke, both pipe and tobacco being natural materials, and cleaning the pipe between smokes is necessary for continuing satisfaction. For feng shui, it's also considered important to replace firewood in preparation for the next blaze, much as many pipe smokers fill and pre-light their pipes in preparation for a future smoking experience.
Peppino had become an independent pipe maker; a year later, in 1969, Luigi Radice left Castello to join him at Caminetto, and an incredible partnership began. Soon the pair was joined by Gianni Davoli, who owned a tobacco shop in Milan. He wasn't a pipe maker, but he was a talented marketer. He sold Caminetto pipes in his own shop and introduced them to the American public by sending pipes to tobacconists and arranging distribution in the U.S. Caminetto reached particular fame when it was picked up by the Tinder Box chain. Tinder Box tobacconists numbered in the hundreds in the U.S. and the pipes reached a large population of admiring pipe smokers.
A Brief History
The famous mustache logo was probably adopted because both Ascorti and Radice wore inspiringly robust mustaches. Davoli would later grow his own mustache as a symbol of solidarity. Caminetto pipes became known by their slogan, "La Pipa del Baffo," which means, "the pipe with the mustache." The three men were often affectionately referred to as "I tre Camini," or the three chimneys.
Caminetto pipes became known for their innovation. New shapes appeared, as well as new finishes, such as the iconic New Dear finish, which resembles melting wax dripping from the rim of the pipe and down the side of the bowl.
Demand became more than Ascorti and Radice could fulfill. Peppino's son, Roberto, began helping in the shop when he was still a boy, and the carver Cesare Vigano joined the company to increase production. Soon they were making 7,000 pipes a year and Caminetto pipes were among the best-selling pipes in the U.S., the most popular iteration being the rusticated Business line.
The 1970s were excellent years for Caminetto, until the partners began having disagreements. Davoli had invested heavily in the company to furnish modern equipment and his control grew as he continued to finance expansion. Ascorti and Radice began to articulate discontent. They were worried that the increased production would adversely affect overall quality and wanted to slow things down. They wanted the leeway to express more of their own creativity and explore development rather than always make pipes according to shape numbers in their catalog. But Davoli, who now controlled a majority of the company, insisted on higher production numbers. When Roberto Ascorti, now grown, wanted to join his father in the shop as a pipe maker, Davoli objected and rejected the idea. The environment at Caminetto was tense.
Caminetto Dissolves
Radice finally gave up and left the company in 1979 with no prospects and no idea how he would continue making pipes. He simply couldn't tolerate the business model any further. We know now that he became very successful in his own right, but it was a desperate move at the time.
Complaints about quality began surfacing in 1979, just as Ascorti and Radice had feared. The Ascorti family wanted to buy the company but could not raise the capital. Peppino put together a pipe workshop of his own and left, taking the staff with him, and they made pipes under the Sergio name for a short time, but soon Peppino and his son Roberto, Tommi's father, launched the Ascorti brand.
Soon they were making 7,000 pipes a year and Caminetto pipes were among the best-selling pipes in the U.S.
The Caminetto workshop burned down around that time. Nothing was left of it, but Ascorti pipes prospered. Peppino passed away in 1984, five years before the birth of his grandson, Tommaso, who now runs Caminetto. Tommi bought the brand from his family and relaunched it in honor of his grandfather. "What was exciting for me," he says, "was to take the brand born from my grandfather, who I never met, and continue the legacy."
The Relaunch of Caminetto
He started with a few employees to help him. "But I have a hard limit about procedures that I trust only myself for. With a job like pipe making, or other crafts, or whatever, you have to follow precise practices, take care of the details, and make everything the most perfect that you can. So I decided after a few years to start working alone, and I'm happy about that decision. I'm grateful to all the guys who worked at my company and helped me during the early years. I gave them plenty of time to find another job, it went well, and the decision was good for everybody. But my focus was to work alone and create only what I wanted to, and continue to follow my path."
Tommi had goals and was willing to work hard to achieve them. "I decided to rebuild the story of this brand, which wasn't easy because many people in the U.S. didn't know that anyone was making Caminettos. They knew the story, they knew the brand, they even knew the history, but they knew nothing about the present or the future."
He started traveling to the U.S. to promote his pipes. "I remember my first time at the Chicago Pipe Show — some people would say, 'Ah, you are the grandson of Peppino, the son of Roberto, and you are making pipes. We're curious: What are you making? What are you doing?'"
Peppino put together a pipe workshop of his own and left, taking the staff with him
From there, Tommi would try to express his deep faith in the brand and his devotion to the craft of pipe making. And he would try to explain the importance of the Caminetto brand and its place in the world. "As an example, I would say, look at Ferrari, a very important brand of supercar. It's as though Ferrari stopped making cars for 20 years, and then one of the family members started it up again. Ferrari is always Ferrari, but markets change and they are not sure if the brand is strong or not."
Pipe making isn't Tommi's only responsibility, though. Caminetto delivers pipes all over the world, and he handles the logistics and details of that complicated business model. His days start at 5:00 a.m. and end around 9:00 p.m., and he's an artisan, so Caminetto pipes take considerable time. "But now after 10 years, I think we are doing a great job, and I'm happy about that. I meet a lot of customers, a lot of friends, a lot of collectors, and I use my face and my voice to go around the world and to trade shows." He can't travel as much as he'd like because he has pipes to make and a business to run. "But when I can, I go around the world and knock on tobacco shop doors and explain my story: Respect the past, and consider the future."
A Philosophy of Esteem and Optimism
Part of respecting the past is through the reintroduction of Caminetto shapes from the past, and Tommi's special-edition Event pipes are examples. They're released annually and designed according to the workshop's original shape chart, but updated.
"I decided to rebuild the story of this brand, which wasn't easy because many people in the U.S. didn't know that anyone was making Caminettos"
"I have all the old shapes that my grandfather made in a big book, and every year I remake a shape, changing it a little to be better for our market, because after 50 years, everything's changed. And so I take this old shape and I add an accent of copper for the Event line of pipes. It's like a pipe-of-the-year for Caminetto. For me, this series represents innovation and tradition coming together. I like to think it makes my grandfather proud with these old shapes remade with a new point of view."
The New New Dear
The famous New Dear finish is another aspect of the past brought to the present. "The New Dear is a strange story, born many, many years ago from the hands of my grandfather. He needed a new finish for American distribution. He made the wax-drip finish and was wondering what to call it. The impressed customer [possibly a representative of Tinder Box] said, 'Oh, you could call it New Idea.'"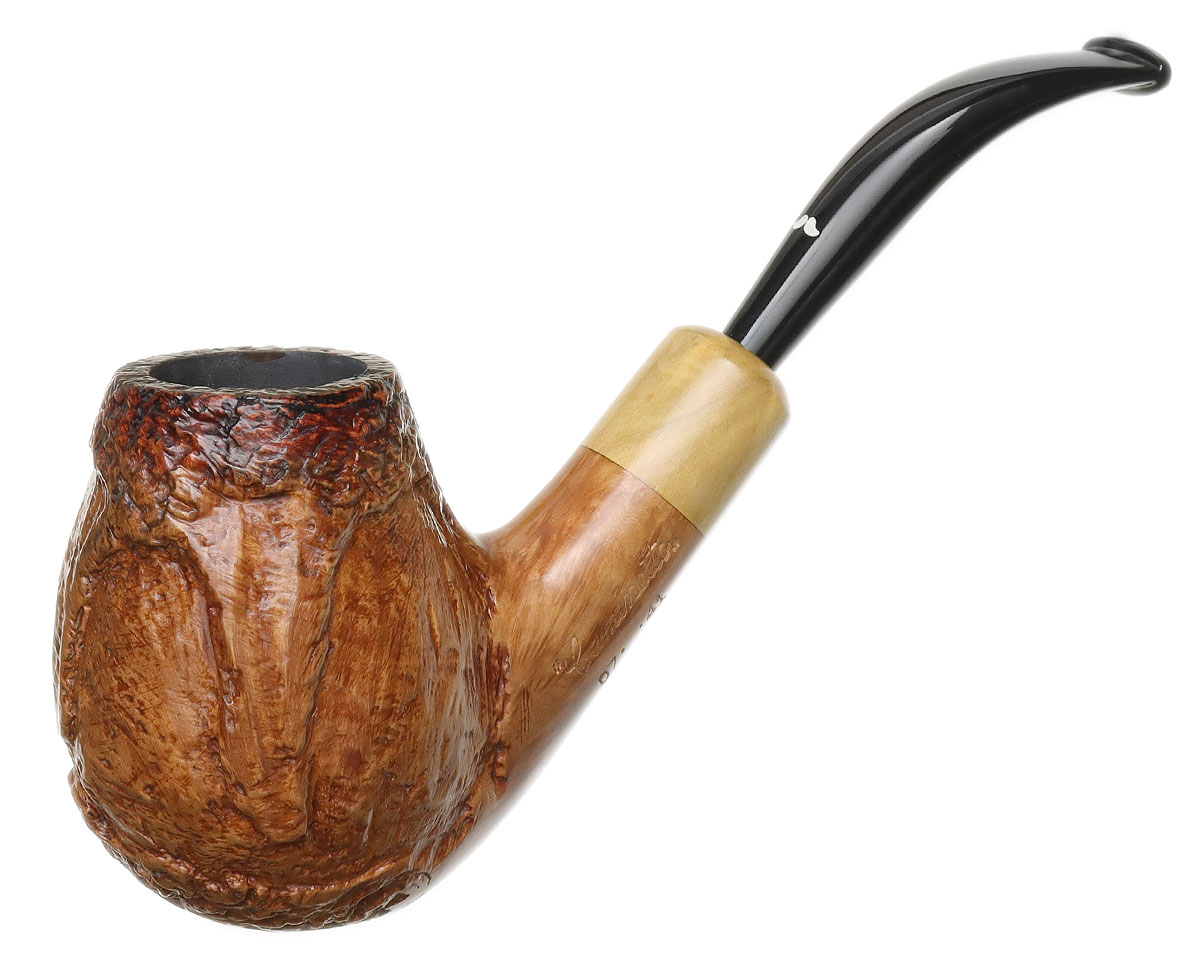 Peppino, speaking only Italian, misunderstood and the finish became the New Dear. One of the most iconic finishes in existence was named through a language misunderstanding. "It has no meaning," says Tommi. "'Dear' is like the 'dear' in a letter. New Dear makes no sense." Tommi performs the finish nonetheless, but with more smooth sections requiring additional sanding and care than the original.
"Respect the past, and consider the future"
"My father did the New Dear finish as well, and then I'm making it in a few different ways. Originally, the pipe was entirely rusticated, which was a little bit easier. Now, what I do is smooth from the top, the bottom, and in between. So when you do this, you have to clean everything inside in the middle. It's quite difficult not to destroy the shape. If you have an apple, for example, or a tomato, or some other rounded shape, it's difficult to clean and sand those areas without making them flat."
All Caminetto pipes are meticulously finished, including the tobacco chamber. "They are all completely natural. For me, it's very important to work with sandpapers inside the bowl so I can take out all the scratches or tool marks. I use three or four different sandpapers to make the chamber walls very smooth." The more finely sanded the chamber walls are, it has been argued, the more even the cake may build in the initial stages, because there are no ragged marks where the heat of combustion may concentrate and no rough areas that the cake will reflect.
The stems are mainly acrylic, though Tommi makes exceptions. "I have a small line using cumberland. It's real cumberland — I buy the bars, and I cut the length, I drill, shape, and finish. Acrylic is what I prefer, though, and I start with sheets of it that I hand-cut. I know how to make a mouthpiece for every pipe, so if I have a special request, if somebody wants ebonite, I can do that. But I think one of the best materials we have is acrylic because it's clean, it feels good in the mouth, and it doesn't oxidize. It's always shining and black."
One of the most iconic finishes in existence was named through a language misunderstanding
There are advantages to being part of a multi-generational pipe-making family, but there are also downsides. "When you have a long and heavy story on your shoulders, it's a big responsibility. You have to be careful about extreme changes in direction and have respect for the past while not copying the past. And you have to understand the preferences of customers who remember another era and have consideration for new customers. And when a company — like Caminetto — stops for years and reappears, you have to rebuild the story."
What Tommi would most like to reassure people about is that he is a real pipe maker, not just someone capitalizing on a family name. His dedication to the craft is part of his core identity. "I am a pipe maker. I'm the face of my brand, I'm the salesman of my brand, I'm the accountant of my brand, I'm the postman of my brand. But very important, 100%, I am the pipe maker. Every pipe with a mustache on the stem is made by me."
Because he works alone, with no outside influences or investors, Tommi has a profound advantage when it comes to making excellent pipes. No feuds or disagreements arise over production requirements, and he needn't watch his creativity be sidelined in the pursuit of high numbers. Quality always wins.
"... have respect for the past while not copying the past"
"In Italy," says Tommi, "we have a saying: 'Bread and pipes.' Pipes are as necessary to my existence as food. During the night, I dream of new shapes. Everything I think about is how to make customers happy."
Many of us remember the days when Caminetto dominated many pipe collections and the inventories of tobacconists. They're even better now. It may be time to revisit Caminetto and experience the way Tommi Ascorti's family always wanted their pipes to be.
You may also enjoy: