Vincent van Gogh and Pipe Smoking
Vincent van Gogh remains one of the most famous and influential figures in the history of Western art, with his creative output continually impressing critics and capturing the attention of even the most casual of art fans. The Dutch painter's work is displayed around the world in several museums and galleries, with each piece providing a glimpse into the life of a complicated man who was plagued by poverty, mental illness, and depression. Van Gogh found peace in pipe smoking, which was prominently displayed in several self-portraits, sketches, and still-life paintings. While books, academic papers, and artistic discussions explore Van Gogh's influence and techniques, little attention has been paid to his love for pipe smoking, the depiction of pipes in his work, or the impact of pipe smoking on his mood. Van Gogh found solace in pipe smoking and it brought him peace during dark times, referring to his pipe in an 1875 letter as "an old, trusty friend, and I imagine we'll never part again."
Self portrait, 1886
A 2020 article in The Art Newspaper written by Van Gogh specialist and investigative reporter, Martin Bailey, examined the role of pipes in Vincent's artistic works and personal life, citing Van Gogh's personal letters and themes within his work as evidence. "Although most aspects of Van Gogh's life have been endlessly explored since his death, the role of his pipe has received relatively scant attention. But smoking, for Vincent, was vital, since he regarded it as a source of consolation when tackling the endless challenges he faced."
Bailey notes that others weren't fond of Van Gogh's pipe smoking: "While working as a teacher in Isleworth, west London, aged 23, his landlady Annie Slade-Jones complained about the smell of his smoking. He therefore gave her scented violets: 'I bought some for Mrs. Jones to make up for the pipe I smoke here now and then, mostly late in the evening in the playground. The tobacco here is rather strong, though.'"
Bailey recounted another anecdote: "In a little-known reminiscence, a retired tailor from the Van Gogh family's village of Helvoirt once remembered cleaning Vincent's clothes during a Christmas visit. 'The suit stank of smoke and was completely unpresentable,' 70-year-old Frederick van de Plas told a Dutch writer in the 1920s."
While Van Gogh experienced little success during his lifetime and sold few paintings, Bailey notes that "on one occasion in 1884 he apparently gave a painting to the Eindhoven tobacconist Jansje van den Broek to settle a bill. This picture, Watermill at Gennep, was bought by Baroness Carmen Thyssen-Bornemisza at Sotheby's in 1996 — for £552,000." Van Gogh also paid tribute to his late father, with Bailey noting, "After Vincent's father Theodorus died of a stroke in 1885 he painted a memorial still life which included the deceased's pipe and tobacco pouch. Van Gogh later reused the canvas, to save money, but a watercolour sketch survives."
Van Gogh's pipes were his lifelong companions, right up until his final hours. Bailey's article notes, "After wounding himself from a revolver shot on 27 July 1890, he staggered back to his garret bedroom in the small inn. When Dr. Paul Gachet arrived, Van Gogh asked for his pipe, which was still in his waistcoat pocket. Vincent began to smoke in silence. A day later he was dead."
Skull of a Skeleton with Burning Cigarette
Smoking was a recurring theme in Van Gogh's work, with his piece Skull of a Skeleton with Burning Cigarette being one of his most iconic and enduring paintings. The work was most likely completed while Van Gogh was staying in Antwerp sometime between 1885-86, attending the Royal Academy of Fine Arts. Skeletons were often used at the academy for students to better understand human anatomy in addition to studying live models. The Van Gogh Museum website notes that the painting was "likely meant as a kind of joke, and probably also as a comment on conservative academic practice."
One of Vincent's most famous paintings Van Gogh's Chair (1888), is viewed by Bailey as a memorial of sorts: "On the straw seat, recalling an absent sitter, lies his trusty pipe and packet of tobacco. This vignette represents a highly personal still life in a painting which is itself a symbolic self-portrait." Many Van Gogh paintings prominently feature pipes, including pieces such as Self-Portrait with Pipe, Still Life with Straw Hat, Self-Portrait with Bandaged Ear and Pipe, Still Life with Drawing Board, Pipe, Onions and Sealing-Wax, and Head of a Peasant with a Pipe.
Pipes depicted in Van Gogh's paintings have notably been reimagined by Italian marque Ser Jacopo as a part of their Picta series, which features stylized versions of pipes seen in famous works by other renowned painters such as Pablo Picasso, Joan Miró, and René Magritte. The Picta line offers creative renditions of pipes seen in iconic paintings, incorporating Ser Jacopo's tasteful use of accenting materials and their often whimsical, distinctive Pesaro pipe-making style that utilizes flowing lines and dramatic flourishes.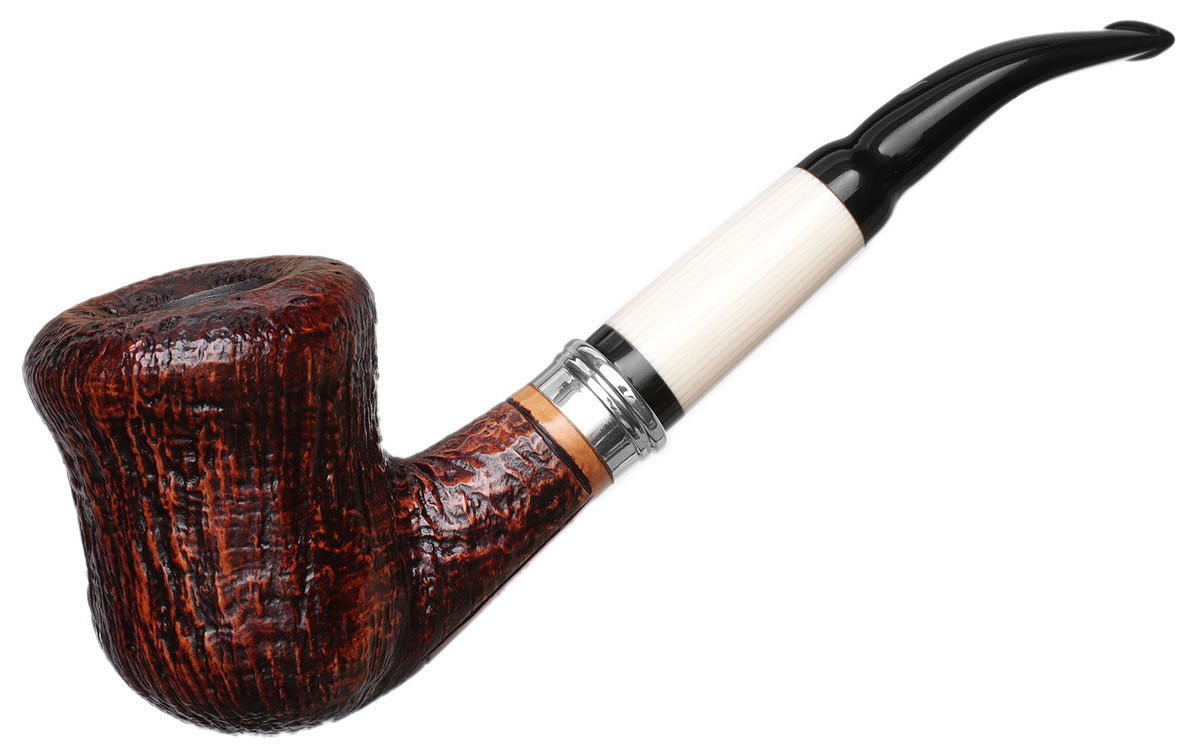 Ser Jacopo: Historica 2021 Picta Van Gogh
Several of Van Gogh's personal letters mention pipe smoking, the majority of them written to his younger brother Theo as well as close friends. In a letter to his brother, Vincent wrote "I shall again sleep little tonight because of the drawing; but it is very cosy smoking a pipe in the night, when everything is quiet; and daybreak and sunrise are wonderful." In another correspondence, Vincent informed his brother of an encounter with tax assessors, "Then they sent me assessments and summonses, but I didn't pay the slightest attention, and once when they came to ask about them, I said it was simply no use, I'd lit my pipe with them. That I didn't have the money, and that my four chairs and table wouldn't bring anything — that even new, they weren't worth what they had assessed me for."
... it is very cosy smoking a pipe in the night, when everything is quiet
In one letter to Émile Bernard, Van Gogh wrote, "The most beautiful paintings are those one dreams of while smoking a pipe in one's bed, but which one doesn't make. But it's a matter of attacking them nevertheless, however incompetent one may feel vis-à-vis the ineffable perfections of nature's glorious splendours."
Van Gogh offered advice to his brother in another letter: "Theo, I must again recommend that you start smoking a pipe. It does you a lot of good when you're out of spirits, as I quite often am nowadays."
Vincent later wrote to Theo about his hopeful outcomes while tirelessly working on pieces:
The one thing I do hope is that by working hard I shall have enough pictures at the end of a year to have a show if I want to, or, if you wish it, at the time of the exhibition. I am not set on it myself, but what I am set on is showing you something that is not wholly bad.
I need not exhibit, but we would have work of mine that would prove I am neither a slacker or a good-for-nothing and I should be content. But the main thing is, I think, that I must not take less trouble than the painters who are working expressly for it.
Whether one exhibits or doesn't exhibit, one must produce, and after that one has the right to smoke one's pipe in peace.
Van Gogh outlined his daily ritual to stave off depression and suicidal thoughts in a letter to a friend, writing, "It consists of a glass of wine, a piece of bread with cheese and a pipe of tobacco. This is not complicated, you will tell me, and you will hardly be able to believe that this is the limit to which melancholy will take me; all the same, at some moments — oh dear me."
The most beautiful paintings are those one dreams of while smoking a pipe in one's bed...
In a compilation of letters titled The Letters of a Post-Impressionist, Van Gogh expressed what he believed it takes to be productive, writing, "In order to work well, one must be well lodged, well fed, and able to smoke one's pipe and drink one's coffee in peace. I do not wish to imply that there are not many other good things; let everyone do as he pleases; but my system seems to me better than many others." As pipe smokers, many of us have our own system that works and affords us the opportunity to relax, and for someone like Vincent van Gogh, pipe smoking was a source of happiness and an inspiration behind some of art's most beloved paintings.
Wheatfield with Crows
You may also enjoy: