Wintertime Reserve 2021: Behind the Blends
Cue the festive music, pour the eggnog, and don those oh so terrible sweaters, because this week we officially began our 14th annual Buy a Peterson Pipe, Get a Tin promotion: From now until December 31st, buy any new Peterson pipe and choose from a selection of four special-edition Cornell & Diehl Wintertime Reserve pipe tobaccos. But with four different blends to consider, which should you choose? Obviously, you could buy four new Peterson pipes and try all of them, but to help simplify your decision, we're taking a closer look at each individual 2021 Wintertime Reserve blend, from components to tasting notes.
What is Wintertime Reserve?
Cornell & Diehl's Wintertime Reserve is a seasonal line of pipe tobaccos — all crafted by hand, one small batch at a time, from recipes specially developed by C&D's head blender Jeremy Reeves. Capturing the spirit of the holiday season through fragrant Aromatics, classic English mixtures, and Virginia staples, new editions are released each year and are available only with the purchase of a new Peterson pipe through our annual Peterson promotion. All four of this year's blends evoke nostalgia — alluding to moments of warmth, comfort and joy despite the colder months' often turbulent weather — and are packaged in festive tin art inspired by vintage craft wrapping paper. Enough preamble, though, let's get on to the blends!
The roads are closed and commitments canceled for an unexpected day of freedom accentuated by sweet and tangy Red Virginias, dusted with honey and lightly flavored by the joy of falling snow.
Snow Day is an all-Virginia mixture lightly cased with honey. Comprising primarily Red varietals, it offers a naturally sweet, citrusy flavor with a deeper foundation that hints at notes of freshly baked bread and molasses. Pressed into an old-fashioned crumble cake, it's the type of blend known to age exceptionally well.
Components: Virginia
Family: Virginia
Cut: Cake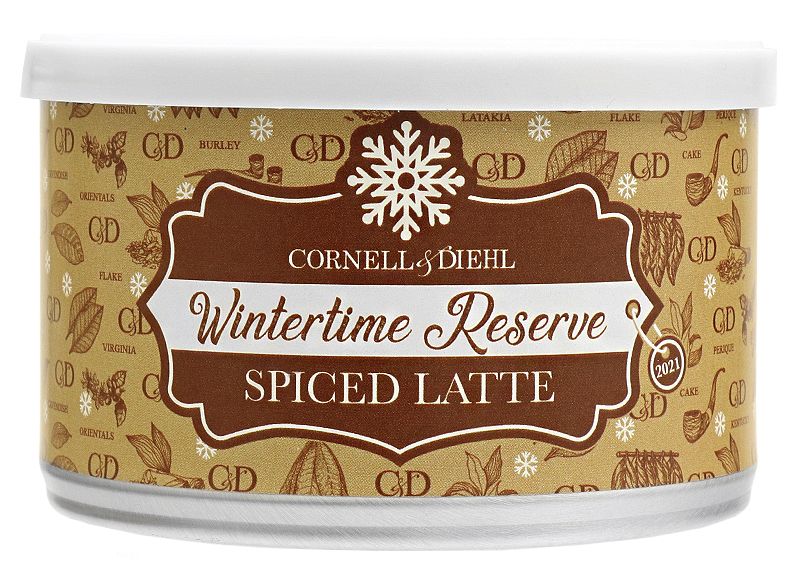 Paired best with a cozy blanket and your warmest sweater, this inviting blend of Black Cavendish and Burley delivers a creamy flavor and rich aroma that soothes the soul while delighting the palate.
Spiced Latte is this year's traditional Aromatic mixture. The nuance of milder Virginias and Cavendished leaf is enhanced by a slight boozy kick and a rich flavor of hazelnuts and cream that matches its enticing aroma — an excellent choice for personal enjoyment and social settings alike.
Components: Virginia, Cavendish
Family: Aromatic
Cut: Ribbon
Like a haven of warmth and comfort after a day on the slopes, this cake-cut blend of Red Virginias and Dark Burley offers a naturally sweet and nutty character best enjoyed while basking in the warmth of a fireside hearth.
Alpine Lodge is rustic and tobacco forward, featuring nutty and chocolatey dark air-cured leaf alongside naturally sweet and tangy Bright and Red Virginias. A pinch of Perique adds a bit of spice and strength, making it an exceptional choice for winding down on a cold winter evening by the fire. Components: Virginia, Burley, Perique
Components: Virginia, Burley, Perique
Family: Virginia
Cut: Cake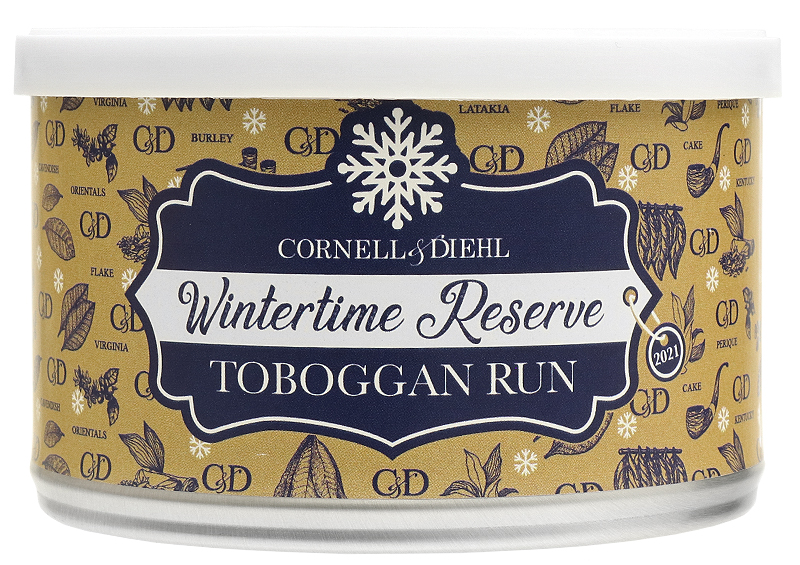 With a wind-in-your-face acceleration of flavor, this cake-cut blend of stoved and unstoved Virginias and piquant Perique is layered with sun-cured and fire-cured Orientals as enticing as the next wild ride down the slope.
This year's sole English blend, Toboggan Run is as bold and exhilarating as its name suggests. Featuring equal parts stoved and unstoved Virginias combined with Orientals, a heavy dose of Latakia, and a generous measure of Perique, it's fairly strong for an English mixture with significant body and depth of flavor.
Components: Virginia, Latakia, Perique, Oriental
Family: English
Cut: Cake
Whatever your preferences, there's a Wintertime Reserve to enhance any holiday occasion, especially when smoked in the new Peterson pipe it accompanies. A new Peterson deserves high-quality tobacco, and with Wintertime Reserve, your all-important holiday smoking opportunities will be exceptionally satisfying. Do you have a particular favorite? Leave your thoughts in the comments below.
A note on the tobacco information.
Strength: a measure of the tobacco's body and nicotine. One is the lowest. Five s is the highest.
Room Note: a measure of the pleasantness of the smoke's odor to everyone else in the room, particularly non-smokers. One is the most pleasant room note, while five s would be the least pleasant to others.
Taste: A measure of the the power and fullness of the smoke's flavor, with one being the most mellow and five s being the fullest.
You may also enjoy: