Eight State Burley: A Delectable Salute to the Burley Belt
Burley tobacco has been with us since 1864, when a tobacco grower named George Webb planted some seeds from Bracken County, Kentucky, on his land in Ohio and found that the leaves were lighter in color and responded well to air curing, resulting in an exciting new varietal. Three years later, he sold a crop of the new tobacco: 20,000 pounds of it, and it has been consequential ever since, grown throughout what would become known as the Eight State Burley Belt.
Burley has a nutty character, some say walnut in its White variety and earthier in its Dark. What's especially attractive is that Burley is relatively neutral and agreeably integrates flavors from casings and toppings, while component tobaccos blended with it are more pronounced in their own flavors, accentuated by the neutrality of the Burley and elevated by the combinations.
Commercial Burley is now grown widely, including large production numbers in Brazil and Argentina, but its origin and current production is in eight different states in the U.S.: Kentucky and Tennessee, primarily, but also Indiana, West Virginia, Virginia, Ohio, Missouri, and North Carolina, the last state to join. These states make up the Eight State Burley Belt for which Cornell & Diehl named their latest Small Batch blend: Eight State Burley — available Tuesday, May 25.
A Tribute To Air-Cured Leaf
Cornell & Diehl has earned a significant reputation for their Burley blends, always integral to their history and appreciated for the deft blending and nuanced flavors that commend the air-cured leaf. It's a high-nicotine, low-sugar varietal that is showcased in such favorites as the Burley Flake series and in Pegasus, Old Joe Krantz, and Oak Alley, among others. With Eight State Burley, the blending house expands that portfolio.
"We wanted to do a Small Batch that would showcase and focus on Burleys," says Jeremy Reeves, head blender for Cornell & Diehl. "We've made a study of Burley in a way that most other manufacturers have not and wanted to develop a special, unique blend showcasing Burley and our love and use of air-cured leaf." Further, the blend is in acknowledgement of and tribute to the Burley belt of the U.S. Specifically, though, Eight State Burley is blended with Burley from Maryland and Kentucky, and the leaf chosen is particularly distinctive.
We've made a study of Burley in a way that most other manufacturers have not...
"The White Burley," says Jeremy, "is from the 2015 crop year and has a wonderful, mellow, kind-of-creamy nuttiness with a soft cocoa tinge to the flavor. The Dark Burley is from Kentucky's 2014 crop year and has mellowed dramatically but retains a brusque, spicy sort of character. It has a pronounced clove element to the flavor and deep, dark chocolate, and earth and mud. So, the two come together really nicely to form something that is creamy and earthy and a little spicy and a little dark and maybe even a little dangerous tasting, and also just really mellow and comforting."
Adding Specially Sourced Varietals
It's a compelling marriage of Burleys, but that blend of air-cured tobacco is really just the foundation. "Then we add a small amount of Red Virginia, the same SM2-18 grade that we used for Carolina Red Flake and Carolina Red Flake with Perique last year." The Virginia brings a touch of sweetness to the blend while adding complexity that would be lacking with just Burley.
"I like straight Burley," says Jeremy, "but it can be pretty unidimensional. So, I wanted to add a little Virginia and to let some of that interesting caraway note from the SM2 into this blend along with its natural, caramelly sweetness, and then some nice lemon sort of zestiness from some beautiful Canadian Bright Virginia from 2017."
Oriental tobaccos, well aged for 16 years, further contribute to the complexity of Eight State Burley. "We used Katerini, Samsun, and Black Sea Sokhoum, all three from crop year 2005," says Jeremy. It's a mixture that perfectly fits the philosophy behind Cornell & Diehl's Small Batch series, utilizing rare leaf of sublime character. "The age of the Orientals has both deepened their sweetness and muted their slightly sour notes. They offer a touch of floral, oily, spicy and tart flavor to the blend."
Oriental tobaccos, well aged for 16 years, further contribute to the complexity of Eight State Burley
Orientals tend to activate the nasal cavity, providing an all-encompassing flavor profile. "They get your nose involved in a really unique kind of way and using these tobaccos together can create not just a fullness of flavor, but a fullness of expression of flavor engaging your whole palate."
Small Runs, Small Batches
"One of the ways that we are unique as a pipe tobacco manufacturer," says Jeremy, "is that we make everything in comparatively small batches and we make products multiple times a year. Because we make everything in small batches by hand, we have more opportunity for engagement with the product, creating an environment where we have more hands-on pride in what we're doing, and we like that hands-on approach. So, we make things in small batches and it's something that is just a part of the way that we do things, rather than making things in really large batches and handling the tobacco and individual products less often."
The Small Batch series takes advantage of unique tobaccos and unique blend ideas in a necessarily limited way, because mass production using rare tobaccos is sadly not possible. Rather than letting unique tobaccos go because of limited availability, Small Batch blends provide smoking experiences that would otherwise never see development.
Rather than letting unique tobaccos go because of limited availability, Small Batch blends provide smoking experiences that would otherwise never see development.
"There are a few blends in the Small Batch line that we have reprised; Carolina Red Flake has been a wildly popular Small Batch release. Last year, we did a special Small Batch that utilized 18-year-old Perique and the Red Virginia from Carolina Red Flake. We've used Small Batch to showcase what we can do as a small blender making things in small batches by offering something that is available in a limited supply. Sort of a snapshot in time."
"There is not an infinite supply of super high-quality tobacco and we, just like everybody else who makes something they're proud of, want to get the best materials that we can to make the things that we make in a way that we can remain proud. When we discover something that is really compelling or really unique and really outstanding, we can't buy enough of it because there is not enough of it to use in everything we make. It can't be reliably replenished."
A good comparison is to small batch bourbons. They're special, they're limited, and they're unique, so enthusiasts look for them and, unfortunately, they can't maintain availability because of their rarity, but they're certainly worthwhile.
Sophisticated Flavor Profile
Eight State Burley offers a rich, intricate, and sophisticated palate of flavors. "This blend is really a pleasure to smoke," says Jeremy. "It's well balanced, with a great interplay of rich earthiness, and sweetness marked by elements of spice, tartness and even a bit of cream."
The well-aged and mellow Burley provides a classic chocolate and cocoa character, along with the air-cured leaf's inherently nutty flavor profile. "Combined with soft and supple Bright Virginia," says Jeremy, "and the deep, fruity Red Virginia, with an exotic blend of vintage Katerini, Samsun and Black Sea Sokhoum and their oily, fragrant floral and spice characteristics, this mixture offers an elegance and complexity not often associated with Burley blends."
Available for purchase Tuesday, May 25, Eight State Burley is perhaps the most intricate rendition of a Burley blend released by Cornell & Diehl, handcrafted in the Carolinas using specially sourced, well-aged, rare varietals and components of the highest caliber. For those who are Burley aficionados, or who are exploring the myriad possibilities and refined flavors of Burley, it's a blend worth experiencing.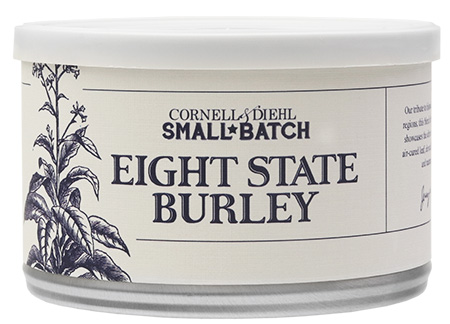 Small Batch: Eight State Burley
You may also enjoy: