Top 10 Best-Selling Cornell & Diehl Pipe Tobaccos
Updated for 2022, this list incorporates current data and is edited to reflect product availability.
Since 1990, Cornell & Diehl has provided enthusiasts with some of the finest, handcrafted pipe tobacco on the market. Prioritizing quality and nuance across its regular-production and Small Batch blends, the American blending house utilizes only a few select grades of specially sourced tobacco and focuses production to small, limited runs to ensure the quality of each batch. From staple Aromatics to robust Burley blends, smoky English mixtures, and fine Virginia flakes, C&D's comprehensive portfolio embraces over 160 unique pipe tobacco mixtures. That variety, especially for recent pipe smokers and those unfamiliar with C&D, often can be overwhelming, so we've compiled a list of the top 10 best-selling C&D blends here at Smokingpipes, with each blend further outlined below.
Top 10 Best-Selling C&D Pipe Tobaccos: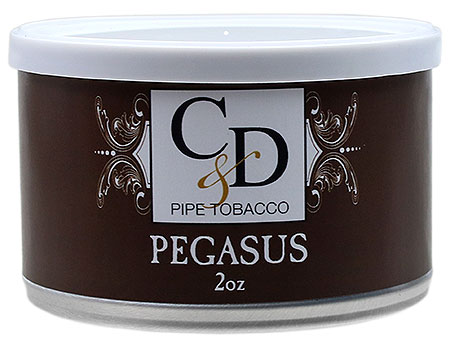 Pegasus comprises three Burley varietals — cube-cut, light, and dark — two Virginias, and a touch of unsweetened Black Cavendish to add body and depth to the smoke. This is a blend that hearkens back to old-school American Burley mixtures: It's approachable for both novice and veteran smokers alike and best smoked in pipes with large, broad chambers, ensuring the perfect melding of Pegasus' distinct components. It's deliciously satisfying fresh from the tin or with years of cellaring.
A quintessential Burley blend. It's simple, nutty, smooth, and satisfying. Leaves a room smelling nice too. - Olmstead, 5-star review at Smokingpipes
Components: Burley, Virginia, Black Cavendish
Family: Burley
Cut: Ribbon
In the context of Cornell & Diehl's vast portfolio, only a small percentage of blends feature cigar leaf as a component — a dozen to be exact — and Billy Budd not only ranks as the most popular of those 12 but also as number eight across all of C&D's mixtures. It's an iconic tobacco among C&D aficionados and was made for the blending house's late friend Sailorman Jack. Along with cigar leaf, Billy Budd comprises Burley, Latakia, and Virginias, offering a full and unique flavor profile that's distinct among English mixtures. C&D also makes a Blonde version, featuring the same blend without the inclusion of Latakia.
Available in: 2oz | 8oz | Bulk
Wonderful creamy smoke. I love Latakia so some of my favorite English blends are MM965, Nightcap, Gaslight, and Pirate Kake. Don't be afraid of the cigar leaf, I was a bit skeptical myself since I don't really care for cigars but the leaf only adds a mild spiciness almost like a touch of Perique. The taste is very very good and nice and creamy ... very relaxing - 303Brit., 4.5-star review at Smokingpipes
Components: Burley, Cigar, Latakia, Virginia
Family: English
Cut: Ribbon
Originally an old blend by Atlas Blending Corp., revitalized and refreshed by Cornell & Diehl, Super Balkan is one of C&D's oldest pipe tobaccos, comprising a generous dose of Latakia with Burley, Perique, and high-grade Turkish leaf. It's a wonderfully balanced blend that does well to highlight the slightly sweet, woody notes of Burley alongside Latakia's characteristic smokiness — all supported by the earthy, floral aspects of Orientals and the tangy sweetness of Perique and Virginias.
Great strong Balkan/English mixture. Floral and smoky from the Latakia; good, cool burning, good strength. Terrific tobacco. Smoke slowly and savor the flavor and aroma. Even Mrs. B likes the room note. Very well balanced blend. -Stephen B., 5-star review at Smokingpipes
Components: Burley, Latakia, Orientals, Perique, Virginia
Family: English
Cut: Ribbon
With 50% Latakia as a base, Star of the East also features a generous portion of Turkish leaf sweetened with stoved Red Virginias. It's a long-time favorite of Cornell and Diehl aficionados, presenting a smoky, woody, and earthy flavor profile that's delightfully bold and impressively smooth, and C&D also offers a flake version of this iconic blend.
The bready sweet and stoved Virginia is pronounced. This is easily among the best English style tobaccos I smoke. An all-day, every-day smoke for me. I love this mixture for its simple, rich, dark notes and smooth refinement. - James Marc R., 5-star review at Smokingpipes
Components: Latakia, Orientals, Virginia
Family: English
Cut: Ribbon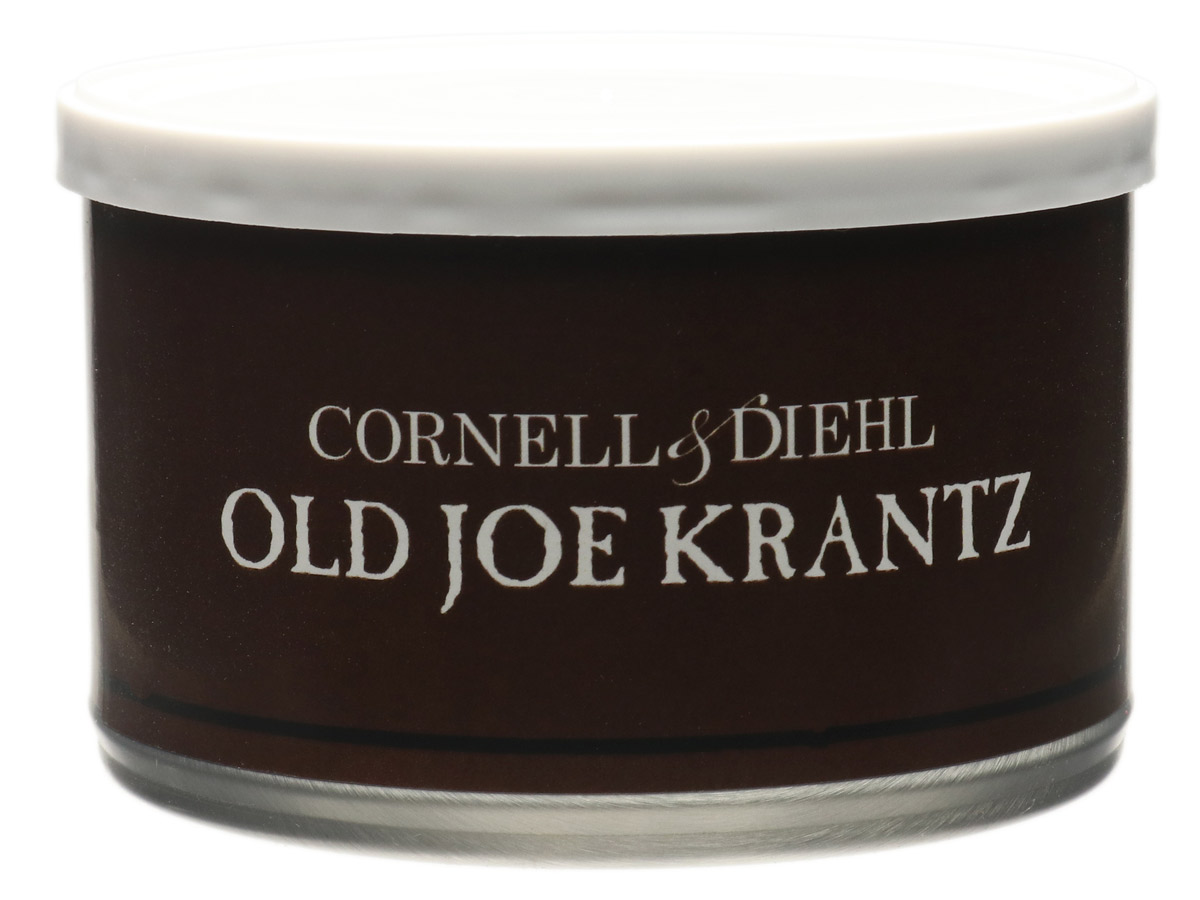 Old Joe Krantz is one of the blends that first put Cornell & Diehl on the map, and it's largely responsible for the blending house's reputation for producing bold, powerhouse Burley mixtures. Created by Bob Runowski and named after his grandfather, Old Joe Krantz uses dark and cube-cut Burley as its base, adding Red Virginias for sweetness and a good bit of Perique for extra spice. OJK packs a punch and maintains a strong following to this day, and if you're already a fan of the original, be sure to check out its additional versions: Blue, Red, and White, each augmenting the best-selling blend in its own unique way.
Available in: 2oz | 8oz | Bulk
I have finally found my desert island tobacco. It might not be for everyone, but it is my perfect tobacco. Thank you Bob and thank your grandfather. You can't take anything with you when you leave this world, and that makes the things you enjoy while you're here really important. Again a true heartfelt thanks for this blend. This is the only blend I smoke and never think, "Oh I wish it had more of this and less of that." A really a great Burley blend. -Guy H., 5-star review at Smokingpipes.com
Components: Burley, Perique, Virginia
Family: Burley
Cut: Ribbon
One of two English blends in Cornell & Diehl's Sea Scoundrel series, Pirate Kake contains the largest portion of Latakia of any mixture on our best-selling list. If you find yourself wishing your English blends contained more Latakia, smoke a bowl or two of C&D's Pirate Kake. This mixture uses the smoky, fire-cured leaf not as a condiment, but as the main ingredient, comprising around 75% of the finished blend. While some might call it a "Lat Bomb," this dark crumble cake tastefully showcases Latakia's more nuanced characteristics, elevated by more modest quantities of Burley and Orientals for a flavor profile as full as any pirate's treasure chest.
Available in: 2oz | 8oz | 16oz
This is it! THE BEST PIPE TOBACCO EVER. -Nick b., 5-star review at Smokingpipes.com
Components: Burley, Latakia, Orientals
Family: English
Cut: Cake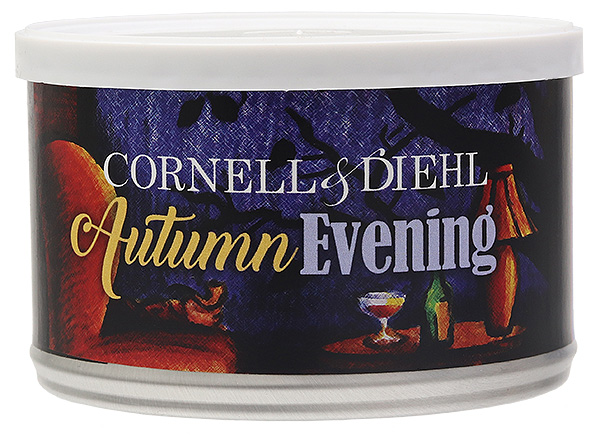 Autumn Evening is blended around C&D's proprietary Red Virginia Cavendish, which offers the same sweetness and roux-like characteristics of Black Cavendish while maintaining Virginia's brighter signature notes and offering a bit more strength. Though cased with a rich maple flavor, the natural tobacco still shines through, especially later on in the bowl, making it a perfect mixture for Aromatic smokers looking to ease their way into more natural Virginia blends. The room note also smells like pancakes — who doesn't like pancakes?
Available in: 2oz | 8oz | 16oz | Bulk
Light maple aroma and flavoring. I'm working my way through all the different winter and seasonal Aromatics, and Autumn Evening is still, by far, the best of the lot. -Norrher, 5-star review at Smokingpipes.com
Components: Virginia
Family: Aromatic
Cut: Ribbon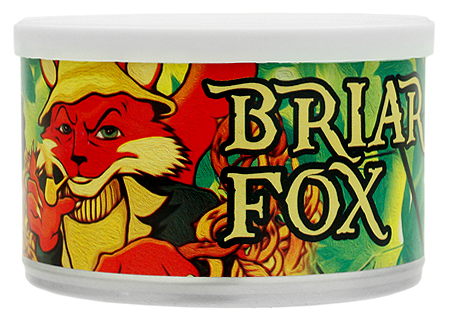 Briar Fox is a storied, staple C&D blend and was the personal favorite pipe tobacco of late Danish artisan pipe maker Peter Heeschen. Comprising smooth Virginias with a generous helping of Burley, Briar Fox presents an easy-to-rub-out crumble cake, offering greater control of its consistency before packing, and the flavor profile is marked by a natural tobacco character that deepens in complexity and ends with a spicy finish.
Available in: 2oz | 8oz | 16oz
This tobacco is simply amazing. It was love from first puff. -Joshua L., 5-star review at Smokingpipes.com
Components: Burley, Virginia
Family: Virginia
Cut: Cake
A blend created for Perique lovers, Bayou Morning combines Red and Bright Virginias with 25% Perique for a bold flavor profile characterized by earthy, woodsy notes and a tangy sweetness with noticeable pepper. Free of topping, Bayou Morning highlights the natural flavors of the Virginias and showcases Perique in a tasteful mixture that's not for the faint of heart but is perfect for those seeking a Perique-forward pipe tobacco. Plus, the blend is available in a flake cut, and its sister mixture, Bayou Night, introduces Latakia, Burley, and Orientals to the mélange.
Available in: 2oz | 8oz | Bulk
A mellow and rich Va/Per that is a great morning smoke that invigorates the palate and perks up the mind. A great blend all around. - Logan C., 4.5-star review at Smokingpipes
Components: Perique, Virginia
Family: Virginia
Cut: Ribbon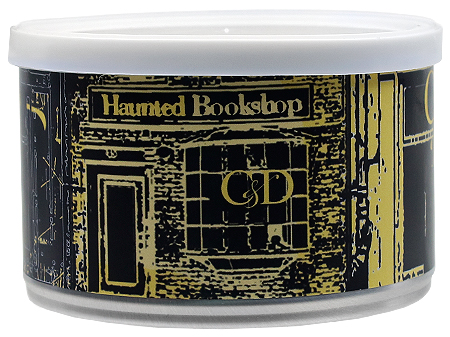 Haunted Bookshop draws inspiration from Christopher Morley's novel of the same name, offering a deep, contemplative smoke that's best paired with a good book on a dark and stormy night. Though comprising the same basic components as Old Joe Krantz, Haunted Bookshop alters the proportions to put even more emphasis on the signature character of air-cured leaf — in this case, a mix of white, dark, and cube-cut grades. A pinch of Red Virginias and a touch of Perique again add to the sweetness and spice, but play a more supportive role than you might expect.
Available in: 2oz | 8oz | Bulk
Delicious nutty, woody Burley flavor on a bed of subtle and peppery Perique, rounded off with a slightly sweet Virginia. Fantastic. Goes straight into the rotation when it's Burley time. If you're a Burley fan, you can't go wrong with Haunted Bookshop. Kept in my cellar in pounds. -Cob Burleymon, 5-star review at Smokingpipes.com
Components: Burley, Perique, Virginia
Family: Burley
Cut: Ribbon
So there you have it: our top 10 best-selling Cornell & Diehl pipe tobaccos here at Smokingpipes. Keep in mind, these blends were ranked based on popularity, not by our own tastes or judgments. If you don't see your favorite on the list, leave us a comment and share your thoughts — perhaps it will make it in a future list!
Latest Updates (2022):

Pegasus stayed at #10
Star of the East moved from #9 to #7
Billy Budd moved from #8 to #9
Super Balkan moved from #7 to #8
Old Joe Krantz stayed at #7
Briar Fox moved from #5 to #3
Pirate Kake moved from #4 to #5
Bayou Morning moved from #3 to #2
Autumn Evening moved from #2 to #4
Haunted Bookshop stayed at #1
A note on the tobacco information.
Strength: a measure of the tobacco's body and nicotine. One is the lowest. Five s is the highest.
Room Note: a measure of the pleasantness or intensity of the smoke's odor to everyone else in the room. One is the least intense room note, while five s would be the most noticeable to others.
Taste: A measure of the the power and fullness of the smoke's flavor, with one being the most mellow and five s being the fullest.
You may also enjoy: