Classic OTC Blends: Sir Walter Raleigh First Impressions
Sir Walter Raleigh Regular is one of pipe-smoking's most beloved and enduring over-the-counter (OTC) blends and is fittingly named after a pioneering historical figure who helped popularize pipe smoking centuries ago. The legendary blend has been enjoyed by pipe smokers for over 90 years and continues to remain popular among both veteran and beginner pipe smokers. Like many other OTC blends, Sir Walter Raleigh is one that I've never tried and unfortunately overlooked since I began my pipe-smoking journey. I've made it a personal goal to experience as many classic OTC mixtures as possible, offering my first impressions after smoking several bowls of each one.
History Of Sir Walter Raleigh
Sir Walter Raleigh Regular was first introduced in 1927 and is currently produced in the United States by Scandinavian Tobacco Group Lane Ltd., who acquired the rights to manufacture and sell the blend in 2000. Sir Walter Raleigh is a cross-cut Burley blend, somewhere in between cube cut and ribbon form as the pieces are somewhat chunkier compared to most ribbon-cut mixtures that are usually quite thin and finely cut. Along with the Regular mixture, an Aromatic version is also produced and features Virginia and Burley tobaccos topped with imported French and Dutch liqueurs.
Packaging, Components, & Flavor
Similar to other OTC blends I've previously tried, Sir Walter Raleigh Regular is presented in a 1.5-ounce pouch or a 14-ounce tub, offering options for pipe smokers who never tried it as well as those who have been enjoying the blend for many years and prefer to have a steady supply on hand. I purchased a pouch to try in one of my Missouri Meerschaum corn cobs and transferred the tobacco to a mason jar to preserve its freshness.
Sir Walter Raleigh features a topping of anise and molasses, which technically makes the blend an Aromatic, though the topping is not overpowering, nor does it mask the Burley's natural flavor. While I could detect both flavors while smoking, the anise was far more subtle compared to the molasses, which nicely complemented and enhanced the nutty, toasty notes of the Burley. The toppings also provided a consistent, pleasant flavor from start to finish, starting with a stronger presence before gradually mellowing.
Upon opening the pouch, I immediately noticed a deep, rich, chocolatey scent and was impressed at how well the toppings worked with the Burley's natural nuttiness. The pouch's inner sleeve refers to Sir Walter Raleigh Regular as "an Aromatic blend of Burley tobaccos excellent for stand alone use or blending." Though I smoked it straight, Sir Walter Raleigh certainly has the potential to be used as a blending component to add flavor to other mixtures or base tobaccos.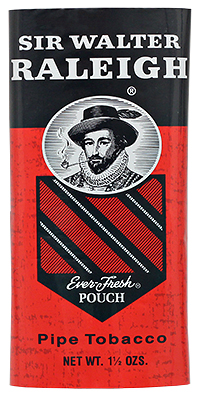 Moisture Content & First Light
I found the moisture content to be perfect directly from the pouch, though it's somewhat on the drier side but is still pliable, with a texture reminiscent of finely-cut granola. Thanks to the loose cut and ideal moisture content, the tobacco packed easily into my corn cob and didn't require any special packing techniques, though I imagine any packing method can be used to deliver satisfactory results.
Each time I smoked Sir Walter Raleigh, I started with an initial charring light before a true light, and those were the only times I needed to use my lighter while smoking this tobacco. While smoking, I found this blend to be extremely user-friendly and forgiving no matter my puffing pace or cadence as it never became too harsh or bitter. However, toward the end of some bowls, there were times when I experienced some slight roughness from puffing too aggressively.
Flavor & Strength
Though I primarily smoke Virginia and Virginia-Perique blends, Sir Walter Raleigh offered a nice change of pace as it's a fairly straightforward blend with some subtle, underlying complexities present when retrohaling, such as hints of semi-sweet chocolate and baking spices. At the start of each bowl, I picked up notes of hazelnut and coffee mixed with a small touch of chocolate which then softened but remained consistent throughout the bowl. The toasted, earthy qualities of the Burley were also present and acted harmoniously with the toppings.
In terms of strength, I'd classify Sir Walter Raleigh as medium-strong, slightly higher than Carter Hall but not nearly as strong as Five Brothers based on my prior experiences. There was also a smooth creaminess that is easy on the palate while the room note is tolerable and fairly inoffensive. I found it to be a dependable blend that did not require much attending to while working, yet it was also a comforting blend to sit down with and enjoy during quieter moments.
Concluding Thoughts
Sir Walter Raleigh Regular is an excellent example of a classic, OTC Burley blend that offers a consistently pleasant smoking experience and can be an easy going, all day smoke. It's readily available, accessibly priced, packs easily, and burns nicely — characteristics appreciated by many pipe smokers. While it's an Aromatic, I feel this blend has excellent crossover appeal for Virginia and English smokers as there's still a natural tobacco flavor to admire that's not overpowered by the toppings. Aromatic pipe smokers who appreciate blends with chocolatey, nutty, and semi-sweet notes will likely enjoy the toppings used in this tobacco. I'd strongly encourage any Burley enthusiast who has yet to try Sir Walter Raleigh to check it out as it has the potential to be a new favorite.
Have you ever smoked Sir Walter Raleigh Regular or the Aromatic version? If so, what are your thoughts on them? Let me know in the comment section!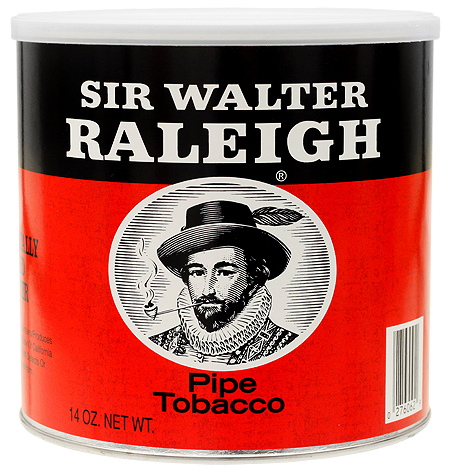 You may also enjoy: