Classic Pipe Tobaccos: St. Bruno First Impressions
A historic and timeless blend, St. Bruno has remained a popular mixture for pipe smokers ever since it was introduced in the late 19th century. It's also a classic blend that I never tried and wanted to experience to see why it has endured for over a century. I've made it a personal goal to try as many classic and beloved pipe tobacco blends as I can, exploring their history and recording my initial impressions while smoking them. Before I describe my experience with St. Bruno, let's take a look at the history of the iconic blend and the companies that have manufactured it over the years.
History of St. Bruno Pipe Tobacco
St. Bruno was originally conceived in the 1890s by Thomas Ogden, a businessman who began his career by starting a tobacconist shop along Park Lane in Liverpool, England. Ogden founded the store in 1860 and during that time Liverpool flourished as a commercial city, becoming a major port and a trading center. Within a few years, Ogden opened several other shops throughout Liverpool. After seeing how successful his retail operation was, Ogden decided to venture into manufacturing and opened his first factory along St. James Street in 1866 and by 1890 Ogden owned six small factories and a snuff mill.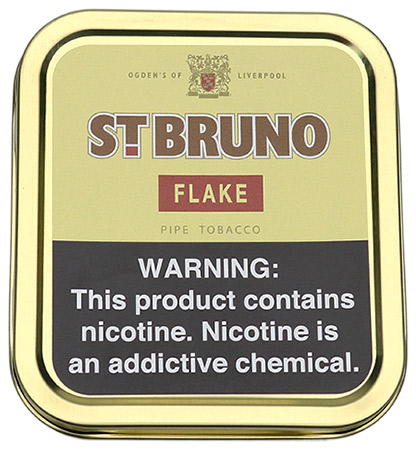 The company continued to grow exponentially throughout the late 1800s and by 1899, all business operations occurred in a large factory located along Boundary Lane. Thomas Ogden was a perceptive businessman and utilized advertising to market his products, taking advantage of the lithographic printing technology that was becoming increasingly popular in Britain when St. Bruno launched. Though the company doesn't receive enough credit for their efforts, Ogden's of Liverpool helped popularize the use of full color illustration and graphic design as effective marketing tools.
Ogden's strongly relied upon marketing and bet heavily on its success, reportedly redirecting up to 25% of its net profits back into advertising. Their use of enamel signs was particularly notable and departed dramatically from what competitors were doing. Many companies often used simple shapes such as rectangles, with only the name of the brand on the sign. For St. Bruno, Ogden's took a more elaborate marketing approach, using signs that featured a pack of St. Bruno tobacco as well as a slogan such as "Ogden's St. Bruno — The Tobacco That Won't Be Hurried."
In 1901, the business was sold to James B. Duke's American Tobacco Company (ATC) for £818,000 (approximately $101 million today) in what was the beginning of Duke's attempt to conquer the British tobacco market like he had done in the United States. This aggressive move to establish a monopoly forced 13 family-operated British tobacco manufactures to merge and form the Imperial Tobacco Company Ltd. There was intense competition between ATC and Imperial in England and eventually Imperial decided to take the battle to the States by attempting to acquire a business that could challenge ATC. After encountering several substantial losses in England and facing a potential trade war in the US, ATC agreed to surrender Ogden's to Imperial in 1902 so long as Imperial abandoned plans to enter the American market, other than for the purpose of buying leaf.
With the rise of daily newspapers and radio broadcasts in the 1920s, Ogden's quickly adapted their marketing strategies so that they could advertise on these media platforms. St. Bruno advertisements were broadcast over the radio and even appeared on bus tickets issued by the London General Omnibus Company. Though St. Bruno was first offered as a flake tobacco, Ogden's introduced a ready rubbed version in the 1920s, which accounted for the increased marketing and continued the company's growth.
During World War II, tobacco production and advertising significantly decreased due to wartime restrictions. However, Ogden's thrived after the war with a strong poster campaign that featured depictions of masculine men with a pipe and the slogan "You'll like St. Bruno — it's a man's tobacco." With the rising popularity and availability of television in the 1950s, Ogden's employed famous cricket commentator John Arlott as the voice and face of St. Bruno, utilizing him for physical ads as well as TV. Decades later, English cricketer "Fiery" Fred Trueman appeared in television advertisements for St. Bruno in the late 1980s.
Perhaps the most memorable advertisements occurred in the 1980s when the brand's famous St. Bernard mascot debuted with a pouch of St. Bruno around his neck. The heroic canine appeared in commercials where he came to the timely rescue of pipe smokers that were stranded without tobacco while fishing on a lake, serving as a lighthouse lookout, and working at an Arctic research station. The ad campaign was so successful that the St. Bernard was incorporated on the new packaging that was unveiled during that time and continues to appear on the pouch version that's produced today.
St. Bruno is currently manufactured in Denmark by Mac Baren, who originally took over production of St. Bruno, Amphora, Gold Block, and other blends from Imperial Tobacco back in 2006. In 2015, Mac Baren purchased the blends outright, in addition to other mixtures they produced for Imperial such as Capstan and Three Nuns.
Packaging, Components & Cut
St. Bruno is currently offered in flake-cut form as well as a ready-rubbed version. Both offer 1.75 ounces of tobacco, with the flakes packaged in a square, metal tin while the ready-rubbed offering is presented in a plastic pouch. I opted to try the ready-rubbed version as I find it an easier format that better suits my smoking preferences compared to flakes in terms of pre-smoke preparation and bowl packing.
St. Bruno consists of Dark-Fired Kentucky and Bright Virginias, with the ready-rubbed version presented in a style that's somewhere in between a broken flake and a ribbon cut. There were some chunky "flakes" present but also strands that were reminiscent of ribbon-cut blends but were significantly thicker. I appreciated how effortless this blend was to pack and how it can be rubbed out further or simply loaded directly into the bowl straight from the pouch.
Tin Note & Moisture Content
Immediately after opening the pouch, there was a strong, yet deliciously smoky BBQ-style scent I was picking up. Upon further examination, there was also an underlying floral essence that's noticeable, but not overtly strong like Lakeland-style blends. The floral notes I was detecting came from the rose geranium topping, though it doesn't overpower or mask the natural flavor of the Dark-Fired Kentucky or Virginia tobaccos. There's also a tonquin topping in St. Bruno that harmonizes wonderfully with the Dark-Fired Kentucky, while the rose geranium provides an understated floral quality that adds to the pleasing aroma and offers a hint of citrus to the overall profile. While labeled as an Aromatic, St. Bruno offers a robust and honest tobacco flavor that is quite different compared to other flavored blends. Online reviews also mention a vinegar smell when describing the tin note and while I could slightly detect that aroma, I found that it didn't carry over into the smoking experience but may have contributed to the tobacco's tanginess.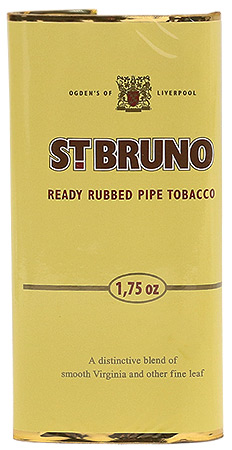 For me, the moisture content was excellent directly from the pouch and I experienced no issues with lighting or encountering a large amount of unburnt tobacco at the end of a bowl. However, this blend may require some drying time depending on your preferences, though it burns quite slowly straight from the pouch and requires little maintenance while smoking. The tobacco behaved well once lit, requiring very few relights over the multiple occasions I smoked it and was never harsh or bitter no matter my smoking cadence.
Flavor Profile & Strength
In terms of flavor, the dark-fired tobacco contributed heavily to the blend's bold, smoky flavor profile but was nicely balanced by the subtle sweetness of the Bright Virginia, which offered grassy and citrusy notes. The rose geranium and tonquin toppings were noticeable but didn't diminish or disguise the natural character of the base tobaccos. There was a floral flavor that was most apparent when retrohaling but was in the background compared to the smokiness of the dark-fired tobacco.
Some online reviews raised concerns about the potential of St. Bruno to "ghost" a pipe, meaning the flavor can remain in the bowl and impact other blends that are smoked in the same pipe. My palate could not detect any noticeable ghosting when smoking a different blend out of a pipe that previously had St. Bruno in it, however, others may prefer to dedicate a specific pipe for this blend. I primarily smoked St. Bruno in one of my Missouri Meerschaum corn cobs but also utilized a few briars I have dedicated to Burley and Virginia blends to assess how well it performed in chambers of various shapes and dimensions. I was impressed with the consistency of St. Bruno as it performed admirably in any pipe I packed it in and I observed no major deviations in its quality when smoking it in different pipes.
The inner sleeve of the pouch reads "St. Bruno is a steam pressed Ready Rubbed pipe tobacco well known and loved by pipe smokers around the world." After trying and smoking through a pouch in just a few days, I understand why St. Bruno is extremely popular and has been a cherished blend for decades. It has rapidly become a new favorite for me and is a tobacco I plan to have on hand as much as possible.
I found St. Bruno to be medium-strong with the blend's spiciness, savoriness, and toppings reminding me of Samuel Gawith's 1792 Flake, though not nearly as powerful in terms of nicotine strength. For me, St. Bruno was particularly satisfying as an after dinner smoke and proved to be an excellent way to unwind in the evening. That said, St. Bruno is certainly a tobacco that can be easily smoked all day but is most rewarding when you can sit back and take in some of the complexities it has to offer. If you love stout, full-bodied Burley blends or already appreciate the flavor of dark-fired tobacco and have yet to try St. Bruno, then I highly recommend picking up a tin or pouch.
Have you ever tried St. Bruno? If so, what are your thoughts on it? Let me know in the comment section!
You may also enjoy: