Tasting Notes: Cornell And Diehl Small Batch Eight State Burley
Welcome back to another episode of Tasting Notes. In today's installment, I'm tackling a completely new entry into Cornell & Diehl's Small Batch lineup — the long anticipated Eight State Burley. I'm pretty sure this is the first Burley blend in the Small Batch lineup, but more importantly, the blend itself is just something that we haven't seen before from Cornell & Diehl and Jeremy Reeves.
Components & Tin Note:
Eight State Burley is Jeremy Reeves' homage to the traditional American Burley blends that dominated pipe tobacco production for many years in the United States. It features 2015 vintage Burley, 2017 Bright Virginia, 2018 Red Virginia, and most interestingly, a mixture of 2005 Vintage Katerini, Samsun and Black Sea Sokhoum Orientals. This really interesting blend of Orientals comes together to elevate this traditional Burley mixture to something a little more elegant and complex.
While the tin note may seem unassuming at first (think of that traditional sort of Burley chocolatey, molasses kind of nuttiness), there's a faint spicy quality that reminds me of cinnamon raisin bread — this really sweet, bready note with a touch of cinnamon spice and maybe even some raisiny, stone fruit kinds of aromas. Based on the tin note alone, if somebody told me that there was a touch of Perique in here, I wouldn't be terribly surprised.
Flavor Profile:
From the first light, that traditional Burley flavor comes into focus immediately; there's that distinct nuttiness, that cocoa kind of a flavor, as well as a little bit of an earthy and bready quality to the smoke. So even off the bat, it's already full-flavored and well-rounded. I go back and forth between getting these subtly sweet notes to this drying sensation on my palate. There is back and forth between the more traditional Burley flavors — the earthiness and a little bit of that chocolate note — and something that's a little more floral or incense-like and spicy. There's definitely a cinnamon-like characteristic to that spice, maybe a little bit of nutmeg. Together with that traditional Burley flavor, the distinct cocoa and nuttiness, the spice reminds me of Mexican hot chocolate — Ibarra, Abuelita, or any other Mexican hot chocolate that has a lot of cinnamon, nutmeg, and even a little bit of chili powder in it. There's this tickle on the back of your palate and through your nostrils on the retrohale too. It's a really interesting and really complex mixture of spicy and earthy qualities. There's not a ton of sweetness here, but I don't think that Eight State is supposed to be a sweet blend.
I would really recommend sipping on this one. There's so much subtlety and nuance at play, and it's the kind of thing that you don't necessarily find in blends, like Wessex Burley Slices, Solani Aged Burley Flake or even some of the C&D Burley Flakes. That said, if you're a fan of any of those blends, then this is one to stock up on for sure. This is an all-day smoke for the Burley lover.
I would rate it at maybe just a hair over medium in terms of strength. It definitely has plenty of flavor. I think that folks who are normally Virginia smokers, maybe even normally English smokers, would appreciate this mixture for its added complexity. It's just a really interesting interpretation of the benchmark American Burley tobacco.
Cut & Aging Potential:
The rough, ribbon or ready-rubbed cut here, together with the quality of these tobaccos themselves, makes for excellent burning characteristics. I mean, you saw me talk for a couple of minutes without puffing on my pipe, but then I brought the pipe back to life relatively easily. The burn is great, and the moisture content is perfect. The vintage of these tobaccos has made this blend really approachable and enjoyable right out of the tin, but this one is certainly going to age well. I'm not talking necessarily about an extremely long aging period, but in the next three to five years, this is going to round out even more. And I think some of those chocolatey notes are going to be a little more pronounced; there will also likely be a little more of the sweetness and a little more of that floral quality from the Orientals.
Like I said I think this is an all-day smoke for the Burley lover. It is a really interesting take that should appeal to Burley traditionalists as well as those with sophisticated palates who enjoy picking out complex nuances. So, Eight State Burley: another home run from Jeremy Reeves and the Cornell and Diehl team. And like I said don't underestimate this one's ability to age. Alright, everybody see you next time.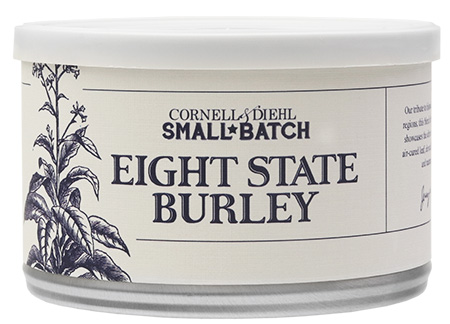 Cornell and Diehl Small Batch Eight State Burley
You may also enjoy: