Top 11 Most Popular Cigarillos
Cigarillos are defined simply as "small cigars that are slightly larger than cigarettes" and, while this may be true, a more precise classification is useful for both real-world determinations and the purposes of this list. Cigarillo translates literally as "small cigar," with "small" describing both the length and ring gauge of the cigar in question, keeping the usual dimensions under 4.5 x 36. These constraints have the added benefit of comprising true small cigars while excluding smaller vitolas such as the Short Panatela or Petite Lancero, keeping the smoke time around 35 minutes or less. This brevity is part of the cigarillo's appeal, condensing the flavors of a cigar into a convenient package that can be smoked as a digestif, during social events, while on a short commute, or for any number of other situations whose time constraints are unsuitable for a full-sized cigar.
The origins of the cigarillo can be traced to the 18th or 19th century, with the advent of the cigarette, as the term cigarillo was used to describe paper-wrapped tobacco for smoking. Only later did these devices evolve into the form we now know, and their introduction to the market saw a rapid increase in popularity which declined in the 1900s. The cigar world is now experiencing a resurgence of these little cigars, with regard to both variety and popularity, offering a wealth of high-quality options sure to please the palates of those who require a relatively swift smoke. What follows represent the most popular cigarillos available on our site, packaged in convenient tins, small boxes, or even individually.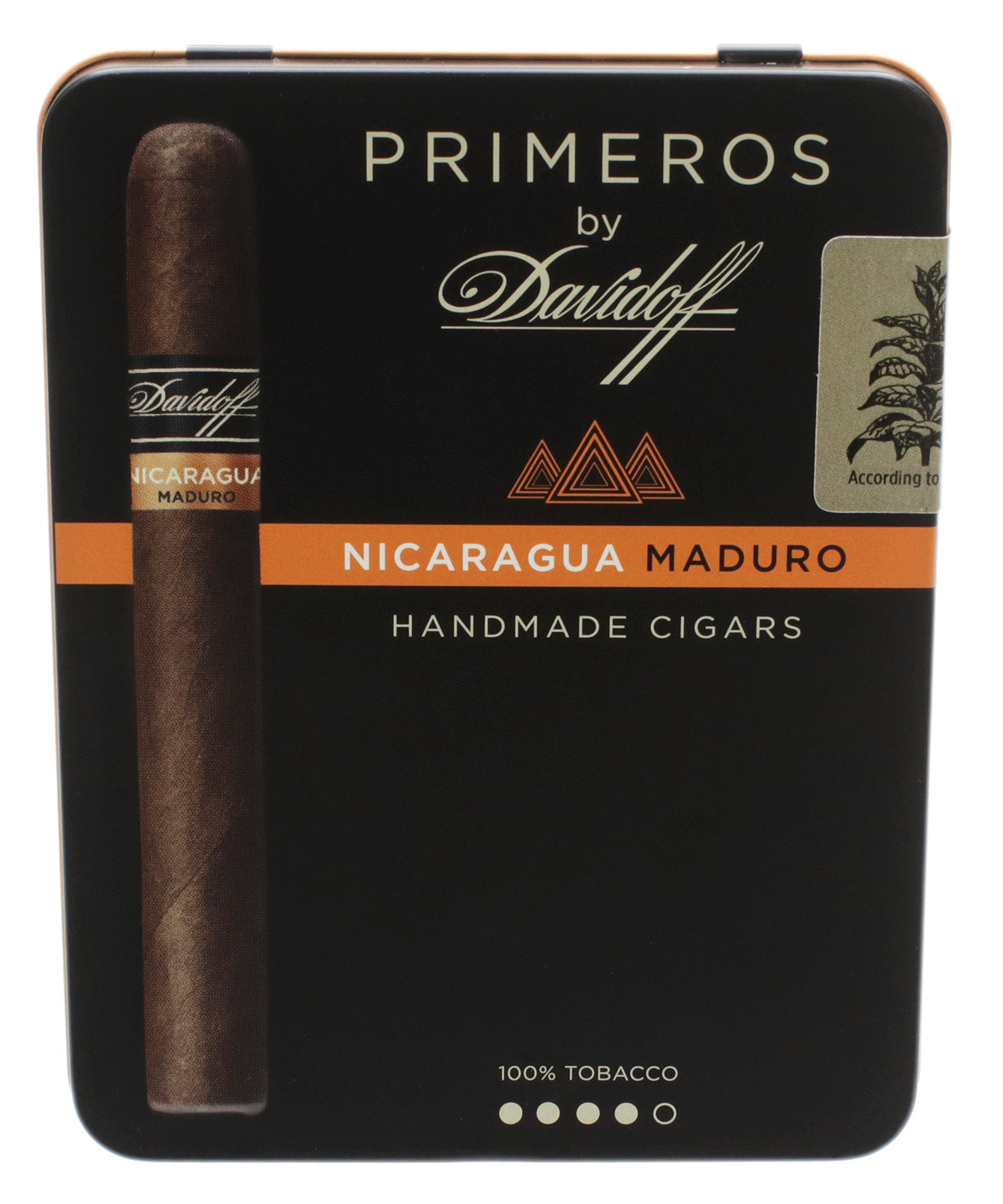 Davidoff's Primeros line offers the same depth of flavor as the esteemed brand's full-size offerings, though in a petite 4.13 x 34 size, allowing for easy enjoyment in less than 25 to 30 minutes. Comprising Dominican and Nicaraguan fillers under a Nicaraguan binder and a Mexican Sumatra Maduro wrapper, this short smoke is a wonderfully robust, medium-bodied experience that's perfect for any occasion, and is packaged in a tin of six.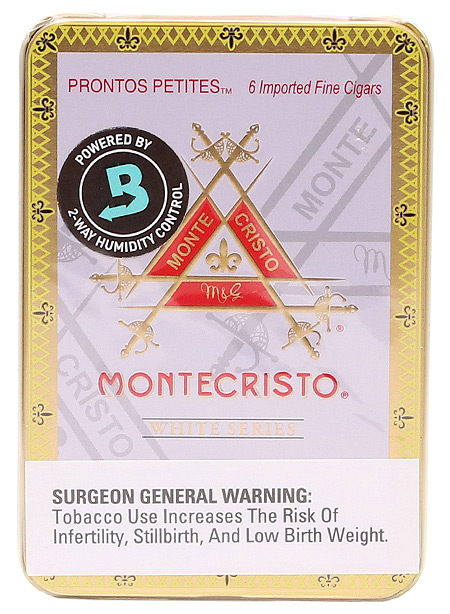 The Montecristo White Series is one of the brand's most prominent lines, highly regarded among enthusiasts of shade-grown wrappers for its mild notes and smooth creaminess. Prontos Petites employ the same blend used for the larger core line of White Series cigars and compresses all its complexity into a 4 x 33 cigar packaged in tins of six. With a burn time of around 20 to 25 minutes, this deliciously smooth cigarillo would be the perfect complement to a sumptuous dessert.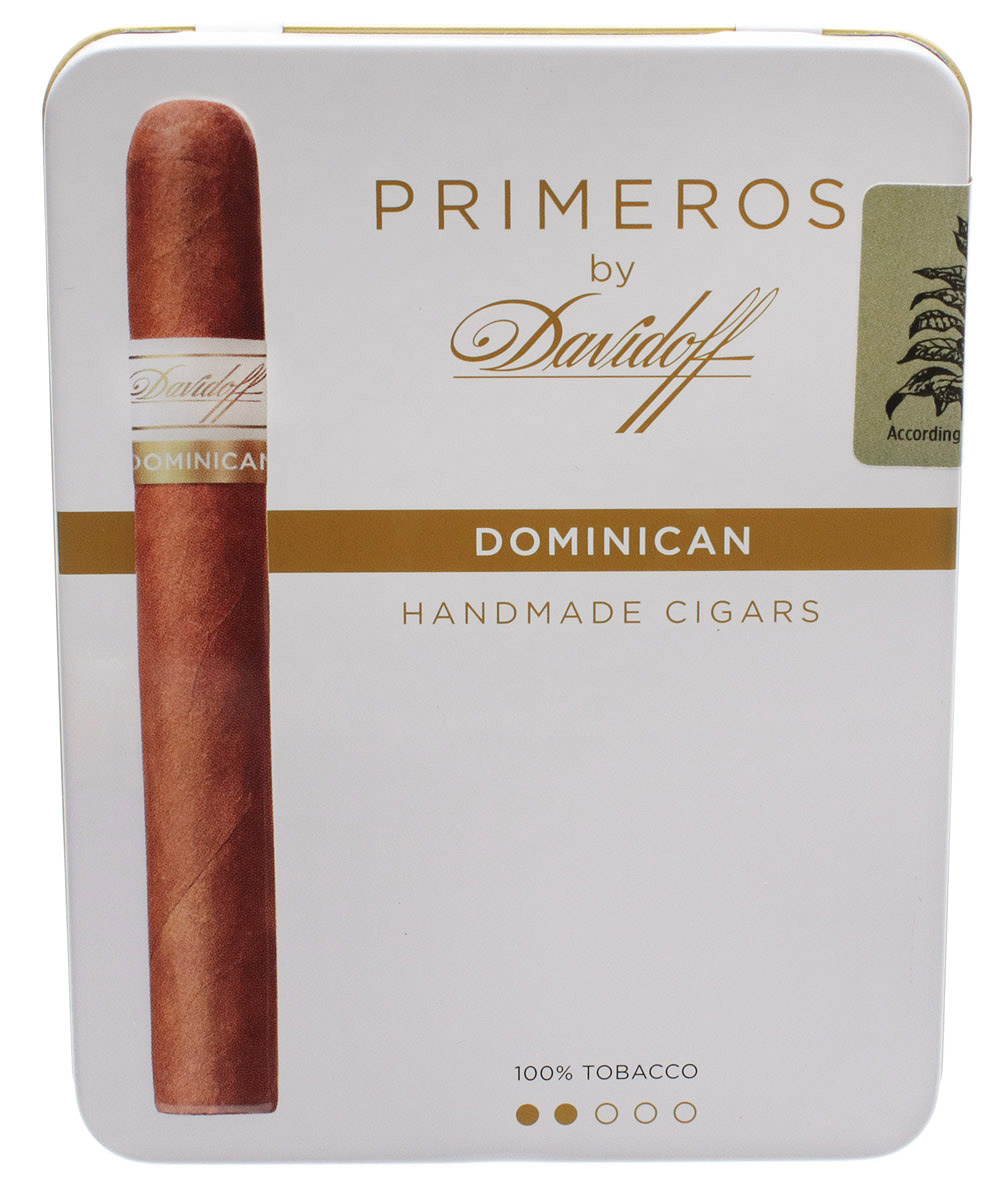 Another offering from Davidoff's Primeros line, these small cigars, also packaged in tins of six, showcase the same blend used in their Signature series of cigars, one of the most highly regarded mild blends. With a smoke time of about 25 minutes, these cigars are well-suited to any time of the day and pair well with almost anything, the blend comprising a Dominican binder and fillers atop an Ecuadorian Connecticut Shade wrapper for a deliciously smooth smoke.
Comprising the same blend as H. Upmann's 1844 Reserve series, these Aperitifs are appropriately titled, as the tin of six cigars not only boasts their 4 x 33 size proudly, but serve as fantastic complements to their meal-opening spirits of the same name. A tweaked blend of the vintage brand's 1844 line, the 1844 Reserve offers a touch more spice and an appreciable bit of body, allowing it to hold up well to pairings while delivering a wealth of flavor. The Aperitifs maintain this blend, with its Dominican fillers, Nicaraguan binder, and Ecuadorian Habano wrapper.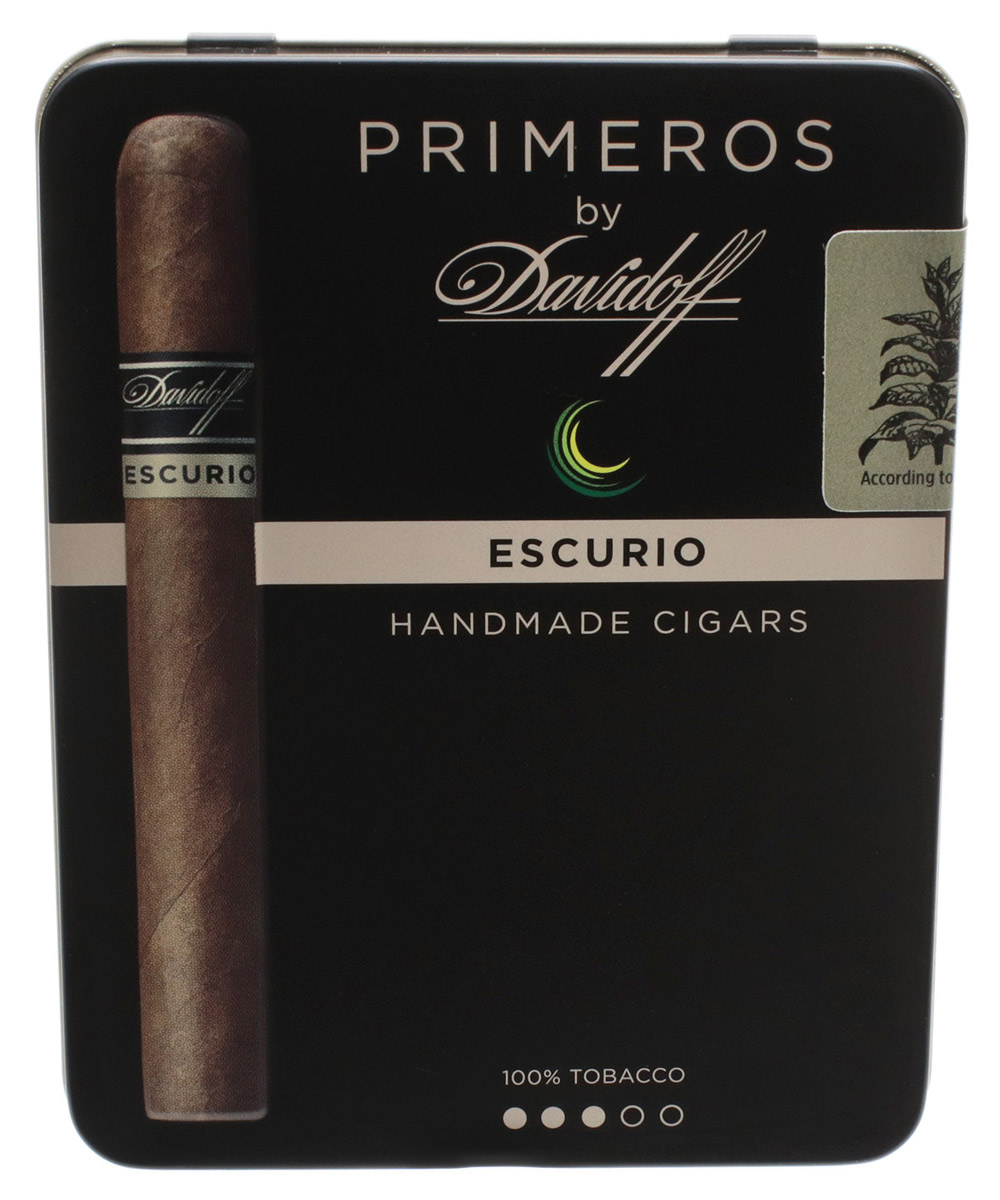 A member of Davidoff's celebrated Black Band line, the Escurio series is representative of the element of water, as water is integral to the growth of its Brazilian binder and filler components, defining the climate in which it was grown and imparting it with a unique combination of flavors. The Primeros iteration maintains the same blend in the line's accessible, easily smoked 4.13 x 34 size, providing flavors of cream, oak, leather, and dark chocolate, while maintaining a welcoming medium strength and body.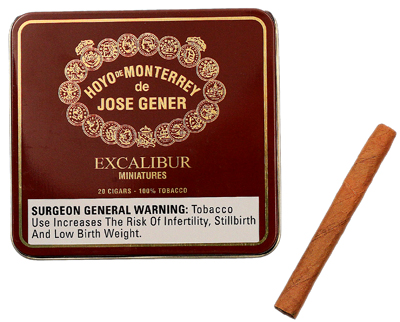 Hoyo de Monterrey's Excalibur line comprises a number of different blends, all of which are based on the original Excalibur initially released in 1992. This original blend features the top 10% of the factory's tobacco, comprising Dominican and Honduran fillers, a Connecticut Broadleaf binder, and a Connecticut Shade wrapper, all of which have been compressed into an impressively small 3 x 22 size in these Miniatures. With medium strength and a wealth of rich flavors, these 10-minute smokes can be enjoyed readily and at any time, stored within handsome 20-count tins.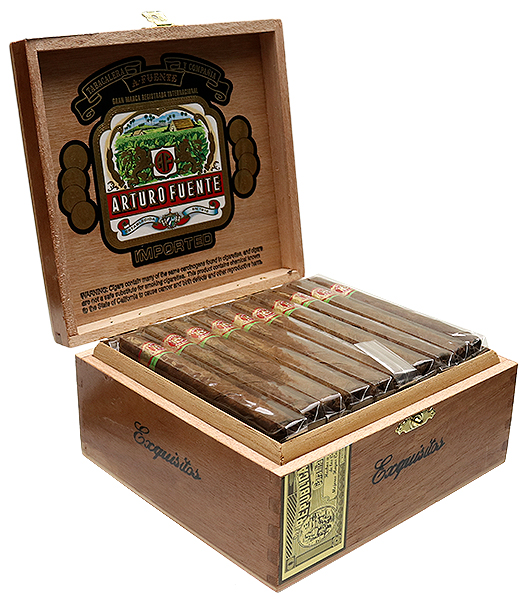 Arturo Fuente's Gran Reserva line is one of the Family brand's most widely enjoyed, thanks to its regular availability, easily accessible price, and excellent representation of the Fuente's balanced style of blending. The Exquisitos shape features the same blend as this well-respected line, and in a diminutive 4.5 x 33 shape which can be smoked in under 30 minutes. Sold individually, these cigarillos come in both Natural, presented here, and Maduro wrappers.
Another iteration of the Gran Reserva line, Arturo Fuente's Cubanitos cigarillos are packaged in tins of 10 and come in at 4.25 x 32, making them timely ways to enjoy the full bouquet of flavors offered by Fuente. Comprising Dominican binder and Filler tobacco topped with a Cameroon wrapper, these tiny treats are mild-medium in strength and body, and are primed to take anywhere.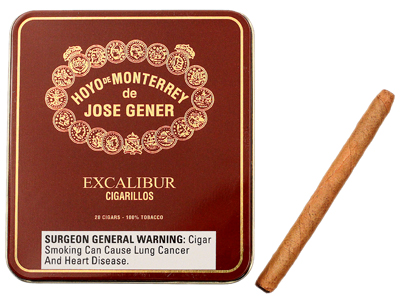 These Cigarillos are slightly larger versions of Hoyo de Monterrey's Excalibur Miniatures and comprise the same blend, reflecting that of the original Excalibur release, though in a convenient size which can be smoked in 15 to 20 minutes. Sold in tins of 20, these are robust smokes with no shortage of flavor, imbued with a startling depth for their stature and price, which makes them a compelling value, even if time is a non-issue.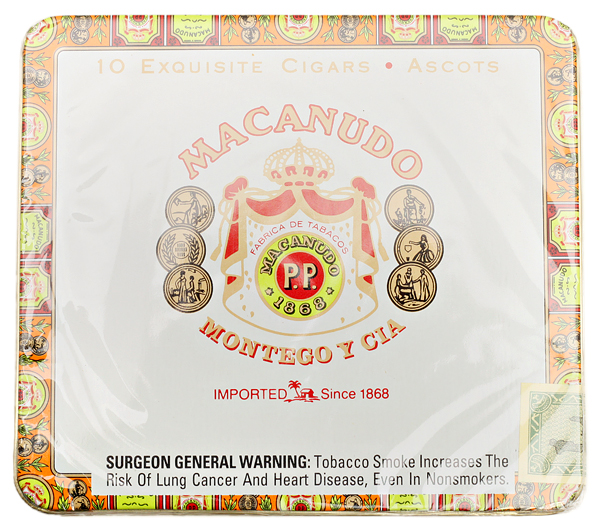 The Cafe line is ubiquitous, one that's synonymous with the name Macanudo and which has become an icon in the cigar world for its consistency, quality, and accessibility. The Cafe comprises Mexican and Dominican fillers within a Mexican San Andres binder, topped with a silky Connecticut Shade wrapper, combining for a cigar that's impressively mild and creamy. Here, the blend is presented in the Ascots size, paring down its dimensions to 4.2 x 32, making it a perfect complement to any outing.
Only Fuente could top our lists for Most Popular Cigarillos and Most Popular Maduro Cigars with the same cigar, and yet here we are, presenting the Arturo Fuente Exquisitos Maduro. Comprising the same blend as its Natural sibling, this cigar opts instead to utilize a Connecticut Broadleaf Maduro wrapper, imbuing it with an earthier bouquet and a deep richness that punctuates every draw from its 4.5 x 33 size.
Cigarillos are a fantastic option for those who find themselves without the time to fully commit to a larger cigar, as their potential for flavor is deceptively potent, condensing the cigar experience in a way that focuses all of the attention on the wrapper. Cigarillos also provide a compelling option for enthusiasts with plenty of free time, as they offer a wonderful fullness of flavor which puts the qualities of the wrapper on full display, and can be smoked in relatively quick succession, offering a veritable buffet of options for flavor combinations thanks to the wealth of options available.
You may also enjoy: