Cornell & Diehl: Sun Bear 2oz Pipe Tobacco
Product Number: 003-016-0338
A blend of the finest red and bright Virginias balanced by Basma leaf from 2014 and Izmir Orientals from 2013, Sun Bear showcases select varietals by highlighting their inherent characters with a range of unique and nuanced casings. South Carolina garden-grown honey — harvested from the personal beehives of C&D's head blender, Jeremy Reeves — combines with a whisper of silver tequila and elderflower to augment the fruity and floral notes of the choice Orientals and Virginias. The result is a natural, refined tobacco with a bright, refreshing character and a creamy, rounded finish — the perfect complement to these final days of summer.
Although it is cased, Sun Bear is not an aromatic. It is a Virginia/Oriental Flake with intriguingly sweet and complex top notes. Fans of C&D's Simply Elegant series will likely find a new favorite in Sun Bear, yet its inherent sweetness also makes it an excellent transition blend for aromatic smokers looking to try more natural tasting tobaccos. Overall, it is an easy smoking and reliable all-day blend, interesting enough to smoke consistently, and smooth enough to want to.
Like previous Small Batch blends, production of Sun Bear was quite focused (limited to just 8,000 tins). And due to its limited varietal tobaccos and garden-grown casing, when it's gone, it's gone. So make sure to pick up a tin (or eight) today. Limit eight tins per customer, per day.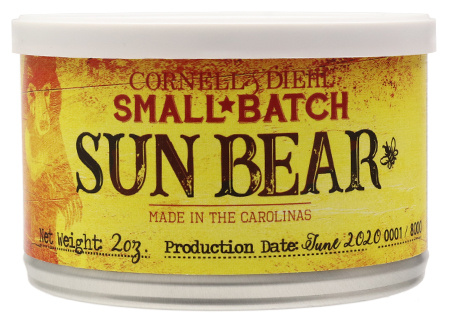 Components:

Virginia, Orientals

Family:

Virginia

Cut:

Flake