Tasting Notes: Erik Stokkebye 4th Generation 2012 Anniversary Blend
Welcome to another episode of Tasting Notes. Today, I'll be reviewing Erik Stokkebye's 4th Generation 2012 Anniversary Flake, a recent addition to the 4th Generation line celebrating the year that the brand made its debut on the pipe tobacco market. The Stokkebye name goes back for decades in the tobacco business, and the 4th Generation portfolio includes a number of excellent, fan-favorite blends. The brand's limited-edition releases over the past couple of years have been excellent as well. The 2012 Anniversary Blend is not limited, but it's already receiving the sort of acclaim that you would expect from a product with the Stokkebye name on it. I've been smoking this blend for a couple of weeks now, working my way through this 100g tin, and I am really enjoying this one.
Packaging and Cut
The 2012 Anniversary blend is packaged in 100g tins, which I really love. If I were traveling, I could take just this tin with me and smoke it all day, everyday for a couple of weeks and be totally satisfied. And this is the definition of an all-day smoke for any Virginia smoker. It's cut into beautiful, neatly arranged flakes, and there's a really bright and creamy, almost honey-like aroma in the tin. The flakes themselves are not universally bright; there's some darker chestnut in there, which could be from the pressing.
The tin note itself is a little unassuming, but it promises a straightforward, brighter Virginia flake experience — something that's easy to smoke all day. The moisture content is also perfect right out of the tin.
Strength and Flavor Profile
After smoking through about half of this tin, one of the things that I've noticed is that, while the typical flavors of a brighter Virginia flake are there, it's incredibly balanced on the palate. There's your typical sort of lemon zest, a little bit of citrus, and a little bit of honey-like sweetness, but there's also something that reminds me of oats or grains — there's something almost malty about it. So those familiar and comforting flavors are definitely there. The level of sweetness is perfectly balanced; it's not cloying at all. It's enough to let you know that there is some sweetness there, but there's a little bit of a savory character, too. I wouldn't say that it's earthy, but as far as the flavor and strength go, the 2012 Anniversary Blend sits in that perfect medium area, just a classic Virginia experience. That said, there are some interesting nuances to it, many of which I've never really experienced before in a Virginia Flake.
For example, the 2012 Anniversary flake is advertised as having a slight pear flavoring to emphasize the sweetness of the Virginia. Now, I'm not sure I would have disclosed that, simply because it is so subtle that I can't even say it's characteristic of pears. I would never have guessed in a million years that pear would have been a flavoring here. And if that pear flavoring deters you at all, don't even pay attention to it, because this is really a straight, pure Virginia experience and not augmented by the flavoring. Every time I've lit a bowl of this, what jumps out to me, aside from the citrusy and hay-like notes, are warming spices. There's hints of clove, nutmeg, and a little bit of vanilla bean. There's also a slight sarsaparilla/root beer/cream soda kind of note. And it is so distinctive for me, especially in the first third of the bowl, that I've come to expect that flavor when I pick this tobacco up. Now, some people out there are going to say I'm crazy, but try it for yourself and see what you think.
Part of what I'm getting flavor-wise may be attributed to the body of the smoke itself. It's dense and creamy on the palette without being heavy. So, while I would still categorize it as a mild to medium experience, there's enough nuance, flavor, and density and weight to the smoke that it doesn't just feel like you're smoking a light Virginia.
Suggested Packing Method
Again, the moisture content is perfect right out of the tin, and the flakes are just beautiful. I've smoked them both folded and stuffed and rubbed out. And, while they perform really well either way, I think you're going to get a little more sweetness, a little more creaminess, and a little more density if you fold and stuff. If you rub it out, which I've done in this particular pipe, you get a little more of the zesty character and the citrus flavor, plus some sharper notes of the sweetness too.
Closing Thoughts
If you're a Virginia smoker, it's going to be hard to put this one down. The 4th Generation 2012 Anniversary Blend is equally well-suited to all-day smoking in the warmer months as it is in the fall. It's just a really lovely blend, sure to become a cult favorite for many years. I also expect it to age extremely well. If you're a fan of such tobaccos as Orlik Golden Sliced, Stokkebye Luxury Navy Flake, Dan Tobaccos, Sam Gawith Golden Glow or Gawith Hoggarth's Bright CR, this is going to be something that's going to appeal to you.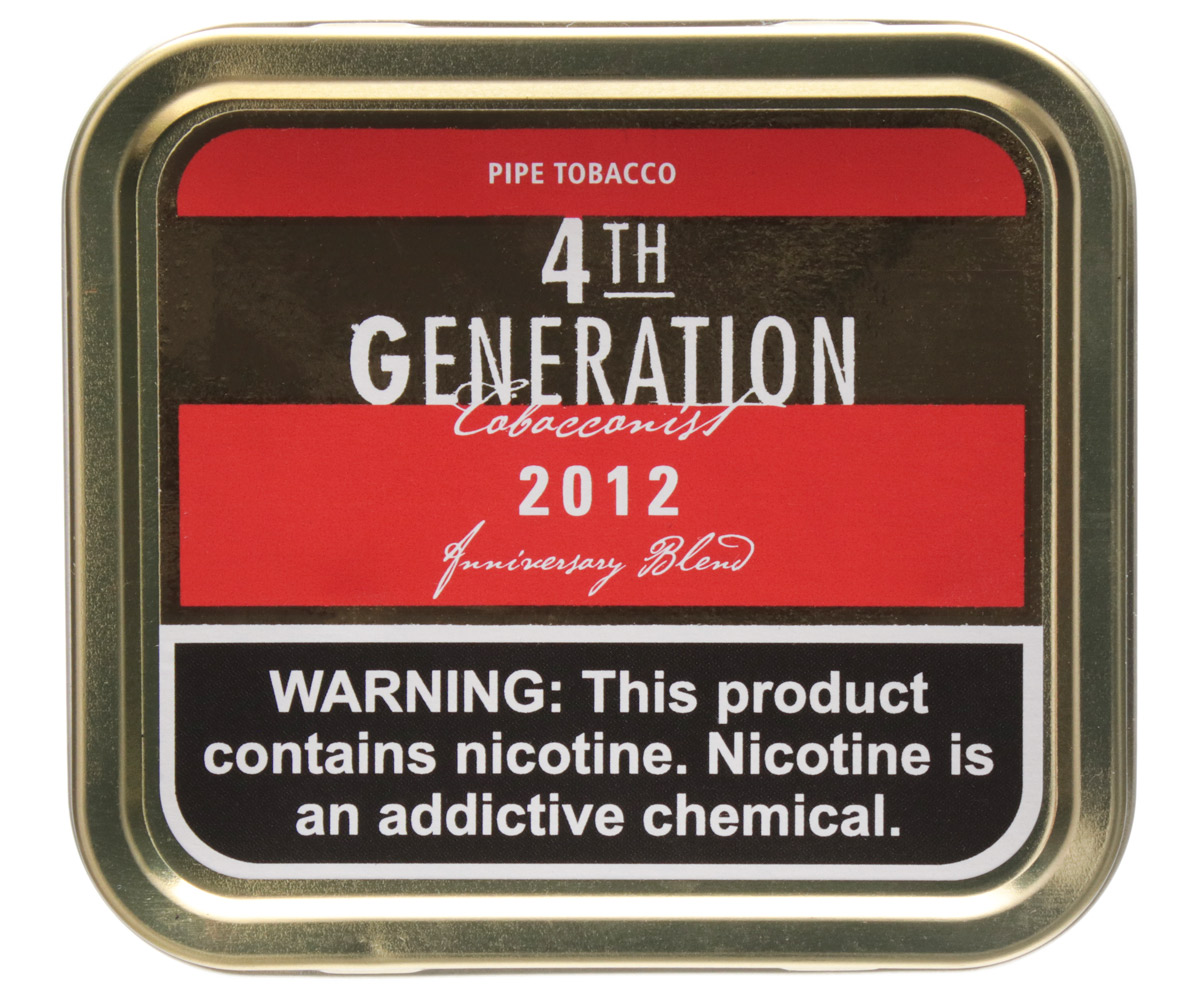 Erik Stokkebye 4th Generation 2012 Anniversary Blend
You may also enjoy: