Tasting Notes: Sillem's Mayor's 1814 Flake
Welcome to another episode of Tasting Notes. Today, I am continuing my quest to smoke through all of Sillem's mixtures, and I am finishing the flake series with Sillem's Mayor 1814 Flake. I really enjoy this one. It's another blend that I've smoked quite a bit. In terms of my own personal taste in my personal rotation, I would say that it's probably my second favorite next to only Councilor. Mayor 1814 is just an amazing, brighter citrusy straight Virginia Flake with a little bit more depth than some comparable blends.
The description of this blend says it's basically matured Virginia topped with honey and orange. Now, the honey sweetness and the citrusy, zesty, orange top note definitely are present through the entire smoke. I don't think that they're anywhere near Aromatic levels. It's just a touch of flavoring there to really amplify and tie together the blend of Virginias.
Tin Note & Appearance
So, the tin note is lovely even fresh. It's a strong aroma with honey sweetness, orange zest, and even a faint clove-like note. It definitely has the sort of that hay and grassiness, as well as the bready character, that a lot of straight Virginias have. There are a lot of higher register notes — a lot of brightness, a lot of zestiness, and a good amount of sweetness. It's almost like a simple syrup and orange bitters vibe in the tin note. And all of those bright flavors are really what you end up in the smoke with as well.
The leaf itself — that blend of selected matured Virginias — is quite interesting. It's mostly a bright flake; there is quite a bit of chestnut, quite a bit of some brown and reddish brown, but there's also a lot of darker blacker leaf. I'm guessing that there are Brights, Reds, and probably Orange grades of Virginia as well. There may be even a little bit of stoved Virginia. Typically when I get that note in the tin of an all Virginia blend, that little bit of added depth and richness, I think that comes from stoved Virginias. It's a little bit like the stewed fruit note that you can get from Perique, but a little softer, a little sweeter, and a little less spicy.
Moisture Content & Flavor
The moisture content is nearly perfect out of the tin. I give my flakes three to five minutes of drying time before I smoke, and they behave really well. You're not going to have problems getting this one to smoke down to the bottom of the bowl, as long as you're steady with your pace. And even a fresh tin is never rich or biting. It's easy to enjoy right out of the tin.
On the charring light, it's incredibly smooth and very zesty. Considering that most of the notes are on the higher end of the register, it's also kind of deceptively deep and round. There are these great, grassy Virginia notes. There's a lot of that breadiness — a lot of that sourdough character that I talk about sometimes. It's really deep, with maybe a touch of earthiness. The faint notes of clove and warming spice are definitely present on the palate and in the retro-hale, but it mainly keeps to the background, just enough to add some complexity. What I mostly get are these zesty, citrusy flavors and sweet bready notes. At certain points it almost reminds me of an orange creamsicle — there's this creamy sweetness and it's really dense. The zesty orange notes are not sharp or tannic at all. Many of you have probably tried Lemoncello, but if you've also had Orangecello, there's something like that going on here too.
For me, the most remarkable thing about this smoke though is how dynamic it is. Unlike other similarly bright and grassy blends, Mayor 1814 shifts about a third of the way down: It gets much deeper and richer, and those mild, stewed fruit notes come up to the forefront a little bit more. It's not quite as present as you would expect in, say, a Red Virginia flake with Perique, but it's enough there to support and lay a nice foundation for the brighter zestier notes.
Concluding Thoughts
Typically, I tend to prefer a little bit of age on my Bright Virginia flakes to have the richness and the depth of flavor that I crave on a daily basis. But that's where Mayor 1814 is sort of different. Right out of the tin, it tastes really mature with a lot of complexity and depth past the halfway point. If you're used to smoking, maybe heavier blends, you've probably found that other brighter Virginia flakes out there leave you wanting. Sillem's Mayor 1814 just may surprise you there. For me, it's just a hair over medium in flavor and body, and just a hair under medium in strength.
Like all of Sillem's products, Mayor 1814 is made from super high quality leaf, with great packaging and an excellent aroma. It's just a really high-quality product overall, and another sleeper in my opinion. There are obviously a lot of fans of this one out there, but I don't think this tobacco gets enough attention for how good it is. If you're a fan of Peter Stokkebye Luxury Navy Flake, Orlik Golden Sliced, Astley's 109, Mac Baren HH Pure Virginia, any of the Fribourg & Treyer Flakes, and even the original Sun Bear, you should give this one a shot. This might be a little bit closer to like an after dinner or an evening smoke for a straight Virginia aficionado, as it's got a lot of depth and intrigue. I can also say, from personal experience, that this one ages incredibly well. Another winner from Sillem's: Mayor 1814 Flake.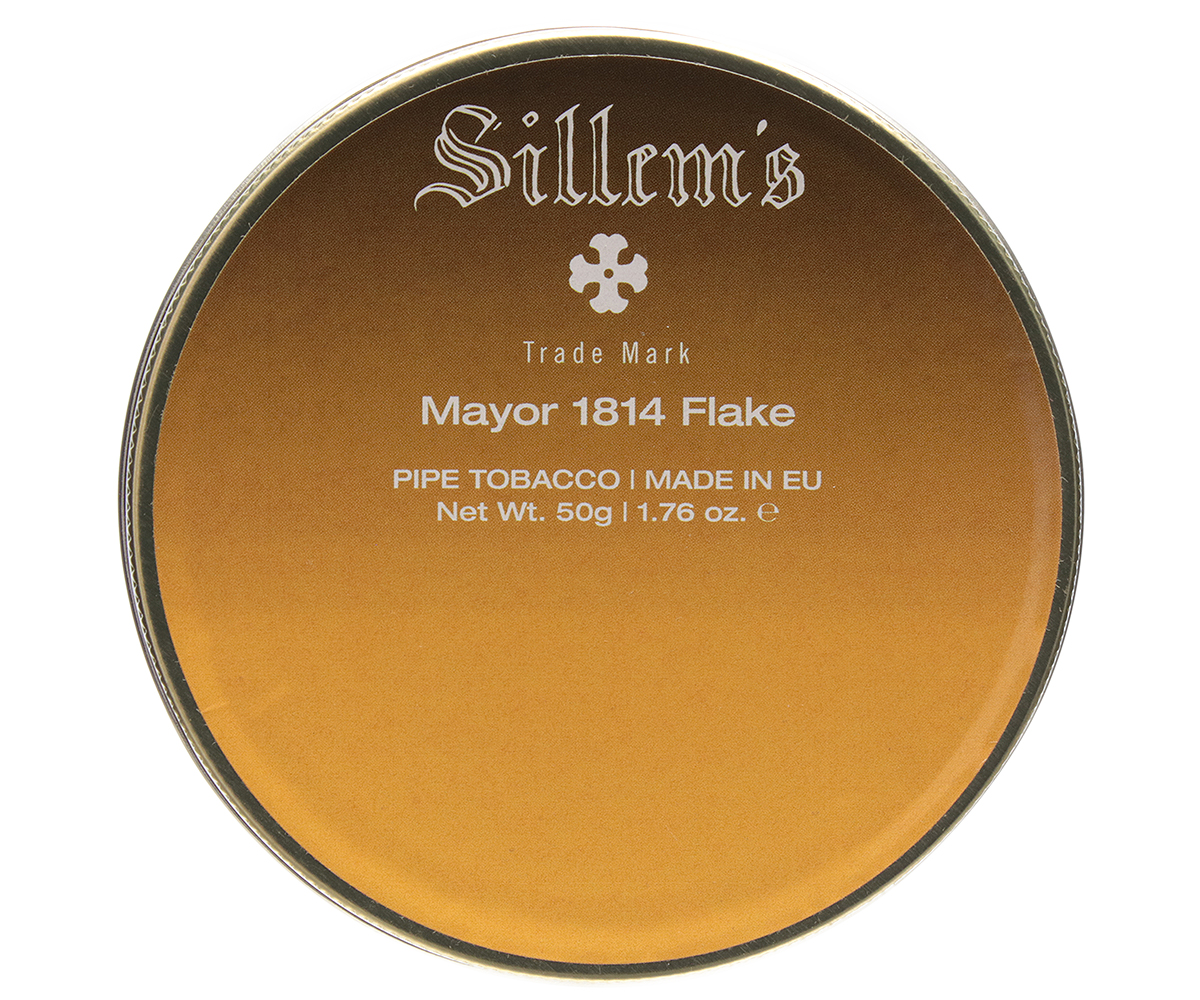 Sillem's Mayor's 1814 Flake
You may also enjoy: