Top 11 Best-Selling Burley Tobaccos
This article was originally published May 22, 2015. It has been updated to incorporate current data and edited to reflect product availability.
Burley is, by definition, an air-cured varietal of tobacco. Unlike Virginias or flue-cured leaf, it's more alkaline on the pH spectrum, has practically zero sugar, and is naturally high in nicotine. In addition to its two most common grades, light and dark, Burley can also be smoked over smoldering hardwoods to create dark-fired Kentucky, or steamed and fermented into a Cavendish. While often described as nutty, earthy, or chocolatey, when on its own, Burley's flavor profile is quite unobtrusive, allowing it to accept top dressings quite well, and it works beautifully in tandem with other components like Virginias, Perique, and even Latakia. It can be used as a base to create a bold foundation for other components, peppered into a blend to bolster body and strength, folded into a mixture to promote a slower burn, or smoked all by itself (if you dare).
All this together makes Burley perhaps the most versatile varietal out there. As a tobacco family, Burley refers to any blend that uses the air-cured leaf (or dark-fired) as a primary component; it's a huge and insanely popular grouping, with hundreds of different options available from myriad manufacturers. So many, in fact, that it can be overwhelming to choose one or two to try, especially for those just getting into the hobby. That's why we've done our part as your friendly neighborhood online tobacconist and compiled a list of our best-selling Burley blends for your consideration. So no more ado; let's get to the tobacco!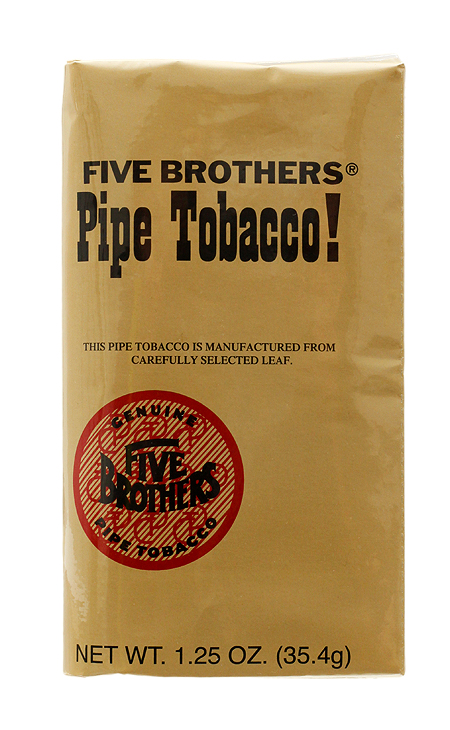 If you're looking to experience Burley in its most unadulterated form, including its high levels of nicotine, give Five Brothers a try. Originally blended by the five Finzer brothers, Five Brothers is a straight, shag-cut blend of air-cured leaf, sans any casing, topping, or added flavors. A word of caution, though: this stuff is not for the faint of heart.
No cherry, no vanilla, just very affordable, strong, no-nonsense tobacco flavor. It burns real fast and be advised, the Five Brothers can deliver quite a kick! - Smokin' Joe, 5-star review at Smokingpipes.com
Components: Burley
Cut: Shag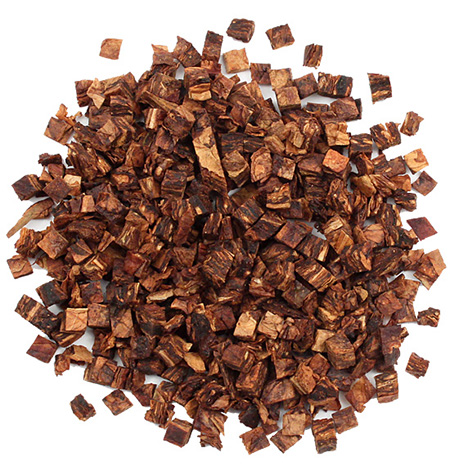 Cube cut Burley is exactly what it sounds like: air-cured leaf that's been pressed into cakes and cross-cut into into tiny squares. In blending, it's mostly used to slow the burn rate of a mixture, but it can certainly be smoked straight. In fact, many have found Peter Stokkebye's PS41 Cube Cut to perform excellently on its own. While it does contain a modest amount of aged red Virginias and a very slight casing, Stokkebye's Cube Cut offers a nuanced Burley experience that really showcases the subtlety of air-cured leaf — something that's often overlooked in more complex mixtures. The cut's a lot of fun, too, once you get used to it.
This was one of my first Burley blends. I was quite pleased with how easy it was to pack a bowl with these tiny little cubes. Once I fired up, I thoroughly enjoyed the flavor of dark fruits and dark spices. This burned great with just a few relights. In addition, I added some of this tobacco with some PS Luxury Navy Flake and it was fantastic. Will definitely be adding this to my rotation. - John H, 5-star review at Smokingpipes.com
Components: Burley, Virginia
Cut: Cube Cut
Solani's 656 blend, also known as Aged Burley Flake, was one of the first true Burley blends I ever tried. Coming from lighter Virginia mixtures, I was surprised by not only its strength but its incredible complexity as well. Comprised entirely of light and dark Burleys, Solani's Aged Burley Flake showcases the two main grades of air-cured leaf beautifully, capturing those signature notes of cocoa, woodsy spice, and nutty earth, but also a very subtle sweetness — likely due to its slight casing, since Burleys have practically no sugars. Suffice to say, it's one blend I'll always have in the cellar, as it ages quite well too. To whomever says Burleys don't age well, I implore you to try 656 with 2-3 years on it. You just might be surprised.
Flavor and aroma is likened to drinking a strong cup of coffee over a freshly hewn cedar plank. I would most definitely recommend to anyone who may be a fan of smooth, bold flavor. - Tuxedo Briar, 5-star review at Smokingpipes.com
Components: Burley
Cut: Flake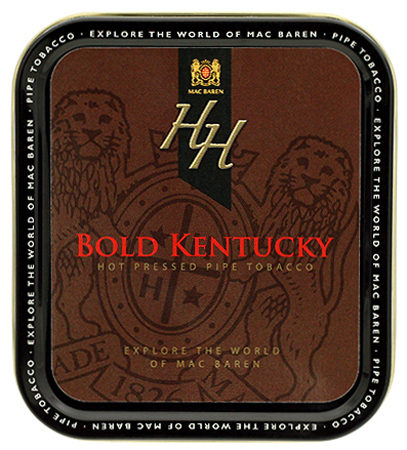 Mac Baren's HH line is devoted to showcasing top-quality leaf in their most natural form, with minimal casings and zero top dressings. One of the most recent additions to the series, HH Bold Kentucky does exactly that with dark-fired Kentucky, underlining the varietal's deep, woodsy, and mesquite flavors with a modest proportion of Virginias to add a touch of sweetness. As the name would imply, this blend does have a fair amount of strength to it, but it's far from overwhelming; in fact, each draw is wonderfully balanced. Sipped slowly, HH Bold Kentucky can actually offer a surprising amount of complexity, and, of course, it only gets better with age.
Take your time smoking this blend. It is wonderfully rich and earthy, and there is some surprising sweetness, but it isn't citrusy or sharp. It's more like a bread complement to the spice and nuttiness from the Kentucky. The only downside is it has the potential to be too strong for some smokers. - Alexander M., 5-star review at Smokingpipes.com
Components: Dark Fired Kentucky, Virginia
Cut: Flake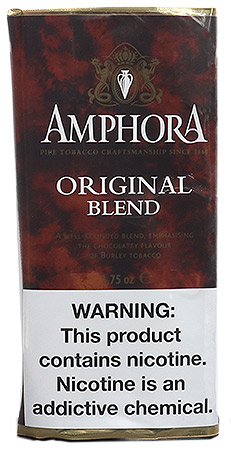 There was a time in my life, about two to three years into my pipesmoking journey, in which I strongly believed that all quality pipe tobaccos came packaged in round metal tins. I scoffed at bulk and avoided pouched tobaccos with an active mistrust, thinking they were all the same goopy aromatic that once left my tongue singed for three weeks. That all changed when my friend and colleague, Adam O'Neill, gave me a sample of Amphora's Original Blend. Though offered exclusively in a pouch, it's neither goopy, nor overtly topped, or even an aromatic at all. Just a solid Burley blend with a good bit of complexity and only a barely discernible casing, a slight cocoa flavor that brings out the nutty, chocolatey notes in the Burley. The black Cavendish lends a lot of body to the smoke, while the Virginias add sweetness, and the Orientals and dark-fired leaf work in tandem to deliver a peppery spice on the palate. If you haven't tried it, give it a smoke. If anything, you'll learn that you can't judge a tobacco by its packaging.
Soft cocoa and Burley bring to life a refreshingly delicious smoke. The room note is pleasant, and when I get back in my truck after I've been smoking this, the interior smells like cookies or brownies just out of the oven. This tobacco really should be offered in bulk. I'm ordering more! - Hunley-Honor, 5-star review at Smokingpipes.com
Components: Black Cavendish, Burley, Dark Fired Kentucky, Orientals, Virginia
Cut: Ribbon
Most pipesmokers tend to associate Gregory Pease with English blends. It makes sense, as his Latakia mixtures are some of the most popular tobaccos on the market; but Greg's a pro at blending all varietals, including dark-fired Kentucky. JackKnife Plug is a powerhouse of a blend, and not just in terms of strength; despite being comprised solely of dark-fired Kentucky and Virginias, it's incredibly complex — the bready notes of the red Virginias complement the mesquite spice of the dark-fired with a subtle sweetness and rich depth. Don't let the plug cut intimidate you, either; JackKnife is incredibly forgiving and versatile, easy to slice into flakes, chop into cubes, or rub out into a fine ribbon or shag. It's also available in a ready-rubbed form, as well, for those who wish to evade the added preparation.
This is a great, straightforward tobacco blend. The flavor profile is sweet, smoky, and spicy. The Kentucky adds a lot of depth to this blend. I love it! But be warned: it is a strong blend. - Bob T., 5-star review at Smokingpipes.com
Components: Dark Fired Kentucky, Virginia
Cut: Plug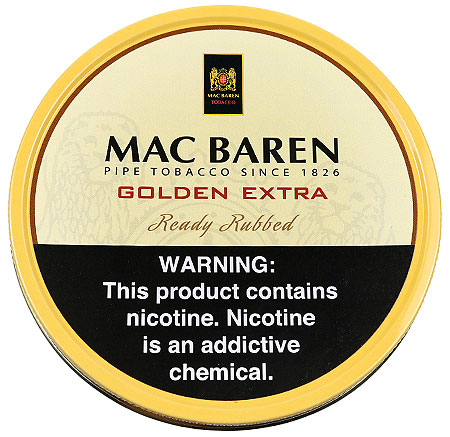 While most people tend to associate Burley-based tobaccos with American blending houses, the Danes have their own way of preparing the air-cured leaf as well, typically yielding milder mixtures, often with slight casings of cocoa and anise. Mac Baren's Golden Extra is a delicious example of a traditional Danish Burley blend, easy to smoke and easy to enjoy. While the Burleys take center stage, their inherent nuttiness is complemented and accentuated by the cocoa and anise casing, while a good portion of Virginias balance things nicely, both in terms of sweetness and alkalinity. Golden Extra has been one of Mac Baren's best-selling blends for years, and if you haven't tried it yet, you may find benefit in discovering why it remains so popular today.
One thing with Mac Baren blends: you have to smoke them slowly. If you can control your cadence you will be rewarded with a tasty, satisfying treat. Golden Extra is just that: light, sweet flavor of natural cocoa and honey, not goopy syrup! An old-time Burley blend going back to 1951, and it's probably Mac Baren's second biggest seller next to Mixture. Smooth Burley with a little oomph, but mild and mellow. An old school, tasty Burley/Va blend with a mildly sweet aroma. Try it! - Thomas S., 5-star review at Smokingpipes.com
Components: Burley, Virginias
Cut: Broken Flake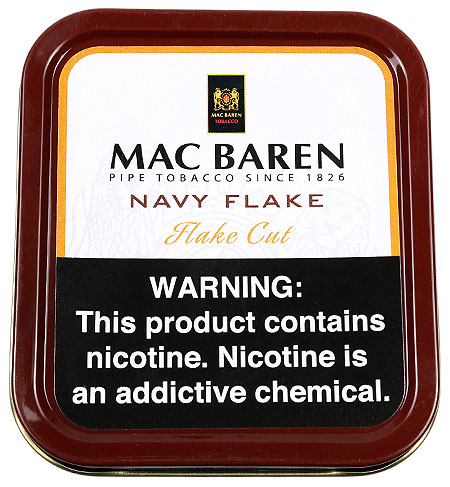 Another delightful example of a Danish Burley blend, Mac Baren's Navy Flake is downright delicious. Much like Golden Extra, it's not an aromatic but does feature a slight casing — specifically, rum and honey. The casing isn't super prevalent on the top note, but does add some nice sweetness and complements the inherent characteristics of the components with a distinct brown sugar finish. Navy Flake does contain a larger proportion of Virginias than many other mixtures on this list, putting it right on the fence between traditional Burley and Virginia families; that said, the air-cured leaf is still a primary component and integral to the blend's unique flavor, so we saw no fault in including it here. Plus, it's just too good not to share.
For me, this is my perennial tobacco. The one tobacco I'm never without. Good, rich, smooth smoke. Slight topping of honey in the tin, that in no way overwhelms this blend of Virginia/Burley. - nitehawk, 5-star review at Smokingpipes.com
Components: Black Cavendish, Burley, Virginia
Cut: Flake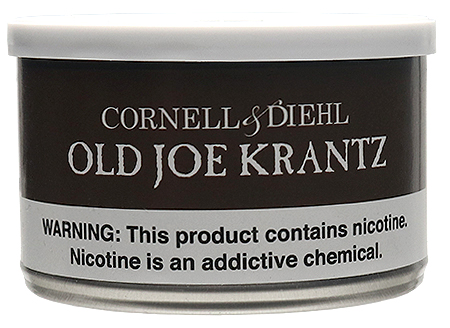 Old Joe Krantz is one of the blends that first put Cornell & Diehl on the map, and has largely led to the blending house's reputation for producing bold, powerhouse Burley mixtures. Created by Bob Runowski and named after his grandfather, OJK uses dark- and cube-cut Burley as its base, adding red Virginia ribbon for sweetness and a good bit of Perique for extra spice. While it may not be the strongest Burley on this list, Old Joe packs a punch and maintains a strong following to this day. If you're a fan of the original, be sure to check out the more recent Blue, Red, and White labels; each augments the best-selling blend in its own unique way. What's more, all the OJK blends are available in both tinned and bulk facings.
I have finally found my desert island tobacco. It might not be for everyone, but it is my perfect tobacco. Thank you Bob and thank your grandfather. You can't take anything with you when you leave this world, and that makes the things you enjoy while you're here really important. Again a true heartfelt thanks for this blend. This is the only blend I smoke and never think, 'Oh I wish it had more of this and less of that.' A really a great burley blend. - Guy H., 5-star review at Smokingpipes.com
Components: Burley, Perique, Virginia
Cut: Ribbon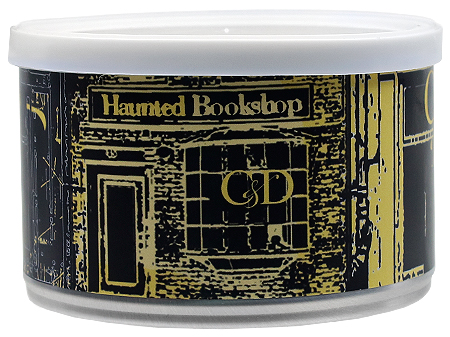 Another blend created by the late Bob Runowski, Haunted Bookshop takes its inspiration from Christopher Morley's novel of the same name — offering a deep, contemplative smoke that's best paired with a good book on a dark and stormy night. Though comprised of the same basic components as Old Joe Krantz, Cornell & Diehl's Haunted Bookshop alters the proportions slightly to put even more emphasis on the air-cured leaf — in this case, a mix of white, dark, and cube cut grades — and its signature character. A little red Virginia and a touch of Perique again add to the sweetness and spice, but play a more supportive role than you might expect. Like so many of C&D's blends, Haunted Bookshop is also available in both tinned and bulk facings.
Not heavy on the Perique, it displays the nutty properties of the Burley leaf better than OJK. - smeckma, 5-star review at Smokingpipes.com
Components: Burley, Perique, Virginia
Cut: Ribbon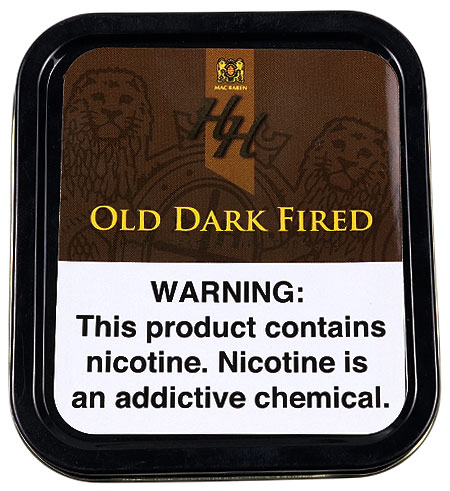 While Mac Baren's traditional Danish-style blends are excellent and suit any rotation, the HH series is the line I return to time and time again. With its focus on providing a natural tobacco experience, it combines what I love most about American blends with fine Danish cuts and preparation. And few mixtures demonstrate that elegant fusion quite like HH Old Dark Fired. Much like HH Bold Kentucky, HH Old Dark Fired is a blend of dark-fired Burleys and flue-cured Virginias that have been hot pressed — meaning that during the pressing, heat is added by steam to the tobaccos, which intensifies the marrying process. Though quite similar in strength and components, Old Dark Fired seems to be a little less mesquite in flavor with a more rounded finish, offering plenty of earthy spice but also a deep, rich sweetness similar to molasses. I consider this blend, along with HH Pure Virginia, to be among Mac Baren's finest.
It's what I've been looking for in a pipe tobacco for 30 years. It's like smelling a pig in a smoker with great tobacco added to the smell. It's my go-to from now on. Add a couple of fingers of your favorite Scotch and enjoy life; it's too damn short to go without this tobacco any longer. - Charles Z, 4.5 star review at Smokingpipes.com
Components: Dark Fired Kentucky, Virginia
Cut: Flake
So there you have it: our top 11 best-selling Burley-based pipe tobaccos here at Smokingpipes. Keep in mind, these blends were ranked based on popularity, not by our own tastes or judgements (though they did seem to align quite closely). So if you don't see your favorite on the list, leave us a comment and share your thoughts. We likely shed a tear at its omission as well.
A note on the tobacco information.
Strength: a measure of the tobacco's body and nicotine. One is the lowest. Five s is the highest.
Room Note: a measure of the pleasantness or intensity of the smoke's odor to everyone else in the room. One is the least intense room note, while five s would be the most noticeable to others.
Taste: A measure of the the power and fullness of the smoke's flavor, with one being the most mellow and five s being the fullest.
You may also enjoy: