Top 13 Best-Selling Flake Tobaccos
Updated for 2022, this list incorporates current data and is edited to reflect product availability.
Like spun-cut or coin-cut tobaccos, flake tobacco began at sea as a means of preserving a blend's moisture content. Pressed tobacco dried out less quickly because less surface area was exposed to air, ensuring that sailors could enjoy smoking their pipes over the course of long voyages. Furthermore, with storage limited and efficiency paramount, such blends required less space than ribbon-cut tobaccos, making pressed mixtures ideal aboard a ship. Chuck Stanion delves deeper into the history of flake tobaccos in a previous article: "Tobacco companies began pressing blocks of tobacco. [...] Men at sea now had tobacco that maintained smokability over time. It wasn't pre-sliced at first, though. Sailors would carefully slice flakes from the tobacco block for smoking."
Today, few have to worry about pipe-smoking accommodations while sea-faring, yet flake tobaccos remain an ever-popular cut. Unlike ribbon-cut blends, which essentially combine the flavor profiles of several varietals, the process of pressing tobaccos alters the flavor slightly, transforming the mixture beyond the sum of its parts. Consider the difference between a fruit salad and a chocolate cake: While both are delicious, the salad still incorporates its elements separately, even though a single bite might combine the flavors of multiple fruits. A chocolate cake, however, combines for something unique unto itself; instead of tasting the individual elements of flour, eggs, chocolate, and sugar, one enjoys the results of those elements married to heat. Similarly, flake tobacco combines with pressure (and sometimes steam-heat as well) to create a flavor profile that's distinct when compared to ribbon-cut blends, even those that use the same tobacco components.
Flake tobaccos are also known to improve with age, the maturing process deepening more so than ribbon-cut blends but also taking longer considering their reduced surface area. With a history of over 300 years, flakes are still counted among the most beloved tobacco styles by pipe smokers around the globe, and the cut is available across most tobacco families, from English to Virginia to Burley. Below, we've compiled a list of our best-selling flake tobacco blends for your consideration, hopefully introducing you to some future favorites:
Top 13 Best-Selling Flake Pipe Tobaccos: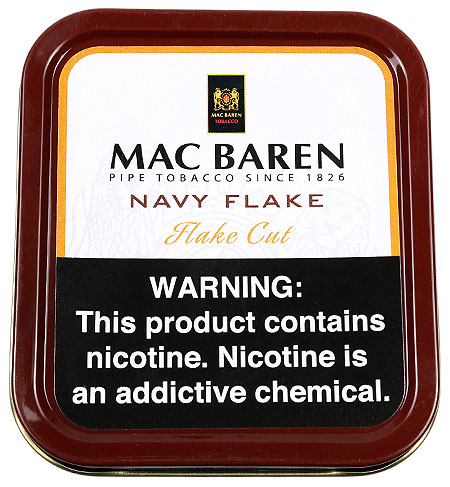 Historically, Mac Baren has specialized in spun-cut, aka coin-cut, tobacco, with many of the blending house's early mixtures, such as Stockton, being coin-cut blends. First introduced in 1965, Navy Flake was among the first flake-cut blends Mac Baren produced, and it's since come to epitomize the manufacturer's approach to the cut. Navy Flake is a traditional, Burley-forward flake tobacco, elevated with Virginias for sweetness and Mac Baren's Original Cavendish to smooth it all out. The tobaccos are blended together with a slight casing redolent of brown sugar, booze, and honey, and pressed for a minimum of 30 days before being sliced into 1.4mm flakes.

Available in: 3.5oz | 16oz
This is a delicious flake! Smokes cool, tastes sweet with flavors of rum, honey, and brown sugar in a tobacco base. This is an awesome blend and with age it's even better. -Thomas S., 4.5-star review at Smokingpipes.com
Components: Burley, Virginia, Black Cavendish
Family: Burley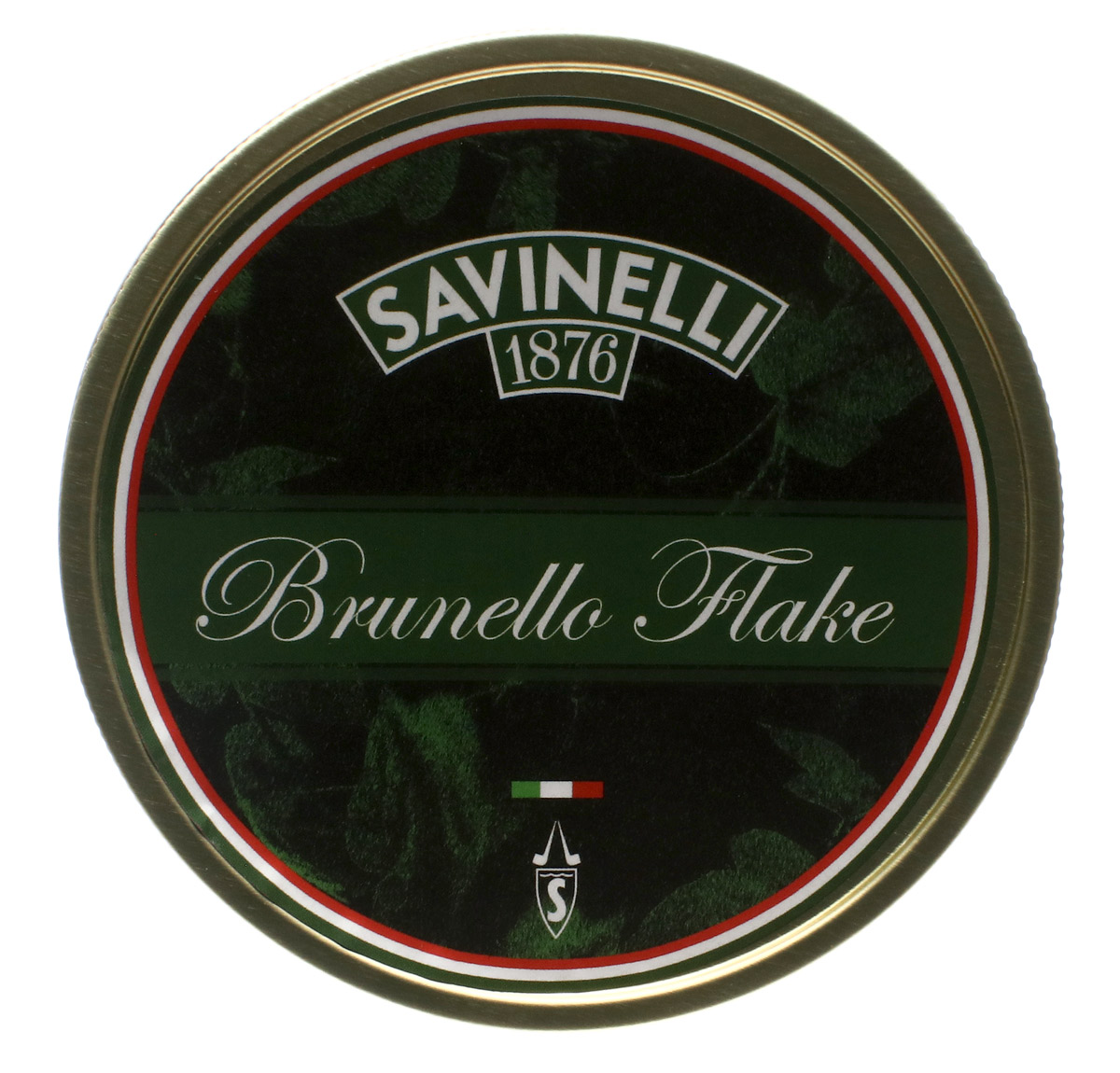 Since Achille Savinelli opened one of Italy's first pipe tobacco and smoking accessory shops in 1876, Savinelli has been associated with luxurious Italian pipes, and that reputation extends to their selection of fine pipe tobaccos. Brunello Flake is a distinctive Virginia/Burley mixture complemented by quality Orientals from Macedonia, all aged together and pressed before being cut into trim flakes. It offers a unique tin note of honey sweetness and lemon zest, while the flavor profile and room note delight with grassy Virginia flavors, dark fruits, and floral hints.

Available in: 100g
This was a tin that surprised me the first time around. Truly unlike anything else I've tried, one of my new favorites. Perfect smoking moisture, very forgiving, smokes great in all my pipes. -Kevin A., 5-star review at Smokingpipes.com
Components: Virginia, Burley, Orientals
Family: Virginia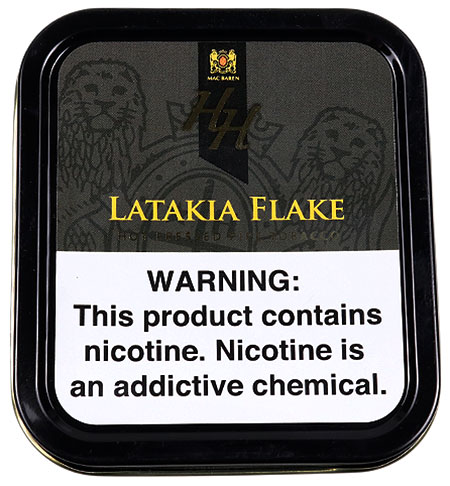 The brainchild of Mac Baren's product specialist, master blender, and tobacco ambassador, Per Jensen, the HH line is a series of pipe tobaccos devoted entirely to showcasing the natural characteristics of various components — blended with only minimum casings and no toppings whatsoever. Since its inception in 2006, it's quickly become among Mac Baren's best-selling and most sought after series, and HH Latakia Flake specifically showcases the smoky, woodsy profile indicative of Latakia and English-family pipe tobaccos. English blends are most often ribbon-cut, making Mac Baren's HH Latakia Flake among the few flake-cut English mixtures. It combines Bright Virginias, Orientals, Burleys, and a generous portion of Cyprian Latakia, the Orientals enhancing the mesquite, incense-like qualities of the Latakia. The Virginias then add a bit of natural sweetness, while the Burley adds strength and depth to the smoke. It's an extraordinarily complex flavor profile, but also elegant and refined — the heat-pressing process marrying all those flavors into a complex profile. HH Latakia Flake satisfies Latakia lovers, but is different enough from other English blends to delight those not typically drawn to Latakia-based mixtures.

Available in: 1.75oz | 3.5oz | 16oz
Penzance is my favorite tobacco, but is notoriously hard to come by. HH Latakia Flake is very close, IMO. The balance of Orientals and Latakia is superb, held together by the touch of sweetness brought by the Virginias ... I am ordering a pound of this (as well as Old Dark Fired) a month to stockpile — it is that good. -owencopeland, 4.5-star review at Smokingpipes.com
Components: Latakia, Orientals, Virginia, Burley
Family: English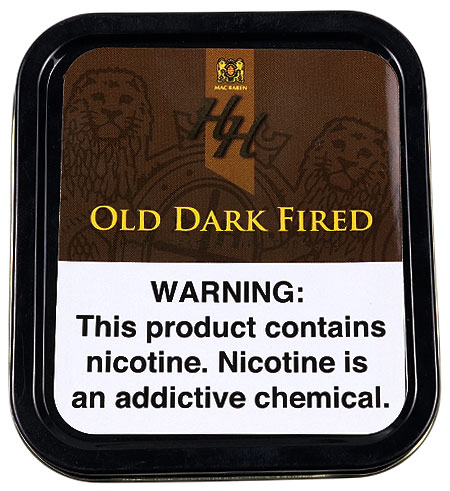 Mac Baren describes HH Old Dark Fired as an English-style blend, referring not to the presence of Latakia but to the traditional processes employed to produce this old-school flake tobacco. Select grades of Virginia leaf are blended with a significant percentage of Dark-Fired Kentucky, cased only slightly to enhance the sweetness and balance the pH before being hot-pressed. The heat and pressure from steaming expedite the marrying process and gives the blend an aged, matured quality right out of the tin. HH Old Dark Fired offers a bold, hearty flavor profile full of earthy notes and spice, but balanced by a touch of molasses-like sweetness.

Available in: 1.75oz | 3.5oz | 16oz | Bulk
It's what I've been looking for in a pipe tobacco for 30 years. It's like smelling a pig in a smoker with great tobacco added to the smell. It's my go-to from now on. Add a couple of fingers of your favorite Scotch and enjoy life; it's too damn short to go without this tobacco any longer. -Charles Z, 4.5-star review at Smokingpipes.com
Components: Dark-Fired Kentucky, Virginia
Family: Burley
As the name denotes, Mac Baren's HH Pure Virginia is a hot-pressed flake composed entirely of Virginia tobaccos, namely those from select growing regions in North America and Africa. Its profile is deep and bready, with bright highlights and a distinctive hay-like grassiness. Compared to Mac Baren's other Virginias, such as Virginia Flake, HH Pure Virginia is slightly less sweet and citrusy, more redolent of freshly baked goods with a little spice and a deeper, more molasses-like sweetness. In other words, it's more similar to something like Samuel Gawith's Full Virginia Flake than to a blend like Orlik Golden Sliced.

Available in: 1.75oz | 3.5oz | 16oz
I have smoked pipes for 20+ years and I honestly feel this is the best Virginia without any Perique I have ever smoked. A good nice medium full flavor with a nice medium nicotine level. I highly recommend this to anyone wanting the pure Virginia experience. I will be purchasing as much of this as possible to cellar for future enjoyment. -Al W, 5-star review at Smokingpipes.com
Components: Virginia
Family: Virginia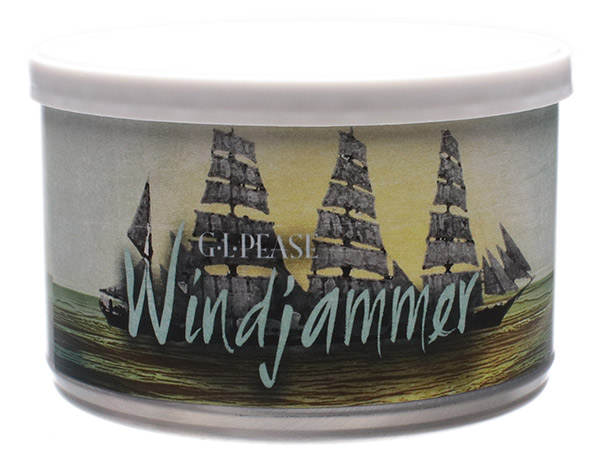 In the words of Greg Pease himself, Windjammer is "a rich and satisfying cut cake comprising sweet, ripe Virginias, nutty Burleys, unflavored toasted Black Cavendish, and a generous measure of Perique. A splash of dark rum ties it all together and adds a bit more sweetness." It's a delightful, old-school navy flake sure to satisfy aficionados of other Pease blends, such as Haddo's Delight, Barbary Coast, and Fillmore, and the components tie together wonderfully, with the toasted, unsweetened Cavendish serving as flour in a roux to support the naturally sweet Virginias, spicy Perique, and earthy Burley.

Available in: 2oz
G. L. Pease always hits his mark, but this one is phenomenal! If Virginia and Perique are your thing, don't miss out on this. I keep finding myself picking this over my other favorites. -ECSteele, 5-star review at Smokingpipes.com
Components: Virginia, Burley, Perique, Black Cavendish
Family: Virginia
The Stokkebye tobacco tradition dates to 1855 when Erik Peter founded the family business in Denmark. Today, Erik Peter's great-grandson Erik Stokkebye continues the brand's four-generation legacy, offering pipes and pipe tobaccos for discerning smokers. One of only a few bulk offerings from Erik Stokkebye 4th Generation, Evening Flake is a traditional Virginia/Perique mixture that's hot-pressed for a week before being sliced into flakes.

Available in: Bulk
Finally got some of this blend, and I am glad i did! This will become a rotation maker. As much as I have loved Peter Stokkebye Bullseye Flake, this will replace it in my rotation. Just a perfect Va/Per IMHO! -SomeDude83, 5-star review at Smokingpipes.com
Components: Virginia, Perique
Family: Virginia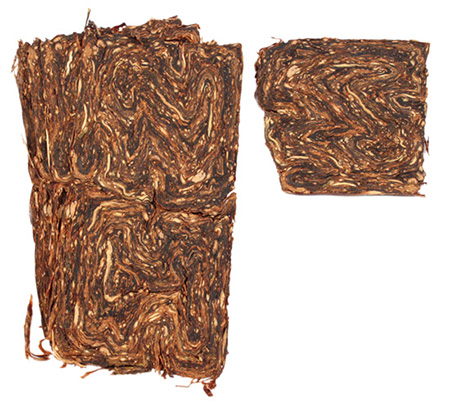 Peter Stokkebye's PS402 Luxury Twist Flake is a slightly different flake compared to others in this list process-wise. Before being pressed and sliced, the tobaccos are first hand-rolled, much like a spun-cut or coin-cut blend, giving Luxury Twist its unique, spiral texture. It rubs out as easily as any other flake, though, and is composed entirely of Virginia tobaccos from the eastern United States and the finest growing regions of Zimbabwe. A timeless classic, Luxury Twist Flake is an ideal mixture for lovers of pure Virginia blends, topped with an ever-so-subtle caramel note that makes for a delightful room note.

Available in: Bulk
Very elegant Virginia flake suitable for any moment of the day. If you concentrate while smoking it, you'll get several nuances of the quality of this tobacco. If you like straight Virginias and have not tried it yet, it is about time you do it! -Miguel Z., 4.5-star review at Smokingpipes.com
Components: Virginia
Family: Virginia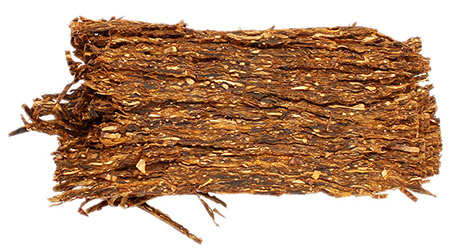 Sutliff Tobacco Company dates to 1849 when H.W. Sutliff opened his first tobacco shop in San Francisco. Among the oldest continuously operating blending houses in the United States, the manufacturer has long furnished retailers with high-quality blending components and premixed pipe tobaccos — in fact, many of the House Blends offered by tobacconists around the country are made by Sutliff. 507C Virginia Slices is among our most popular Sutliff blends, period, and it ranks here as a top-five best-selling flake pipe tobacco. It's a pure, Bright Virginia mixture of A-1 grade, flue-cured tobaccos, lightly topped with sweetness to elevate the natural grassy and tangy notes that make Virginia tobacco such a beloved varietal, and cut into long strips of flake that break up consistently for easy packing.

Available in: Bulk
For the price, 507c offers an amazing value for money for those looking for a more mature Virginia. Malty, earthy and sweet, this is my go-to, no-fuss choice for any occasion. Oh, and after about a year in the cellar, the flavor is significantly fuller, and I'd give it a full 5 stars then. -Merv H, 4.5-star review at Smokingpipes.com
Components: Virginia
Family: Virginia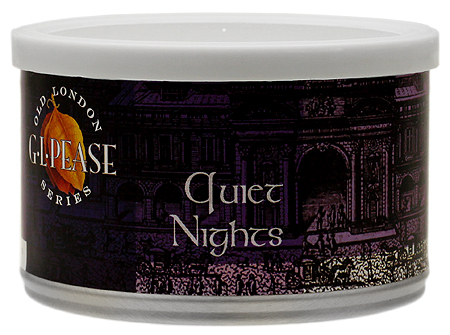 A mixture that also placed among our list of best-selling English blends, G.L. Pease's Quiet Nights is an intoxicating combination of Red Virginias, Orientals, Cyprian Latakia, and a pinch of Acadian Perique — all pressed and matured in cakes before being sliced into delicate flakes. It's a part of Pease's Old London series and is lauded for being one of the most complex and captivating Latakia mixtures. Though you could smoke it any time of day, it's not what one would describe as an all-day smoke. It's a blend meant for quiet contemplation, for slowing down and appreciating every note that plays across your palate. If you're in the mood to sit, think, and reflect, smoke Quiet Nights. There's something new to discover in every bowl.

Available in: 2oz | 8oz
This is a magnum opus of English blends. Not for the faint of heart, but for those discerning lovers of fine English Blends, Quiet Nights will become a dear friend. I enjoy this with some Islay Scotch; the peaty flavors work with this blend well, preferably with a book in hand and an hour or two to spare. -YoungTraditionalist, 5-star review at Smokingpipes.com
Components: Latakia, Orientals, Virginia, Perique
Family: English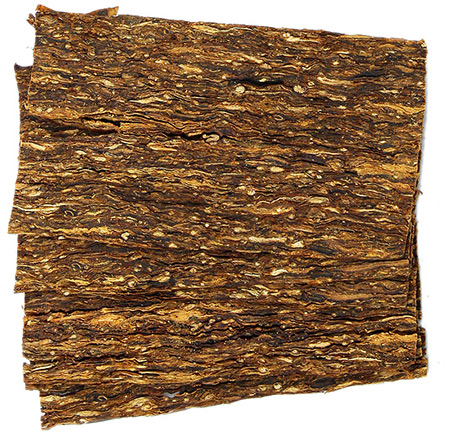 Newminster is the bulk-tobacco branch of Villiger, backed by the manufacturing prowess of Mac Baren, and while No.400 Superior Navy Flake may seem like a fairly standard straight Virginia blend at first, it's not your average mixture. These flakes combine the finest Virginias from three different continents — North America, South America, and Africa — offering a deliciously nuanced flavor profile of tart and tangy citrus notes alongside honey sweetness and woodsy depth. No.400 Superior Navy Flake is an immensely popular blend, consistently ranking among our top 10 best-selling bulk tobaccos and as number three in this list of best-selling flakes.

Available in: Bulk
On this sunny afternoon, I filled up my favorite Castello pipe with some 1-year aged #400 Superior Navy Flakes. First few puffs and I was amazed as to how wonderful this tobacco benefited from aging. The full taste and great flavors of quality Virginias tickled my taste buds. A truly 5-star tobacco after aging. -Kam D., 5-star review at Smokingpipes.com
Components: Virginia
Family: Virginia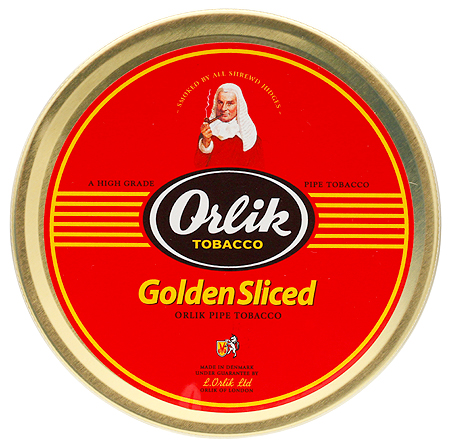 A favorite blend for many pipe smokers, including artisan carvers such as Tom Eltang, Orlik Golden Sliced is a mixture of golden, mature Virginia tobaccos with a very small pinch of Perique, offering a naturally sweet flavor and room note reminiscent of bergamot. It's considered by many to be the quintessential Virginia flake due to its approachability and enjoyable flavor, and is immensely popular in both the United States and Denmark, easily recognized by its bright red tin and shrewd, pipe-smoking judge logo.

Available in: 50g | 100g
Orlik has everything that you buy a light Virginia for: sweet hay/grass flavor with just a little Perique tang. I've tried a lot of them and this is the one I came back to. Consistent and burns good no matter how you prep it. I rub it out just a little and it never lets me down. -Joel G., 5-star review at Smokingpipes.com
Components: Virginia, Perique
Family: Virginia
Peter Stokkebye's Luxury Navy Flake is a pressed and sliced blend of matured, "Old Belt" Virginias — denoting Virginia tobaccos from North Carolina's oldest growing regions — lightly accented with a whisper of Louisiana Perique. Incredibly popular and maintaining the number one spot in our list, this bulk offering from Peter Stokkebye has been a celebrated favorite of countless pipe smokers old and young, expert and novitiate alike, thanks to its approachable flavor, thin cut, quality components, and unbelievably attractive price.

Available in: Bulk
About the best VaPer you're going to find at any price. Slightly spicier than Orlik Golden Sliced, but in the same family. Ages well, whilst outstanding when young. My favorite! Nothing's perfect, but almost for this one. -Michael H., 4.5-star review at Smokingpipes.com
Components: Virginia, Perique
Family: Virginia
So there you have it: our top 13 best-selling flake tobaccos here at Smokingpipes. Keep in mind, these blends were ranked based on popularity, not by our own tastes or judgements. If you don't see your favorite on the list, leave us a comment and share your thoughts — perhaps it will make it in a future list!
Latest Updates (2022):

Mac Baren Navy Flake stayed at #13
Mac Baren HH Pure Virginia moved from #11 to #9
Mac Baren HH Latakia Flake moved from #9 to #11
Newminster No.400 Superior Navy Flake moved from #8 to #3
Mac Baren HH Old Dark Fired moved from #7 to #10
Sutliff 507C Virginia Slices stayed at #5
Peter Stokkeybe PS402 Luxury Twist Flake moved from #4 to #6
Orlik Golden Sliced moved from #3 to #2
G.L. Pease Quiet Nights moved from #2 to #4
Peter Stokkebye PS400 Luxury Navy Flake stayed at #1
Erik Stokkebye 4th Generation Evening Flake entered at #7
G. L. Pease Windjammer entered at #8
Savinelli Brunello Flake entered at #12
A note on the tobacco information.
Strength: a measure of the tobacco's body and nicotine. One is the lowest. Five s is the highest.
Room Note: a measure of the pleasantness or intensity of the smoke's odor to everyone else in the room. One is the least intense room note, while five s would be the most noticeable to others.
Taste: A measure of the the power and fullness of the smoke's flavor, with one being the most mellow and five s being the fullest.
You may also enjoy: