We are now in the middle of the "Dog Days" of Summer in South Carolina, where the days are long and so hot that the very mortar holding our office together should be flowing into the parking lot. Finding a tobacco that performs well and delivers adequate flavor during the sweltering heat can be daunting. Latakia is too heavy, Virginias are sapped of their sweetness, and Burley loses a fair bit of nuance — but there are blends out there that resist atmospheric conditions and deliver enjoyment no matter what the weather does. Below are my favorite summertime smokes, and in the spirit of pipe smoking camaraderie I decided to pass them along, should any of you be looking for a smoky reprieve from the damnable heat.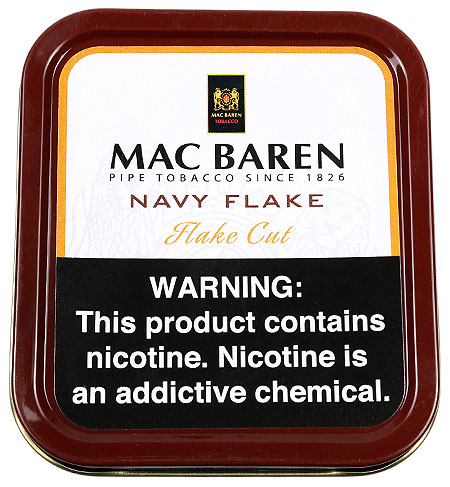 Nutty Burleys and toasty Virginias are blended with Mac Baren's original Dark Fired based Black Cavendish, sweetened with dark rum, then pressed and stored for several weeks to make this medium- to full-bodied flake. It's sweet, but not artificially so, and with enough body and strength to maintain flavor even during the hottest part of the day. This tobacco pairs well with almost any beverage, so it shouldn't get in the way of efforts to stay hydrated, and is an excellent all-day smoke.
Very nice. Moisture level is just right straight out of the tin. Packs and smokes well. First impression was that of a typical VA flake, which I enjoy. As I got about about a third of the way into the bowl, the hints of natural honey sweetness came out. The Cav and Burley gave the smoke some good body. The more I smoked the more I enjoyed it. Definitely an all-day smoke. I will be getting more. - MadadaM, 4.5-star review at Smokingpipes.com
Components: Black Cavendish, Burley, & Virginia
Cut: Flake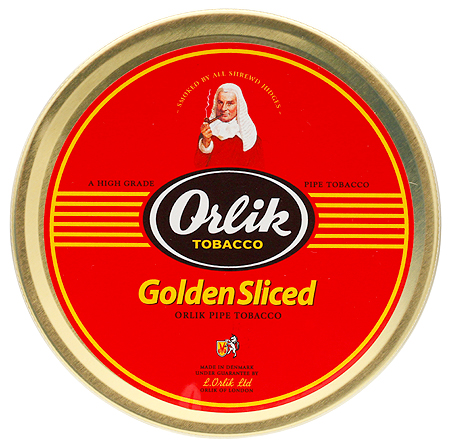 Delightfully citrusy notes reminiscent of ripe oranges lace this classic Danish Virginia flake, which makes an ideal smoke on a sultry summer night. The top note on Orlik Golden Sliced is subtle, and melds extremely well with the bready, natural sweetness found in the underlying leaf, with both elements working in harmony during the cooler part of the day. I find it a bit too light to stand up to the midday heat; however, sitting on the front porch with an iced tea or lager and a bowl of gently broken Orlik Golden Sliced and watching fireflies is as enjoyable as it is picturesque.
This tobacco is absolutely perfect. Orlik is like an old, dear friend or slipping into some comfy clothes...This tobacco has saved angry pipes who didn't like anything, and broken in some new pipes excellently. A standard, a classic. So terrific when your pipe acquires a taste for it after a few bowls. I cannot state enough how beloved Orlik Golden Sliced is. It is as perfect of a flake as one can hope for. A+ - ven, 5-star review at Smokingpipes.com
Components: Virginia & Perique
Cut: Flake
A rich crumble cake English mixture, Black Frigate is a blend of small leaf Latakia, woody Orientals, and Stoved Virginias that have been soaked in rum for seven days, then pressed. Remarkably rich without being heavy, this full-flavored English blend is a gem of a tobacco, and well worth trying if you are a lover of English blends looking for a warm weather smoke. Balanced, darkly sweet, and delicately smoky, this is another tobacco that should hold its own in the sweltering sun.
With an embracing smell out of the tin, you have a perfect moisture level to smoke right away. The taste from the tobaccos is amazing, topped off with a sweetness from the added rum. This has been my go-to daily smoke for a month. - AleSwiggerLeviathan, 5-star review at Smokingpipes.com
Components: Latakia, Orientals, & Virginia
Cut: Cake
Lovers of Virginia blends, like myself, surely sympathize in the hotter months when they light a bowl of their favorite leaf, only to find that the heat and humidity have rendered the smoke harsh and the flavor dull. With a bit more strength than similar Virginia Flakes, Mac Baren's Pure Virginia flake delivers all of its flavor and richness, even with a triple digit heat index. It's comprised of both American and African varieties of Virginias, then pressed and stoved to mature and develop the natural flavors. This is a Virginia with substance, and I enjoy it just as much with a cup of coffee in the morning as I do with an ale in the evening.
I used to smoke McClelland #27 for the last ten years as my go-to Va flake until I tried this recently. This blend basically focuses on everything I like about Va tobacco, and somehow the steam pressing process seems to have removed all of the traits I don't like...I have smoked pipes for 20+ years and I honestly feel this is the best Va without any Perique I have ever smoked. A good, medium-full flavor with a nice medium nicotine level... - Al W., 5-star review at Smokingpipes.com
Components: Virginia
Cut: Flake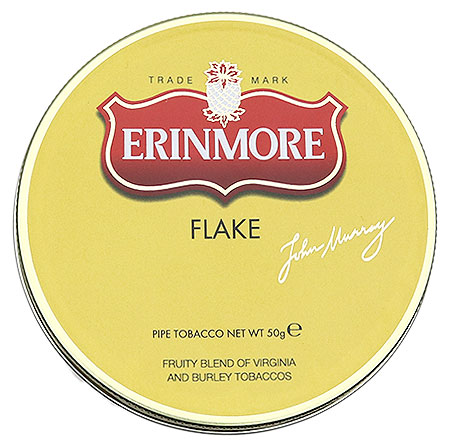 Quite possibly the most polarizing tobacco on this list, Erinmore is both celebrated and reviled — chances are, if you've ever sampled this fruity flake, you either love it or hate it. I personally enjoy this classic tobacco, and I particularly appreciate it in late summer. It's based on darker grades of Virginias and supplemented with a little Burley, making for a base tobacco that is pretty stout and full bodied. The recipe for the topnote has been a closely guarded secret since it was first produced in Northern Ireland, and theories abound as to what the constituent flavors are. I have always argued that it doesn't really matter, as long as you enjoy sweet, fruity flavors with just a touch of floral character. The tobaccos and topping combine to make a rich, unfailing flake that won't disappoint in the sun, and it pairs exquisitely with a refreshing glass of lemonade.
...I think for fans of a nice, mild, all-day VA flake, you can't do much better. In fact, this is the blend that made me a fan of flakes. And, after trying many other similar flakes available, Erinmore is the one I come back to as the watermark of a great Virginia smoke... - Smokebacca, 4.5-star review at Smokingpipes.com
Components: Virginia & Burley
Cut: Flake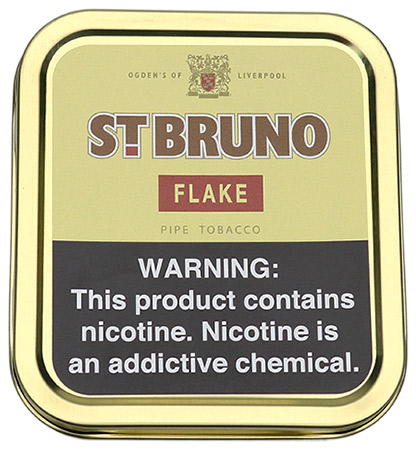 While this flake may seem similar to Erinmore at first blush, I assure you it is quite different. While the top note is both fruity and floral, it isn't nearly as sweet, and is quite tangy. The base tobaccos are a blend of Virginias with a touch of Dark Fired leaf, which has been hot-pressed to develop the rich, full character that makes this classic British-style flake capable of delivering unfailing pleasure, even if you have to wipe your brow while smoking.
What we have here is a very nice VA/Dark Fired Kentucky flake in which the rich Virginias seem aged to perfection. This is not a VA flake with light, grassy notes, but rather a spicy, rich, peppery flavor some would compare to ketchup or BBQ sauce. That's not to say St. Bruno tastes like either, but it has that same sweet and spiciness with an obvious vinegar aroma...If you haven't tried St. Bruno and are a fan of sweet & spicy flake tobaccos, this could be just what you're looking for. - Smokebacca, 4.5-star review at Smokingpipes.com
Components: Dark Fired Kentucky & Virginia
Cut: Flake
If you've discovered blends able to withstand the summer heat, please share your suggestions in the comments, and be sure to stay cool!
A note on the tobacco information.
Strength: a measure of the tobacco's body and nicotine. One is the lowest. Five s is the highest.
Room Note: a measure of the pleasantness or intensity of the smoke's odor to everyone else in the room. One is the least intense room note, while five s would be the most noticeable to others.
Taste: A measure of the the power and fullness of the smoke's flavor, with one being the most mellow and five s being the fullest.
You may also enjoy: