Wandi Riyadi Pipes
3 Total

An artisan pipe maker in Indonesia, Wandi Riyadi started smoking a pipe in 2011 while working as an IT engineer. In those earlier years, his experience was confined to factory-made classics, but upon discovering handmade pieces, he was compelled by the unlimited creative freedom these designs offered and he devoted his life to handcrafting quality smoking instruments. Since 2013, he's carved pipes full-time, boasting an impressive design sense paired with unmitigated engineering.

Among Indonesia's only artisan pipe makers, Riyadi honed his craftsmanship techniques by online research, such as Reiner Barbi's video outlining freehand shaping, as well as fashioning his own special tools to outfit his workshop. He draws aesthetic inspiration from historic masters Sixten Ivarsson, Bo Nordh, Lars Ivarsson, and Hiroyuki Tokutomi, and his work is especially renowned for its artful, often sculptural aspects. Devoted to pipe making as both a craft and an art form, Riyadi brings a fresh and unique perspective to traditional shapes, founded on expressing briar's natural beauty and adding a modern touch to classic pipe design.

For Riyadi, artisan pipe making is an endless journey of growth and improvement in rendering his artistic vision to a physical form, and he often draws from the natural world to influence his shapes and line work. The majority of his pipes are finished smooth, always prioritizing the briar's natural beauty, and he sometimes embellishes his work with accents of bamboo, exotic wood, horn, bone, stone, bronze, or copper. Riyadi stamps each pipe with a four-digit serial number, with the last two digits denoting the year of his career in which the pipe was made and the first two digits referring to the pipe's number within that year. For example, a pipe stamped "4210" would be the 42nd pipe fashioned in Riyadi's 10th year as a pipe maker since 2013. On very rare occasions, he will distinguish superlative pieces by an "N" stamp — his wife's first initial in honor of her support throughout his career.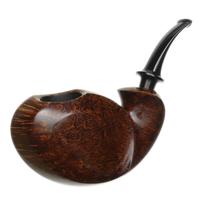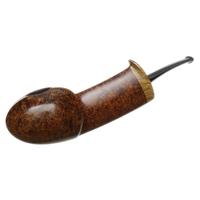 Portfolio for Wandi Riyadi