Cornell & Diehl: Anthology 1992-2022 2oz Pipe Tobacco
Product Number: 003-016-0354
Cornell & Diehl commemorates their 30-year anniversary with a special blend documenting their ever-evolving growth in the field of pipe tobacco, and extending appreciation for the many enthusiasts who have joined them along the way. Anthology 1992-2022 represents the culmination of decades of passion, intrepid experimentation, and a never-ending pursuit of excellence.
Elevated by many of Cornell & Diehl's favorite components — including the iconic SM2-18 and TA-20 Carolina Red Virginias, 2003 Bijou Virginias, top-tier Canadian Brights, as well as genuine St. James Parish Perique — Anthology 1992-2022 highlights C&D's unique approach to the Virginia/Perique family, delivering a naturally sweet, bready profile with notes of zesty citrus, rich stone fruits, and figgy spice.
Moreover, Anthology 1992-2022 is a glowing testament to the synergistic working relationship that C&D has cultivated with farmers and tobacco merchants over the years, especially with a single Perique farmer in St. James Parish, Louisiana — illustrating the benefits of growing, harvesting, and processing authentic Perique according to precise, time-honored methods.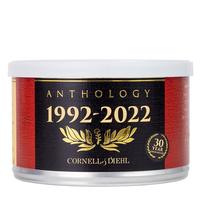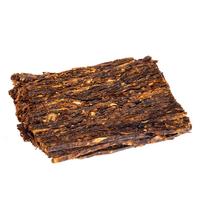 Components:

Virginia, Perique

Family:

Virginia

Cut:

Flake