Wojtek Pastuch Pipes
1 Total

While Poland has been home to the likes of Albin and B&B, artisanal pipes have not had much of a production in the small country. There are a handful of craftsmen, certainly, but not to the extent that we see in other European countries — and so it's not much of a wonder that when Wojtek Pastuch began his pipemaking journey, he was willing to travel to learn the skills he needed.

Wojtek's approach has been twofold: Early on, he worked with one of the world's finest briar cutters Domenico "Mimmo" Romeo, from whom he learned the importance of quality briar blocks — the cornerstone on which almost all modern pipes rest. From there, he has more recently been working with Tom Eltang in his Danish workshop, honing his craft in pursuit of the flawless execution for which Tom is so well-known worldwide. Wojtek's pedigreed education and keen creativity have propelled his work into the consciousness of discerning collectors. Working from a foundation of quality and precision, with an emphasis on classical forms, he has developed a sophisticated style with extensive room for experimentation and creativity. The simple classic easily becomes unique in the hands of a skilled craftsman.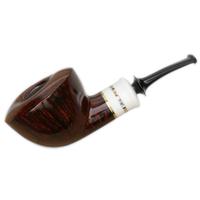 Portfolio for Wojtek Pastuch