Top 10 Best-Selling Pure Virginia Pipe Tobaccos
Virginia tobaccos are arguably the most ubiquitous of all pipe-tobacco components. Few blends would exist without Virginias — even Aromatics and Latakia-forward mixtures rely on Virginia leaf for balance and condimental complexity — and some blends, pure Virginias, entirely comprise the flue-cured leaf. These pure Virginia pipe tobaccos best showcase the varietal in its, well, purest form, unobstructed by other components and often only lightly topped with complementary flavoring to accentuate the Virginias' natural profile. Moreover, Virginias are prized for their exceptional aging potential, deepening in flavor and transforming completely over years of cellaring.
Though Virginias have existed since the 1600s, when John Rolfe planted Caribbean leaf in Virginian soil, what we recognize today as Virginia pipe tobacco is the result of curing innovations from the early 19th century. Unlike the longer standing, air-curing process, which involves drying tobacco leaves in open air (and is still employed for Burley), flue curing uses indirect heat inside closed barns to dry the leaves. Such a process dries the tobacco at a quicker rate, thereby preserving much of the leaves' natural sugars and resulting in a more naturally sweet tobacco.
Today's Virginias maintain this flue-curing technique, and the leaves can vary in shade and sugar content depending on how long they're left on the stalk and how quickly they're cured, creating numerous shades from Bright and Golden to Red, Orange, and Mahogany. Because Virginias are primarily defined by their curing process, they can be sourced from numerous regions beyond their historical origins, including Canada, Zimbabwe, and Brazil, as well as other areas of the United States, like North Carolina, but the name will always commemorate those first seeds planted by Rolfe in Virginia.
With such widespread use, the Virginia family of pipe tobacco is vast and endlessly explorable. To help with such exploration and future favorite discoveries, we've compiled a list of Smokingpipes' top 10 best-selling pure Virginia pipe tobaccos. We previously released our top 10 best-selling Virginia blends — those that primarily comprise Virginias but may also feature other varietals — but this list focuses on pure Virginia blends alone for those pipe smokers looking for mixtures that showcase the inherent nuance and complexity of Virginia leaf in its individual form.
Top 10 Best-Selling Pure Virginia Pipe Tobaccos: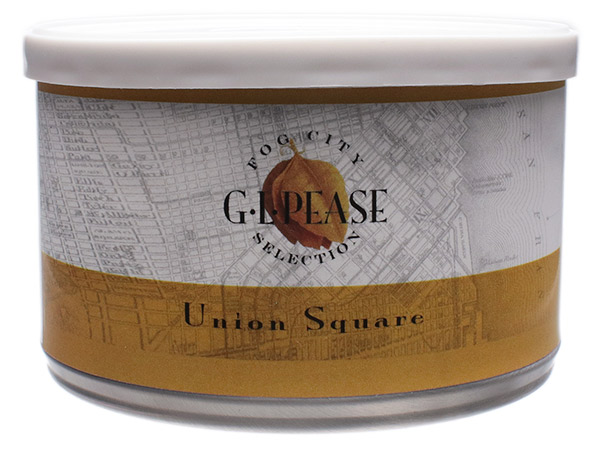 If you're looking for natural, pure tobacco flavor, Union Square delivers. This pressed, flake-cut blend is composed entirely of high-grade, flue-cured Virginias, ranging from sweet, citrusy Brights to deep, earthy Reds, without the added sugars or top flavorings common in many Virginia blends. Its complexity and flavor are derived entirely from its choice components, making Union Square a great choice for those searching for the purest Virginia tobacco flavor possible. Though not an Aromatic by any means, the room note is enticingly pleasant, evocative of freshly baked bread, with a delightful finish, and its aging potential makes Union Square a blend worth cellaring.

Available in: 2oz | 8oz
This blend is a masterpiece. My first experience was with a 10-year-old tin and it opened my eyes to the beauty of Virginia leaf. Even fresh, this is one of the most rich and complex Virginia blends I've ever had. Grass, hay, bread, toast, citrus, dark fruits. This blend does it all. Grab one for now and 10 for later. - Zrhunter86, 5-star review at Smokingpipes.com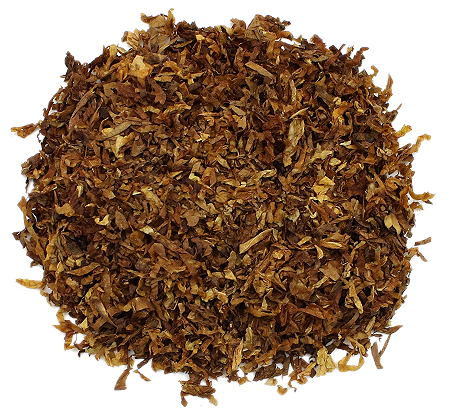 Crafted by Cornell & Diehl specifically for Smokingpipes and our brick-and-mortar store, Low Country Pipe & Cigar, Low Country pipe tobaccos honor the rich tobacco history of the Carolinas with an extensive portfolio ranging from Aromatics and English mixtures to VA/Pers and blending components. Natural Virginia represents Low Country's single pure Virginia pipe tobacco, consisting entirely of Red and Bright Virginias in a ribbon cut. Offering naturally sweet notes with hints of hay and citrus, it's an ideal blend for Virginia lovers and also serves well as a blending component for creating your own mixtures or enhancing long-time favorites.

Available in: Bulk
The best quality pure VA I've had in a very, very long time. I will definitely be buying more. Sweet, non-biting, pure-tasting. Kudos! - Peter W., 5-star review at Smokingpipes.com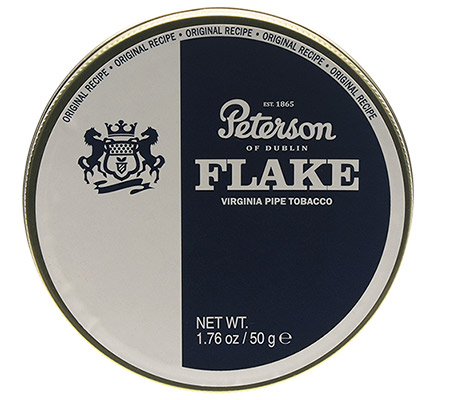 Peterson's Flake pipe tobacco was originally a Dunhill blend, also known as "Light Flake" to distinguish it from Dark Flake, which contained Perique. Light Flake, instead, is a pure mélange of Lemon and Bronze Virginias, offering the varietal's characteristic sweetness and subtle tang. Perfect for aging in a cellar to enjoy years later or smoking fresh as an all-day, everyday blend, Peterson's Flake revives the iconic Dunhill blend, utilizing the same exact recipe and even the same tin art — except re-branded for Peterson.

Available in: 50g
A complex blend of Virginias, like a symphony in G major. - Joaquin D., 5-star review at Smokingpipes.com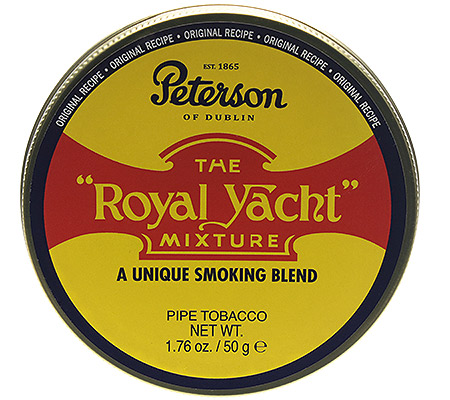 Like Peterson's Flake, Royal Yacht was also originally a favored Dunhill blend before the English brand announced it would no longer offer its acclaimed pipe tobacco. Thanks to Peterson, a number of those beloved blends are still available, maintaining the same recipes that pipe smokers have appreciated for decades. Royal Yacht remains among the most elusive and alluring of those mixtures, having earned a dedicated cult following. While it consists solely of Virginia tobaccos, its secret, subtle flavoring sets it apart from other pure Virginia blends, highlighting the tobaccos' natural sweetness and offering a distinctive flavor profile and enticing room note. It's an excellent blend for Aromatic lovers venturing in the world of Virginias, as well as for Virginia aficionados in the mood for something a touch different.

Available in: 50g
An excellent Virginia with plenty of strength and flavor. Whatever the addition to the leaf is, it does not detract from the tobacco. This is a satisfying smoke with a deep rich flavor. It burns cool with no bite. Lived up to its name and my expectation. It's worth picking up a tin. - ECSteele, 5-star review at Smokingpipes.com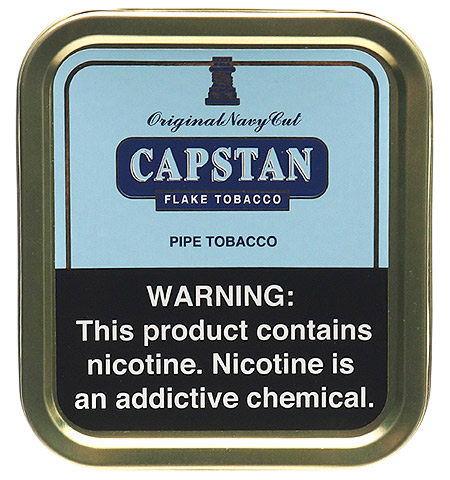 Originally made by W.D. and H.O. Wills, Capstan Blue is an historic pipe tobacco now produced by Mac Baren. It's a slightly bolder version of Capstan's Flake Yellow and Ready Rubbed Yellow and comprises select Virginias marked by notes of malt, citrus, and grass that will deepen with complexity when aged. Capstan Blue is an iconic pure Virginia, often looked to as an archetypal example and also available in ready-rubbed form, and it's lent further renown having been J.R.R. Tolkien's favorite pipe tobacco according to the Tolkein estate.

Available in: 1.75oz
One of my personal favorites. It has a very bright and pleasantly grassy flavor that gets better as you smoke through the bowl. I have at least one bowl a day, and it's my go-to tobacco when I'm traveling. Highly recommend trying this blend if you favor Virginias. - Abdullah S., 5-star review at Smokingpipes.com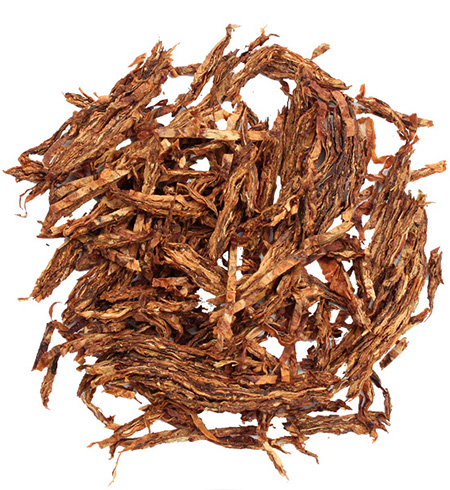 Considered one of Mac Baren's staple classics, Virginia No. 1 was first released in the mid-1950s and is among the oldest pipe tobaccos on this list, having delighted pipe smokers for nearly 70 years. As a straight-Virginia blend, it showcases carefully selected Virginias, and like many of Mac Baren's mixtures, it focuses on the tobaccos' naturally sweet, grassy, and citrus-like notes, elevated by a subtly sweet topping to provide a cool, sweet smoke that maximizes the natural tobacco flavors while still providing a pleasant room note.

Available in: 3.5oz | 16oz | Bulk
This is most likely my favorite one so far. I love the taste of hay and bread. Being a baker at heart and having spent time at my late grandfather's ranch, it takes me back to a simpler time. When enjoying this blend, think of it as a good sipping whiskey, take your time and enjoy it. - Stu H., 5-star review at Smokingpipes.com
Mac Baren's HH Pure Virginia is a hot-pressed flake composed entirely of Virginia tobaccos from select growing regions in North America and Africa. Its profile is deep and bready, with bright highlights and a distinctive hay-like grassiness. Compared to Mac Baren's other Virginias, such as Virginia Flake, HH Pure Virginia is slightly less sweet and citrusy, more redolent of freshly baked goods with a little spice and a deeper, more molasses-like sweetness. In other words, it's more similar to something like Samuel Gawith's Full Virginia Flake than to a blend like Orlik Golden Sliced.

Available in: 1.75oz | 3.5oz | 16oz
I have smoked pipes for 20+ years and I honestly feel this is the best Virginia without any Perique I have ever smoked. A good nice medium full flavor with a nice medium nicotine level. I highly recommend this to anyone wanting the pure Virginia experience. I will be purchasing as much of this as possible to cellar for future enjoyment. - Al W, 5-star review at Smokingpipes.com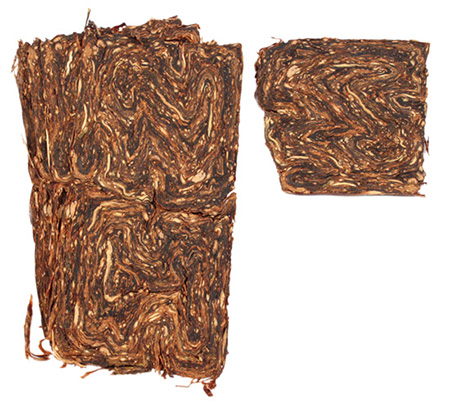 In terms of process, Peter Stokkebye's PS402 Luxury Twist Flake is slightly different compared to standard flakes. Before being pressed and sliced, the tobaccos are first hand-rolled, much like a spun-cut or coin-cut blends, giving Luxury Twist its unique, spiral texture. It rubs out as easily as any other flake, though, and is composed entirely of Virginia tobaccos from the eastern United States and the finest growing regions of Zimbabwe. A timeless classic, Luxury Twist Flake is an ideal mixture for lovers of pure Virginia blends, topped with an ever-so-subtle caramel attribute that makes for a delightful room note.

Available in: Bulk
It's easy to notice that premium tobacco has been used in this flake. The flake maintained adequate moisture all the way to South Korea and was easy to prepare for smoking. Rather mild with a scent of vanilla that persists throughout most of the smoke. - Junyoung J., 5-star review at Smokingpipes.com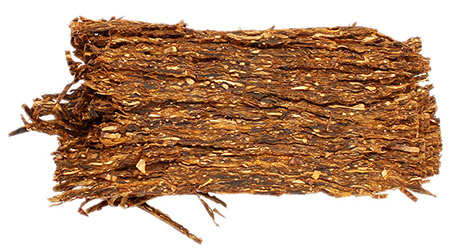 Sutliff Tobacco Company dates to 1849 when H.W. Sutliff opened his first tobacco shop in San Francisco. Among the oldest continuously operating blending houses in the United States, the manufacturer has long furnished retailers with high-quality blending components and premixed pipe tobaccos — in fact, many of the House Blends offered by tobacconists around the country are made by Sutliff. 507C Virginia Slices is among our most popular Sutliff blends, period. It consistently ranks as a top-five best-selling flake pipe tobacco as well as a top-five best-selling pure Virginia blend. It's a mixture of A-1 grade, flue-cured Bright Virginia tobaccos, lightly topped with sweetness to elevate the natural grassy and tangy notes that make Virginia tobacco such a beloved varietal, and cut into long strips of flake that break up consistently for easy packing.

Available in: Bulk
I have smoked this VA flake for years and find it first-rate. It is my regular, daily tobacco. I also find that it cellars well. Recently, I opened a 5 lb. box from 2011 and it was superb. If a smoker wants a flake similar to Orlik's Golden Sliced (without the Perique) or PS's Luxury Twist Flake (without the aromatic top-note) — and in bulk to boot — this will be an ideal tobacco for you! - Dan L., 5-star review at Smokingpipes.com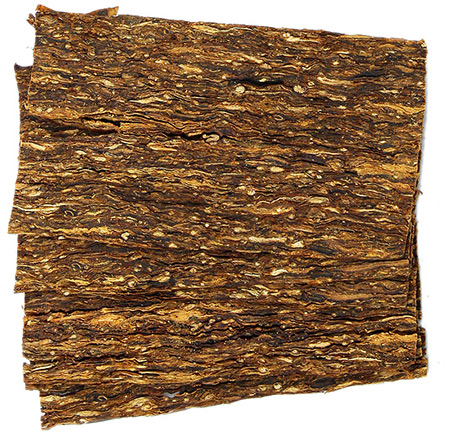 Newminster is the bulk-tobacco branch of Villiger, backed by the manufacturing prowess of Mac Baren, and while No.400 Superior Navy Flake may seem like a fairly standard straight Virginia blend at first, it's not your average mixture. These flakes combine the finest Virginias from three different continents — North America, South America, and Africa — offering a deliciously nuanced flavor profile of tart and tangy citrus notes alongside honey sweetness and woodsy depth. No.400 Superior Navy Flake is an immensely popular blend, consistently ranking among our top 10 best-selling bulk tobaccos and as number one in this list of best-selling pure Virginias.

Available in: Bulk
On this sunny afternoon, I filled up my favorite Castello pipe with some 1-year aged #400 Superior Navy Flakes. First few puffs and I was amazed as to how wonderful this tobacco benefited from aging. The full taste and great flavors of quality Virginias tickled my taste buds. A truly 5-star tobacco after aging. - Kam D., 5-star review at Smokingpipes.com
So there you have it: our top 10 best-selling pure Virginia pipe tobaccos here at Smokingpipes. Keep in mind, these blends were ranked based on popularity, not by our own tastes or judgements. If you don't see your favorite on the list, leave us a comment and share your thoughts — perhaps it will make it in a future list!
A note on the tobacco information.
Strength: a measure of the tobacco's body and nicotine. One is the lowest. Five s is the highest.
Room Note: a measure of the pleasantness or intensity of the smoke's odor to everyone else in the room. One is the least intense room note, while five s would be the most noticeable to others.
Taste: A measure of the the power and fullness of the smoke's flavor, with one being the most mellow and five s being the fullest.
You may also enjoy: