Chris Asteriou Pipes
3 Total

Chris Asteriou is a talented pipe maker living in Greece, where he is among the few carvers expanding his influence beyond his borders. Aesthetically speaking, his work is a marvel of detail. With an Industrial Design and Architecture background, he knows what it takes to think critically about attention to detail and overall quality. Though a self-taught pipe maker, Chris is certainly a star. His formal training helped him rise to the challenge of making pipes he liked but were too expensive to easily acquire. Like many other makers, all it took was a few blocks and ingenuity to get the creative juices flowing.

His inspiration is derived from classic English shapes, from a time when all of the operating houses had strict standards for quality and overall appeal. Functionality, proportion, and craftsmanship are all important qualities if one wishes to become successful, and Chris Asteriou has an inherent understanding of that dynamic. Hand-cut stems, complete with turned tenons instead of inserted delrin, demonstrate his appreciation for old-style pipe making. Keeping his pieces clean and free from distracting accents, his offerings will undoubtedly be admired for their quality far into the future.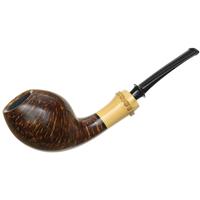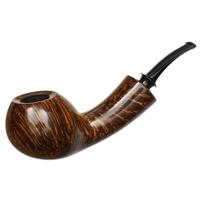 Portfolio for Chris Asteriou